Integrating Behavioral Health to Create Supported Care for Birthing Individuals and Their Children.
If you are experiencing a medical emergency, please call 911 or seek care at an emergency room.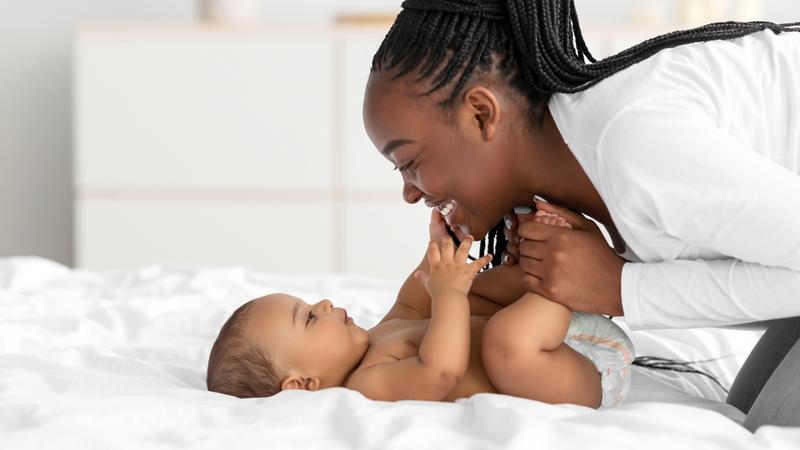 The U.S. has one of the highest maternal and infant mortality rates in the world among developing countries. For decades, medical providers have understood that social and environmental inequities impact pregnancy outcomes. Behavioral health concerns, in particular, can worsen health in pregnancy and significantly interfere with an individual's ability to care for herself and her family. Maternal mental health conditions are a leading cause of preventable maternal mortality in the U.S. and are the most common complication in pregnancy. Even more tragic is that suicide and self-harm are the leading cause of death in the first postpartum year.
This current reality for mothers and families is unacceptable.
Through the work with the D.C. Safe Babies Safe Moms initiative, MedStar Health is working to create positive and more importantly sustainable change in maternal health by transforming how we care for birthing individuals before, during, and after pregnancy. One of the most important ways we are doing this is by "increasing the workforce" of providers with specialized training to identify women with behavioral health risk factors or conditions at specific points in pregnancy—and through their child's first few years of life.
Nearly 15 years ago, the Women's Mental Health Program launched at MedStar Georgetown University Hospital. At the time, it was the first program in the D.C. Metro area providing specialized behavioral health care for pregnant and postpartum women. Since then, it has become the largest and most comprehensive perinatal mental health outpatient program in the region.
Today, we continue this work to address gaps in maternal health care at a time of unprecedented need. During the COVID-19 pandemic the need for maternal behavioral health services has tripled. Societal change, economic concerns, and the burgeoning isolation and anxiety of the pandemic have compounded existing challenges and led to new concerns.
Identifying risk factors early in pregnancy offers more opportunities for providers to help patients alleviate tangible problems and prioritize emotional wellbeing and healing. MedStar Health is leading efforts to cast a wider net of providers to identify and support at-risk patients. We've designed touchpoints for behavioral health and socioeconomic concerns that span prenatal care through postpartum and their child's three years of well-child visits.
As a growing family's needs change, our system remains agile and responsive to increase access to a broader range of health and social services in a setting where patients already are comfortable receiving care.
Maternal Mental Health Conditions: Common, serious, and treatable.
Maternal behavioral health conditions like anxiety and depression are the number one complication of pregnancy. Treatment of these conditions is necessary for the health of the mother and the family. Here are a few sobering statistics:
Maternal mental health (MMH) conditions are the most common complications of pregnancy and childbirth, affecting 1 in 5 women (800,000 women each year in the United States). These conditions include depression, anxiety disorders, obsessive compulsive disorder, post-traumatic stress disorder, bipolar illness (which may include psychotic symptoms), and substance use disorders, and are caused by a combination of changes in biology, psychology, and environment.

Approximately 75% of birthing individuals with symptoms of MMH conditions go untreated.

Women of color and women living in poverty are MORE likely to experience MMH conditions and LEAST likely to get help due to lack of access to healthcare, including culturally appropriate mental health care and cultural and racial biases in the healthcare system.

In our community,

many D.C.-area birthing individuals also struggle with access to food, transportation, and housing, which compounds

postpartum anxiety and depression symptoms

.

All parents — including fathers, partners, and adoptive parents — can experience changes in mood when there is a new baby in the household. Approximately 4% of fathers experience symptoms during their child's first year and 20% will have had signs of depression before their child turns 12.

Left untreated, maternal mental health conditions can have a long term negative impact on the birthing individual, the child and the entire family.
D.C. Safe Babies Safe Moms works to care for the birthing individual as a whole person—and the whole family. We bring together partners from MedStar Health and the community to provide interdisciplinary, multigenerational health and support services for patients and their families. MedStar Health Research Institute is continually collecting and analyzing data to determine the effectiveness of current interventions and to identify opportunities for improvement.
The need for #BehavioralHealth care tripled in DC during the #COVID19 pandemic. Learn how @MedStarHealthResearch and D.C. Safe Babies Safe Moms connects families to support resources from pregnancy through a child's first 3 years: https://bit.ly/3t7NJxU.
Click to Tweet
Addressing gaps in maternal health care.
The strength of D.C. Safe Babies Safe Moms is in building personal and professional connections to foster trusted relationships between providers, patients, and their families.
The D.C. Safe Babies Safe Moms program is designed to support mothers starting in pregnancy through their child's third birthday. We are creating processes to improve referrals between an individual's health care provider (women's health specialists, pediatricians and family medicine providers) and behavioral health therapists, counselors, and psychiatrists. Healthcare providers are having important conversations with parents and their children about stressors and areas of need within the Ob/Gyn, family medicine, or pediatric setting. By collaborating, we begin to bridge the gaps between visits to each of our types of care, creating a healthcare community rather than a series of appointments. Together, we are working towards a goal of streamlining care and normalizing discussions about mental health.
Support from pregnancy through toddlerhood.
In the D.C. Safe Babies Safe Moms Program, birthing individuals receive universal, comprehensive screening for behavioral health complications and social determinants of health at multiple points in time during and after pregnancy.
MedStar Health providers use evidence-based screening tools, such as the Edinburgh Postnatal Depression Scale, to ask patients about several factors that impact their health during pregnancy, such as:
Mood changes
Experiences with trauma or interpersonal violence
Safety at home
Substance abuse
Stability of transportation, food, and housing
However, we know that screening alone is insufficient. Estimates suggest that only 16% of perinatal women who screen positive receive much needed behavioral health treatment.
We ask questions, without judgment, with a goal of connecting patients to the appropriate level of behavioral health intervention. We are able to connect patients in real time to on-site behavioral health clinicians, other MedStar behavioral health specialty services, or offer a coordinated referral to support or treatment in the community, effectively putting each mother and her family at the center of her care.
Behavioral health support services are available to patients as needed as part of routine prenatal, obstetric and pediatric care. These services include:
Case management
Group-based depression prevention and attachment promoting interventions
Time-limited individual psychotherapy
Psychiatric evaluation
Medication management
MedStar Health social workers and nurse navigators are instrumental in helping patients navigate their options at the hospital and in the community. As the family's needs change, the network of services we offer can flex to include:
Breastfeeding support
Nutrition counseling
Care coordination
Social services
Legal services
This safety net of support is available in tandem with patients' medical care with the goal of destigmatizing behavioral health care. Previously, many families have not had access to or even knowledge of behavioral health care services—a situation that is no longer acceptable given our understanding of the devastating impacts of untreated maternal mental health conditions on mothers, children, and their families.
What's next: Building capacity to help more mothers.
While we are proud of how our programs have grown to meet urgent needs, there is still more work to be done. In response, we are strengthening partnerships with community organizations to honor the resilience and knowledge that already exists in these communities and helps provide a supportive "village" for our patients.
The COVID-19 pandemic alongside racial tension and injustice has created unprecedented stress for pregnant individuals and mothers of young children. Household strain is rising, and under-resourced families are struggling to make ends meet. Consequently, the need for behavioral health and social support services for new mothers has never been greater. Find out how you can help.
If you are feeling distress as a new or expecting mother, know you are not alone. There are many resources that can help:

Connect with an understanding, compassionate expert—and free information about specific needs or resources—through Postpartum Support International

.

This organization has promoted awareness, prevention, and treatment of pregnancy-related mental health issues internationally since 1987. PSI provides several important resources, including a helpline in English and Spanish at 800-944-4773.
This month, the U.S. Department of Health and Human Services has launched a new, confidential, toll-free hotline for expecting and new moms who might be experiencing mental health challenges and issues. You can call that number at 1-833-9-HELP-4-MOMS.
Thanks to our system-wide focus on maternal health, your MedStar Health provider can also refer you to support services including counseling with perinatal mental health specialists via telehealth.
Tough questions typically do not have easy answers—we are prepared to help DC families who need support. Through continued research and community connections, we are committed to improving the emotional health and well-being of mothers, infants, and families, long after delivery.
Are you or a loved one struggling after giving birth?
Our women's health experts are here to help.
Stay up to date and subscribe to our blog