MedStar Heart and Vascular Institute First in Area to Offer the WATCHMAN Device
If you are experiencing a medical emergency, please call 911 or seek care at an emergency room.
Stroke Prevention Device Proven Option for Some A-Fib Patients
On June 16, a team of cardiac specialists at MedStar Heart & Vascular Institute (MHVI) became the first in the metropolitan Washington area to successfully implant WATCHMAN™—a potentially life-changing device proven to reduce the risk of stroke in certain patients with non-valvular atrial fibrillation (A-fib). The procedure was performed at MedStar Washington Hospital Center, hub of MHVI, just three months after the breakthrough therapy received FDA-approval.
The most common cardiac arrhythmia in adults, A-fib currently affects more than five million Americans— a figure that keeps growing as the population ages. A-fib causes about 20 percent of all strokes today, and individu- als with the condition are five times more likely to have a stroke than others. Strokes from A-fib are also particularly severe and twice as likely to cause death or incapacitation compared to strokes not associated with A-fib.
"Patients with A-fib must take blood thinners to minimize their stroke risk, yet many of them have difficulty with compliance," says Lowell Satler, MD, director of the Cardiac Catheterization Lab at the Hospital Center. "But one of the biggest issues with blood thinners is bleeding, particularly with warfarin. Even the newer classes of oral anticoagulants can pose problems. As a result, up to 45 percent of the total A-fib population may go untreated and, by extension, unprotected from stroke."
The vast majority of A-fib-related strokes originate in the left atrial appendage (LAA), a sub-chamber of the heart where blood can pool and form clots. In turn, those clots may then escape into the circulation and block blood flow to brain tissue.
WATCHMAN is designed to stop that from happening.
"By preventing the formation of blood clots within the LAA, WATCHMAN can both reduce the risk of stroke and eliminate the need for long-term anticoagulation therapy in a substantial population of patients with atrial fibrilla- tion," explains Zayd Eldadah, MD, PhD, director, Cardiac Electrophysiology (EP).
Available internationally since 2009, WATCHMAN is currently approved in more than 70 countries and has been implanted in 10,000 patients worldwide.
MedStar Heart & Vascular Institute contributed to the research leading up to the device's FDA approval. Ron Waksman, MD, interventional cardiologist and director of Cardiovascular Research and Advanced Education at MHVI, initiated participation in the PROTECT AF clinical study, one of several launched by WATCHMAN's manufacturer.
"Overall, the experience with the device during the investigational phase and now post-approval has been excellent," he says.
Since WATCHMAN's commercial debut, the MHVI team—composed of interventional cardiologists Drs. Satler, Waksman and Robert Lager, MD, and cardiac electrophysiologists Sarfraz Durrani, MD, and Manish Shah, MD—has implanted the device in eight patients to date. The first six procedures were performed by Drs. Durrani and Shah on longstanding A-fib patients already under their care for arrhythmia.
"MHVI's early adoption of WATCHMAN reflects our complete commitment to offering patients the most advanced, evidence-based arrhythmia care available," says Dr. Eldadah, who leads the region's largest and most experienced EP group with nine board-certified arrhythmia specialists on board and more to come. "As a key component of our comprehensive atrial fibrillation management program, WATCHMAN gives us yet another advanced tool to manage patients' risk and improve their quality of life."
In a minimally invasive, one-time proce- dure, WATCHMAN is threaded through a catheter in the groin and then implanted in the heart at the LAA's opening. Essentially a mesh filter, the jellyfish-looking device
is available in five different sizes to accom- modate varying anatomies. The procedure generally takes less than an hour, is performed under general anesthesia, and requires a one-day post-operative hospital stay. Eventually, heart tissue forms over the device, permanently sealing off the LAA from the circulation.
Just 45 days after the procedure, 92 percent of patients can stop anticoagulation therapy altogether. That figure jumps to 99 percent at 12 months.
Ten years in the making, WATCHMAN consistently demonstrated comparable stroke-risk reduction— and statistically superior reduction in hemorrhagic stroke, disabling stroke and cardiovascular death—compared to warfarin. Despite this impressive performance, however, MHVI specialists caution that WATCHMAN is neither a cure for A-fib nor a replacement for other proven stroke- reduction therapies.
"Deciding who is appropriate for WATCHMAN and who isn't is critical," concludes Dr. Shah, director, Clinical Cardiac Electrophysiology Fellowship Training Program. "All patients with atrial fibrillation should be evaluated by experienced providers to ensure therapy is tailored appropriately for each individual. It's a delicate balancing act between risk and benefit."
First WATCHMAN Procedure a Success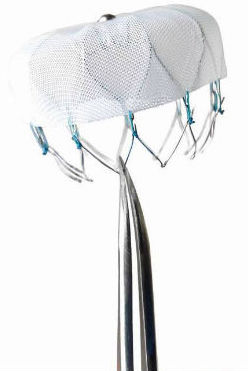 Constance Wiley is a prime example of how WATCHMAN can change lives. First diagnosed with A-fib in 2002, Wiley subsequently had a full-blown ischemic stroke, followed by multiple TIAs. Warfarin was not a long-term solution for the 63-year-old who developed a major GI bleed. "Without anticoagulants, Constance faced a 5 to 10 percent increased risk of another stroke each passing year," says cardiac electrophysiolo-gist Sarfraz Durrani, MD. "Her medical history made her an ideal candidate for WATCHMAN." In June, Wiley became the first in the area to undergo a WATCHMAN implant. Dr. Durrani was able to stop Wiley's warfarin at her 45-day follow-up. "I was out watering my garden the first day after the procedure," she says.
Stay up to date and subscribe to our blog