Relieve Joint Pain with Nerve Ablation.
If you are experiencing a medical emergency, please call 911 or seek care at an emergency room.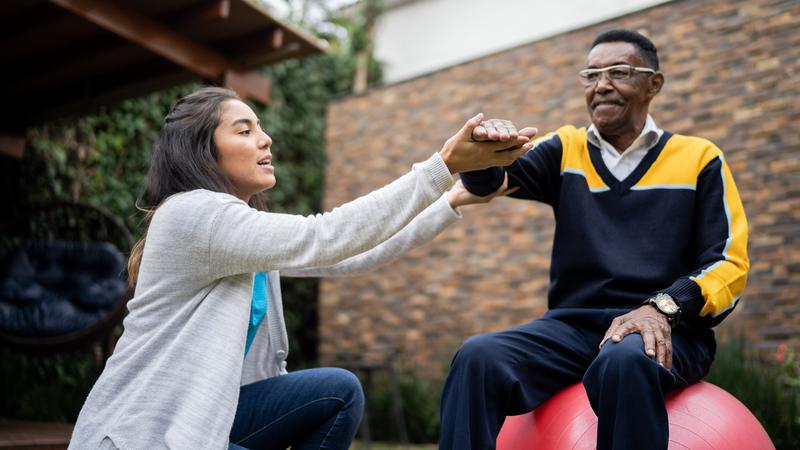 When burning, stabbing, or shooting joint pain keeps you up at night or prevents you from doing the activities you love, nerve pain around the joint may be to blame. Orthopedic sports injuries and chronic joint conditions such as arthritis, tendonitis, and bursitis, can trigger nearby nerves, sending pain signals to the brain.
Patients often worry that their options are limited: joint replacement surgery, opioid medications, or steroid injections—the latter of which can cause bone and tissue degeneration over time.
But a new, nonsurgical procedure can desensitize stubborn nerves, significantly reducing joint pain and helping you return to normal activities.
Nerve ablation, also known as cooled tip radiofrequency ablation, is an outpatient treatment that requires little to no recovery time—and MedStar Washington Hospital Center is the largest health care center in the Mid-Atlantic to offer this innovative treatment.
Board-certified specialists from Interventional Radiology and orthopedics collaborate to perform nerve ablation for a painful joint. Using advanced image guidance, we can pinpoint and desensitize the nerves causing your pain, providing relief within just a few days.
Nerve ablation has been shown to effectively reduce nerve pain in knees, hips, shoulders, and sacroiliac joints for 6 months or longer. You may benefit from this innovative treatment if you:
Didn't get sufficient relief from steroid injections

Don't have enough joint degeneration to qualify for

total joint replacement

Want to delay or avoid joint replacement surgery
Still have nerve pain after joint replacement—nerve ablation has proven to help reduce joint pain before and after surgery
Can't have joint replacement surgery due to other health concerns
This new procedure even comes with a test to determine whether it might work for you before you commit. In our department, we will perform a sample nerve block—using X-ray guidance and local anesthetic, we will inject a small amount of numbing agent into the problematic nerves. If your pain is reduced by 50% or more, it's likely that a nerve ablation will provide lasting relief.
What to expect with nerve ablation.
The goal of nerve ablation treatment is to significantly reduce—not necessarily eliminate—your pain. Most patients report positive results after ablation, feeling "years younger" and resuming many of their favorite activities.
Nerve ablation is an outpatient procedure, performed under conscious sedation, so you will not feel significant pain during the procedure—similar to getting a colonoscopy. You don't need to do anything special to prepare for the procedure, however, you will need to arrange a ride home because of the sedation.
During the procedure, our specialists use the COOLIEF device, which has been proven safe and effective in clinical trials and is approved by the U.S. Food and Drug Administration. A small needle and probe are inserted alongside your joint, targeting the nerves responsible for pain.
We use fluoroscopic (live X-Ray) imaging to pinpoint the site of the damaged or inflamed nerves and avoid those that support muscle and motor function. The device delivers a mild energy current to the nerve that is causing pain. The current heats and deactivates the nerve, halting pain signals.
After the procedure, you can return home and resume normal activities. Some people experience immediate symptom relief with no pain from the procedure, while some report mild muscle tenderness that resolves in a day or two. Maximum effect from an ablation is typically experienced six weeks after the procedure.
We'd like to see you six weeks later for a follow-up appointment. Most patients need no further treatment to manage symptoms for up to a year when the nerve may begin to grow back. However, we can repeat the procedure after six months if needed.
If joint pain is preventing you from staying active—or from doing your daily activities—ask your doctor about a referral for a nerve ablation assessment. One treatment can potentially relieve your pain and get you back to your regular routine.
Interested in finding out if nerve ablation will help your joint pain?
Our experts can help.
Call 202-877-DOCS (3627), email PainSolutions@MedStar.net, or Request an Appointment
Stay up to date and subscribe to our blog