NICU Baby Turned Georgetown University Graduate Inspires Families
If you are experiencing a medical emergency, please call 911 or seek care at an emergency room.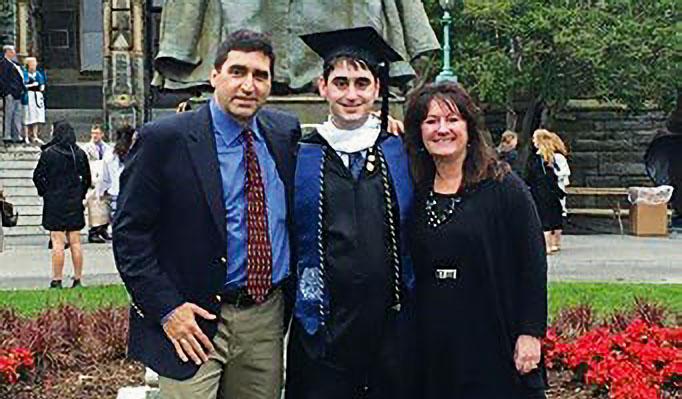 By Heidi Rosvold-Brenholtz
When Nicholas "Nick" Cortina was born in 1993, he weighed 1 pound, 11 ounces, and fit in the palm of his father's hand. Three-and-one-half months premature, he spent the first 100 days of his life in MedStar Georgetown University Hospital's Neonatal Intensive Care Unit (NICU) and Perinatal Center. Nick and his joyful parents, Diane and Lou, of Ellicott City, Md., left the NICU on Nick's original due date, March 30, 1994.
Reflecting back all those years ago, Diane can't help becoming tearful. "The memories bring up all kinds of emotions," she says. "It is still so vivid. He was so unbelievably small and fragile. We are incredibly grateful to the NICU."
Now a newly minted graduate of the Georgetown University class of 2016, Nick marvels at how Georgetown University—and the NICU—anchor so many important milestones for him. "We toured the university campus when I was a high school senior, 18 years to the day that I was discharged from the NICU," Nick says. "We fit in a quick visit to the NICU and reunited with doctors and nurses. I returned several times as a Georgetown student to support families with babies even smaller than I was." As a guest of honor at two NICU preemie reunions, Nick has described his journey as "coming full circle," and has inspired many NICU families.
We are incredibly grateful to the NICU.

- Diane Cortina, Nick's mother
From his long career in the MedStar Georgetown NICU, Siva Subramanian, MD, chief of the Division of Neonatal Perinatal Medicine, knows well the great joy and great concern that mark each family's journey. In addition to the cutting-edge treatments and research, an equally important part of the NICU's offerings is the NICU Family Support Center.
A place for families to unwind while visiting their newborns, the center will receive a transformation, thanks to generous donors of the NICU Family Support Center Renovation Fund. The updates will include a tranquil lactation room, a family lounge, sibling play area and a parent and infant sleep room.
"This renovation is much needed and will support us in our mission to provide family-centered care and comfort to these precious babies and their families," says Dr. Siva.
Stay up to date and subscribe to our blog