Nursing Research Council Contributes to Improved Outcomes for Patients and the Health System.
If you are experiencing a medical emergency, please call 911 or seek care at an emergency room.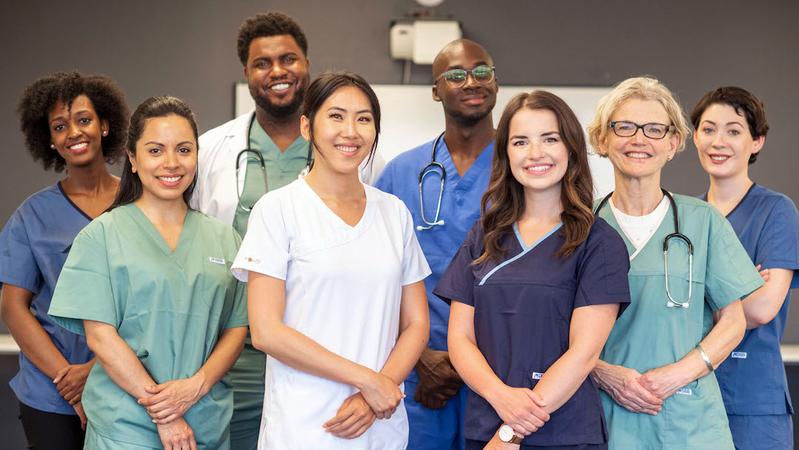 Structured Nursing Research Council collaboration boosts evidence-based practices (EBP) and shows benefits for clinical staff, system administrators, and patients.
As an academic health center, MedStar Health nursing teams constantly work to learn, evolve, and improve. We continuously gather evidence to ensure we bring the latest knowledge in the field, updating our clinical practice guidelines to benefit patients.
To make meaningful change, we rely on MedStar Health's longstanding framework of Nursing Collaborative Governance Councils (NCGC) that informs a span of informatics to product evaluation. Eight councils with 10-20 nurses, frontline clinical associates, nursing leaders, and system-level liaisons support widespread nursing practices that lead to optimal patient care.
One of these councils, the Nursing Research Council (NRC), provides literature review support to the work undertaken by other nursing councils. Our latest project sought to evaluate this process and determine whether it led to beneficial outcomes.
The result was improved performance for the councils, better patient outcomes, and cost savings for the system.
The study: Coordinated review and presentation.
Initiated by then-NRC Chair Jennifer Stephenson Zipp, the council studied a strategy for using the NCGC structure and NRC literature review to provide the latest evidence for decisions made by other councils
The NRC offered consulting services to assist other councils' work in evaluating new policies and procedures. We developed a standard inquiry process in which collaborating councils completed a Review Request Form to detail their project and how NRC can help.
During an initial meeting, the chair of the council and the NRC worked to establish a timeline for the project, usually not longer than three months.
When each literature review got underway, NRC members assembled and evaluated the evidence necessary to answer the questions posed in the initial form. This process involved database searches for peer-reviewed literature, which council members then reviewed and critiqued. NRC members produced an evidence summary from these article evaluations.
The NRC and collaborating council members then met to discuss the findings. Following the presentation and a formal question and answer session, NRC members made recommendations regarding the adequacy of the evidence to assist the collaborating council in its decision-making.
After each presentation, an evaluation form was sent to collaborating council's chair to request feedback on a five-point scale with an opportunity for open-ended responses to assess the review process and its outcomes.
The result: Timely, knowledgeable collaboration.
Our researchers completed six literature reviews and evidence presentations. Five completed evaluations noted that:

100% of respondents strongly agreed that the process of collaborating with the NRC was organized and timely

80% strongly agreed that the process brought new knowledge to the requesting council

100% strongly agreed they would recommend collaborating with the NRC to other councils
The NRC's presentation of evidence supported several EBP policy and guidelines updates at the hospital and system levels. One example was implementing a family and patient education brochure in collaboration with the Nursing Patient and Family Education Council. This publication was incorporated into institutional policies and corresponding clinical practice guideline changes.

After NRC collaborated to investigate Foley catheter insertion techniques, policy and practice guidelines were updated to include a two-person method. Following this update, a decrease in the rate of catheter-associated urinary tract infections was noted, from 1.2 in the first quarter of 2017 to .62 in the first quarter of 2019.
The NRC's work also contributed to product standardization, noting insufficient evidence to support using catheter care wipes -- specific cleaning products to clean the skin when inserting a catheter. Removing this product from supply rooms saved the system about $15,000 in the first year.
Each of the evidence appraisals conducted by the NRC brought forth new knowledge, and the outcomes of these literature reviews inspired further investigation on several topics.
Working together to benefit patients.
The response to the NRC's collaborative research was positive, and the impact was felt among patients, practitioners, and administrators. This work improved patient outcomes and led to cost savings.

Notable improvements in practice and clinical outcomes were reported at every level, with the wide acceptance of nurse-driven changes. This has demonstrated that a structured process can provide rapid uptake of evidence to integrate EBP more effectively and efficiently throughout MedStar Health's large and diverse system.
Our patients can feel comfortable knowing the NCGC and NRC are working to ensure that nursing practice throughout the MedStar system is current. Being up to date on nursing best practices and combining our collective knowledge can benefit every patient daily.
Want more information about the MedStar Health Research Institute?
Click below to learn more.
Stay up to date and subscribe to our blog