If you are experiencing a medical emergency, please call 911 or seek care at an emergency room.
Three abstract submissions were recognized as the most outstanding scientific abstract at the 2018 MedStar Health Research Symposium. These three were selected from the nearly 400 abstracts submitted to the Symposium.
In the category of basic science, Anna Day (MedStar Health Research Institute/Burn Center at MedStar Washington Hospital Center) was presented with the award for the research submission "Reduction of In Vitro Pseudomonal Biofilm Density Using Hypochlorous Acid." The purpose of the research was to test the effectiveness of a specific wound cleanser to disrupt biofilms created by laboratory strains of Pseudomonas aeruginosa. A larger study that included this research was recently published in Advances in Skin and Wound Care and covered in Focus. The research team was Anna Day; Bonnie Carney; Kyle Monger; Abdulnaser Alkhalil, PharmD, PhD; Lauren T. Moffatt, PhD; and Jeffrey W. Shupp, MD.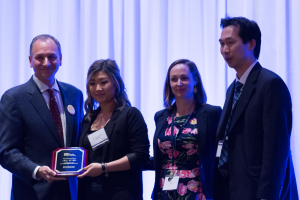 In the category of health services research, Tracy Kim (MedStar Health National Center for Human Factors in Healthcare) was presented with the award for the research submission "Understanding the Noise: Categorizing the Impact of Clinical Workflow, Behavioral, and Environmental Factors on Physiological Sensors." This research sought to categorize emergency physician behaviors and environmental factors that are particularly challenging to the collection and analysis of data collected from wearable physiological sensors to measure stress levels. The research team also included Kathryn Kellogg, MD; Matthew Nare; Joseph Blumenthal, BA; and Allan Fong, MS.
Also in the category of health services research, Natalie Shammas (MedStar Georgetown University Hospital) was presented with the award for the research submission "Inter-Professional Shadowing Improves Role Definitions Between Nurses and Medical Students." This research presented the team's experience with a joint inter-professional student-shadowing program designed to improve role clarity and lay the foundation for improved future collaboration. This research looked at both first-year medical students and a nurse residency program. The research team included Shimae C. Fitzgibbons, MD, MEd; Kristine Edson, BSN; and Nancy Morgan.
Congratulations to these research teams on your outstanding work.
Stay up to date and subscribe to our blog