Two Studies Show Promise of Virtual Reality for Palliative Care.
If you are experiencing a medical emergency, please call 911 or seek care at an emergency room.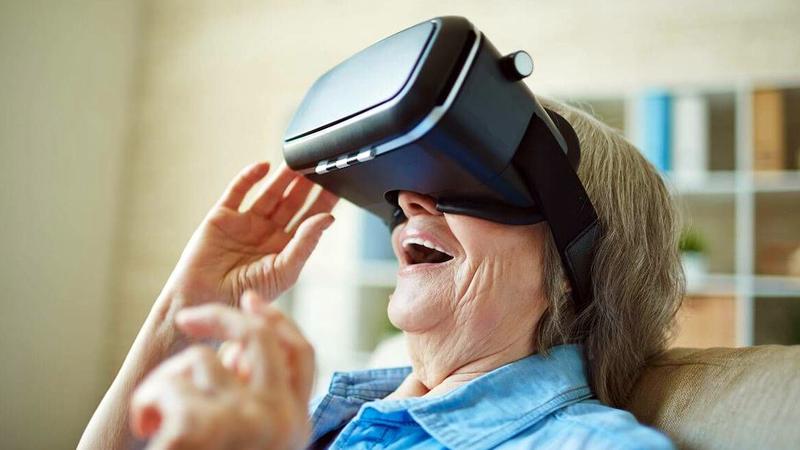 MedStar Health Research Institute investigators examine VR technology for pain management.
In the interdisciplinary practice of palliative care, we help patients cope with the symptoms of serious illnesses such as heart failure and cancer, as well as the side effects of treatment from serious conditions.
Often, our work involves managing pain to help patients live their fullest lives. Most standard pain therapies are opioid drug-based, which can cause cognitive and gastrointestinal side effects. While we are adept at safely administering these drugs, there are limits to what they can do.
MedStar Health Research Institute is investigating non-drug options to give patients more control over their pain symptoms and offer effective relief without relying solely on medication. Virtual reality (VR) is a promising approach that empowers patients with choices and potentially can deliver lasting pain relief.
In a pilot study of VR for 88 patients with heart failure, we found that a 10-minute VR experience in a nature setting they selected relieved patients' pain significantly more than guided imagery—a form of meditation—and the data suggested that there could be a lingering reduction in pain following the virtual experience. What's more, 89% of participants said they would be willing to use VR intervention again. These data were published in the journal Palliative Medicine.
Now, we are taking the palliative care research to another level to determine whether VR can help alleviate pain in patients with cancer. Along with self-reported pain relief, we are seeking clarity on three questions to refine potential clinical applications for VR pain management therapy:
How much are patients bothered by physical pain?

Can VR help patients achieve peace with their personal level of discomfort?

Which types of VR experiences provide the most relief?
Two studies from @MedStarResearch show promise for drug-free #PainRelief via #VirtualReality technology. Discover how innovation is benefitting patients in #PalliativeCare: https://bit.ly/3HVD9jA.
Click to Tweet
VR pain relief from cancer and treatment side effects.
In our current study, funded by the American Cancer Society, we are using a similar research design to the pilot to determine whether virtual reality might help patients with cancer. Patients in the hospital are randomly assigned to either of these groups:
A

n enhanced control experience in which a random selection of patients participated in a 10-minute guided meditation through a tablet that featured nature images and relaxing music (a two-dimensional experience).

A 10-minute VR experience of their choosing—the beach, a forest, or a snowy mountainside, for example. Using handheld controllers, patients can explore and interact with these environments passively or actively without leaving their bed (a three-dimensional experience).
Virtual reality causes biologic changes in the brain. Research has shown that deep levels of VR immersion can potentially modify neural pathways, changing how the brain responds to discomfort and pain. "Distraction therapy" has proven to be successful in relieving pain. VR may be an adult equivalent to focusing attention off the pain and onto a more relaxing setting that is within a patient's control, without them having to gather the mental energy to manifest the images themselves. The immersive experience that VR provides may be the key to more efficient and longer lasting neural pathway modification that mitigates the pain experience.
Among our research goals is to gain a better understanding of the patients' perspective to determine which visual and auditory experiences provide the most relief. Managing acute pain flares requires a different strategy and mindset than managing pain crises, and there is no specific test or exam to give us a level of severity—only a patient can tell us how much their pain is affecting them at a given time.
The ongoing study layers in a qualitative measure. Often, patients in palliative care feel confined to the hospital. VR offers an opportunity to take a break and enjoy a new, more pleasant surrounding for a while. This study is nearing completion and we hope to share exciting data soon.
Want more information about this study?
Learn more about eligibility criteria and how to enroll.
Stay up to date and subscribe to our blog