How Climate Change Can Affect Pregnancy | MedStar Health
If you are experiencing a medical emergency, please call 911 or seek care at an emergency room.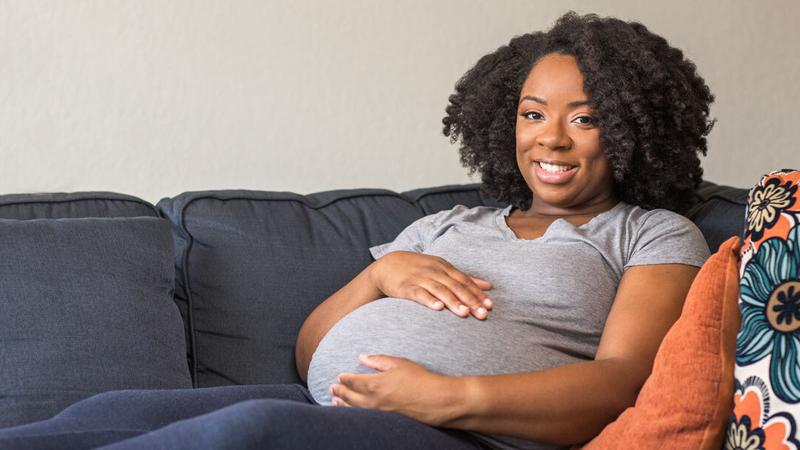 Being pregnant in the District of Columbia may be hazardous to your unborn baby's health and to yours—and climate change may be a major factor.
A study recently published in the Journal of the American Medical Association (JAMA) presents some potentially alarming conclusions. That study connects the higher temperatures and increased air pollution in urban areas with negative birth outcomes such as premature, underweight, or stillborn babies.
Black Women at Higher Risk
According to the study, African American women, people of color, and members of marginalized communities are at greatest risk from the debilitating effects of climate change. It's a danger not only to them but to their unborn children as well.
In fact, the District of Columbia has one of the highest maternal mortality and morbidity rates in the country—particularly in Wards 4, 5, 7, and 8.
D.C. has one of the highest maternal mortality and morbidity rates in the country. @OByourself shares how climate change can affect pregnant women and their babies. https://bit.ly/3fs2kKV via @MedStarWHC
How Climate Change Affects Communities
Hotter, more polluted environments can cause women to deliver premature, underweight, or stillborn babies. Overall, 40% of low-income residents in the District of Columbia live in communities with an overabundance of apartment buildings and asphalt, but few trees. Our local TV weather regularly reports that these neighborhoods are anywhere from three to five degrees hotter than the suburbs or rural areas.
Also, minority communities tend to be located closer to factories or industries that regularly release particulate matter, smog, and other pollutants into the air.
Potential Lifelong Consequences
With emerging science clearly showing the negative effect of climate change on pregnancy, we must consider the possible effects on newborns. In many cases, we worry if babies are effectively able to reach full term.
And there could be lasting consequences for newborns, particularly for those with a birth weight of less than 5.5 pounds. Infants born at or below this weight may have a multitude of issues that last a lifetime, ranging from not meeting developmental milestones to chronic health problems.
For instance, babies with low birth weight may experience:
Impaired brain development, potentially impacting the ability to learn
Vulnerability to diseases such as asthma and allergies
Underdeveloped lungs and respiratory system
How High Temperatures Can Affect Pregnancy
Pregnant women, like all people, can become dehydrated in dangerously hot temperatures, when the heat index is oppressive and the air is uncomfortably humid. Signs of dehydration include:
Extreme thirst
Dry mouth
Lack of urination or sweating
Dark-colored urine
Tiredness
Dizziness
Uterine contractions are one of the things we worry about most when a pregnant woman is dehydrated. The body tries to conserve fluids and water, so it releases ADH (anti-diuretic hormone). ADH comes from a similar place in the body as another hormone, oxytocin, which causes contractions.
It's not uncommon to see a dehydrated woman begin to experience uterine contractions. If she's not near full term when these contractions start, her dehydrated state could lead to pre-term labor and, ultimately, pre-term delivery, imposing a health burden on the newborn.
How Air Pollution Affects Oxygen Levels
According to the World Health Organization, extreme heat can encourage higher levels of pollen. In addition, air pollution and the deterioration of the ozone layer can make it harder to breathe, especially for expectant mothers with asthma or other respiratory problems.
The better that mothers can breathe, the more efficiently they supply oxygen for themselves and their babies. If mom cannot breathe well, we have greater concern about her baby getting adequate oxygen. And the effects of climate change are year-round, not seasonal, so it's not likely that this situation improves in the colder months.
What You Can Do: Optimize Your Health
As healthcare consumers, we need to change the culture a bit and recognize the importance of well-woman care. That means caring for our health not only when we have a problem or are pregnant, but before and after pregnancy as well. Now more than ever, the relationship between a pregnant woman and her provider is vitally important.
If you're thinking about becoming pregnant, here's a simple checklist to help you optimize your health:
Visit your doctor before you conceive

Make an appointment with your Ob/Gyn for well-woman care
Discuss and evaluate your overall health
Ask about your ideal weight and body mass index
See your primary care doctor to help control preexisting conditions such as obesity, diabetes, or high blood pressure

Pursue healthy habits

Stop smoking or vaping
Exercise
Eat a healthy diet high in protein, good fats, and vegetables and low in carbs, sugars, and saturated fats
Get close to your ideal body weight and body mass index

Seek prenatal care early in your pregnancy

For the best outcome, seek prenatal care within the first trimester (first two or three weeks after your positive pregnancy test)
Work with your Ob/Gyn to identify a potentially high-risk pregnancy

Be aware of how climate change can affect your pregnancy

Recognize signs of dehydration
Hydrate! Hydrate! Hydrate!

Drink at least 64 ounces of water a day
Avoid soda or juice
Drink coffee or tea according your doctor's advice

Use air filters, air purifiers, or allergen removers
Use air conditioning or fans to keep air moving and flowing
Visit a cooling center for relief from the heat

Share with your Ob/Gyn

Don't be afraid to ask questions
Speak up and voice any concerns
Describe how you feel physically, emotionally and mentally
A Collaborative Effort for the Women of D.C.
The effects of climate change on pregnancy need to be more widely recognized. MedStar Washington Hospital Center, the Washington, D.C. Department of Health, the American College of Obstetrics and Gynecology, and other area hospitals are working with various organizations to optimize the health of pregnant women within Black and other minority populations. Issues like inadequate food and water or undesirable living conditions must be addressed.
At the Hospital Center, we are dedicated to seeing more positive birth outcomes by working to help moms avoid potentially long-term consequences from climate change.
Newly pregnant?
Connect with our prenatal care team.
Stay up to date and subscribe to our blog