Strength Restored Following Shoulder Surgery
If you are experiencing a medical emergency, please call 911 or seek care at an emergency room.
By Leslie Whitlinger
At a standstill in bumper-to-bumper Beltway traffic, now-57-year-old Gary Silverman watched his rear view mirror in horror. A car going 60 miles per hour was about to barrel into him, and the only thing he could do was brace for the inevitable.
The 2003 collision set in motion a multiple-car pileup, and sent Gary on a decade-long search for relief from the accident's aftermath: Lingering pain in both shoulders from rotator cuff injuries.
"Over the years, the pain would come and go, but every time it came back, it was worse than before," says the attorney and tech business entrepreneur. "I saw a lot of doctors but didn't see many results."
By 2010, Gary was miserable. He finally asked his physical therapist (PT) at MedStar National Rehabilitation Network if she knew of a really good surgeon. She did.
"I had avoided shoulder surgery as long as I could," he says. "I always heard that recovery was long and hard and that scar tissue could make range of motion even worse than before. But I simply couldn't stand it anymore."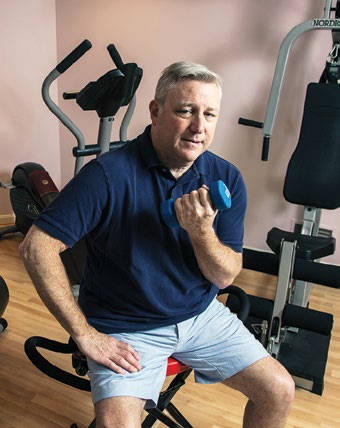 At his PT's recommendation, Gary made an appointment with Brent Wiesel, MD, a fellowship-trained and board-certified orthopaedic surgeon and chief of the shoulder service at MedStar Georgetown University Hospital, part of the MedStar Orthopaedic Institute. A leader in arthroscopic rotator cuff repair surgeries, Dr. Wiesel dedicates his practice to shoulder and elbow disorders.
Dr. Wiesel's experience and understanding extend beyond his professional background, however. As a member of the USA Canoe/Kayak whitewater slalom team, he injured his shoulder while preparing for the 1996 Olympics and went through two surgeries. Although the injury derailed his dreams of Olympic glory, it cemented his commitment to a career treating shoulder and elbow problems in adolescents and adults.
"Shoulders are the most flexible joints in the body, with a wide range of motion that let us push, pull, lift and throw," says Dr. Wiesel, an expert in minimally invasive arthroscopic surgery, reverse shoulder replacement, and research on advancing treatment for shoulder and elbow disorders.
"But they're also very vulnerable to wear and tear, and other injuries like dislocations, separations and rotator cuff tears that can be debilitating for the patient and complex to repair," he says.
"With fully torn rotator cuffs in both shoulders at the same time, Gary's case was particularly unusual."
Dr. Wiesel first operated on Gary's left rotator cuff, the more badly damaged of the two. Gary subsequently spent four weeks in a sling and about six months back in physical therapy, a typical recovery for shoulder procedures. By then, he was eager for Dr. Wiesel to tackle the right shoulder as well—a full 10 years after the initial accident.
"I couldn't believe the difference," says Gary, who now admits his previous fears about shoulder surgery were unfounded. "Before my operations, I spent my life asking myself, 'How long can I type before the pain becomes unbearable?' 'Can I lift that book?'
"Now I can do whatever I want again—including lifting weights. Dr. Wiesel helped me gain my strength back, and that has changed my life. I'm so grateful for the expert care I received."
Stay up to date and subscribe to our blog