Taking Steps to Power Health and Research
If you are experiencing a medical emergency, please call 911 or seek care at an emergency room.
Don't miss your chance to connect with other MHRI and MedStar associates by participating in one of these upcoming events to support the health of our communities.
Race to Beat Cancer
Saturday, September 16
Four Seasons Hotel Washington, D.C., is proud to host the 37th annual Four Seasons Hotel Washington, D.C., Race to Beat Cancer 5K. This charitable event is one of the premier 5K races in Washington, D.C., The proceeds from this event are donated to the Washington Cancer Institute at MedStar Washington Hospital Center. In 2016, the event raised more than $180,000 for cancer research! To learn more and register, visit https://www.racetobeatcancer5k.com/home. When registering, join the MHRI team by selecting "MedStar Health Research Institute (MHRI)" from the drop down menu on the Group/Team field for your event. You can view the team page here.
2017 DC Tour de Cure + Step Out Walk
Saturday, September 23
Be part of the Stop Diabetes movement at Step Out: Walk to Stop Diabetes on September 23 at the Washington Monument in Washington, D.C., Bring your friends, family and co-workers to walk with thousands of people from across the country and help us change the future of diabetes. This walk is hosted by the American Diabetes Association. Learn more at stepout.diabetes.org. 
Super H 5K Run, Walk & Wheel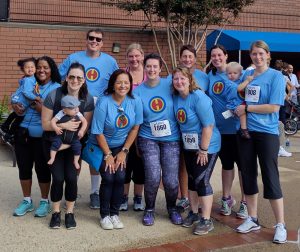 Sunday, September 24
Help support the Adaptive Sports Programs at MedStar National Rehabilitation Network and participate in the Super H 5K Run, Walk & Wheel in Tysons Corner, VA. This race is open to all able-bodied and disabled athletes who can run, walk or roll through the course. All proceeds benefit Adaptive Sports Programs at MedStar National Rehabilitation Network, which helps children and adults with physical disabilities to pursue healthy, active lifestyles through recreational and competitive sports. Learn more and register at SuperH5K.com.
2017 Step Out: Baltimore, MD
Sunday, October 1
Join fellow walkers at Canton Waterfront Park to support the diabetes community of Baltimore. When you register for the Step Out Walk to Stop Diabetes, you become a part of the American Diabetes Association's team. Joining you will be thousands of participants from around the country who come together and directly impact the lives of people facing the daily challenges of diabetes. Learn more here.
2017 Greater Washington Heart Walk
November 4, 2017
Hosted by the American Heart Association and the American Stroke Association, this event includes 1- and 3-mile routes. Join walkers from across our community as they step out to have fun, get inspired and support a meaningful cause. Learn more on the website.
Stay up to date and subscribe to our blog