Welcome to the MedStar Institute for Quality Safety
If you are experiencing a medical emergency, please call 911 or seek care at an emergency room.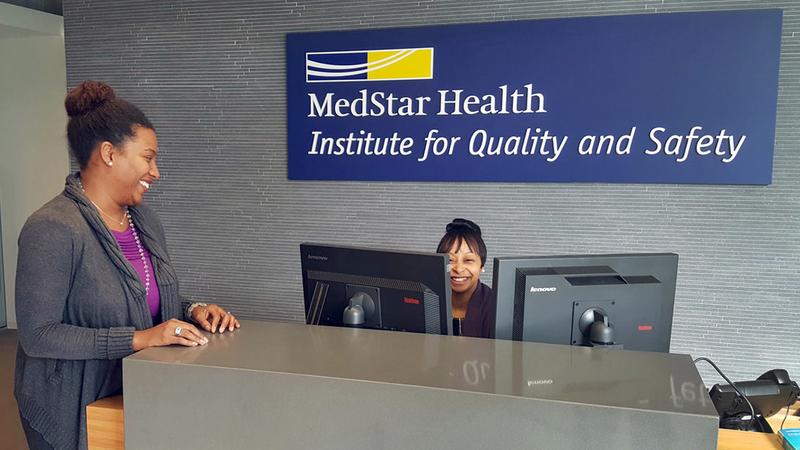 "Integrated Health Systems that successfully integrate quality, safety and value both within and outside traditional health care disciplines in research, education and clinical care applications and outcomes will assume leadership positions in shaping this century's global health care agenda."
Institute of Medicine
By David Mayer, MD
Welcome to the MedStar Institute for Quality and Safety (MIQS) (www.MedStarIQS.org) The MedStar Health Institute for Quality and Safety aligns with, and catalyzes, the innovation and implementation power within MedStar Health through the synergistic interaction with our internal partners at the MedStar Institute for Innovation (MI2); the MedStar Health Research Institute (MHRI); the MedStar National Center for Human Factors in Healthcare; and the MedStar Simulation, Training & Education Lab (SiTEL).
Since 2012, MedStar Health has made significant investments towards the goal of providing the highest quality, safest care possible to the communities we serve. While we still have work ahead of us in order to achieve this goal, we have seen significant reductions in preventable medical harm events as well as improvements in clinical quality outcomes in patient care across our system, which includes 10 hospitals and 300 ambulatory care sites.
Examples of MedStar's commitment to quality and safety include:
1) A system-wide rollout of high reliability training and risk reduction tools to over 30,000 associates, caregivers, leaders and board members focused on the elimination of preventable harm to our patients and those who care for them.
2) Through strategic partnerships with Georgetown University and others, we have built and deployed a wide offering of educational programs that advance safety science and quality improvement. These educational programs include:
Best-in-class patient safety summer camps for medical and nursing students and well as resident physicians through our Academy for Emerging Leaders in Patient Safety (AELPS) also known as The Telluride Experience. Over 200 future healthcare leaders each year receive full scholarships to one of our patient safety summer camps held in Telluride CO, Napa CA, Washington, D.C., Sydney Australia, and Doha Qatar.
An Executive Masters in Quality and Safety Leadership for those wanting higher level degree training in quality and safety.
A growing number of online quality improvement and patient safety educational programs.
3) Created the Center for Open and Honest Communication (COHC) in healthcare led by Tim McDonald, MD, JD. Working with the Agency in Healthcare Research and Quality (AHRQ), MedStar led the development, piloting and implementation of the Communication and Optimal Resolution (CANDOR) toolkit. The CANDOR toolkit includes a best-in-class Event Review (Root Cause Analysis) model developed by experts in patient safety, human factors and the National Transportation Safety Bureau (NTSB), as well as information on how to implement a Care for the Caregiver program within hospitals. Dr. McDonald, an international leader in open and honest communication after preventable harm events, is currently leading CANDOR training and implementation at over 200 hospitals across the country.
4) Created the International Training Center for Bloodless Medicine where care teams from across the world can learn and train on the newer techniques that have been developed to provide optimal care to Jehovah's Witnesses, who do not accept transfusions of blood or its primary components. Through a generous philanthropic contribution from the New York Community Trust, the training will be free to all care teams.
5) Continuously engage patients and families as partners in healthcare quality, safety, and system redesign strategies. Through the creation of a national, as well as local, Patient and Family Advisory Councils for Quality and Safety (PFACQS) at all of our hospitals, the patient/family voice is part of all our quality and safety efforts.
Eliminating Preventable Harm, continuously improving Quality, optimizing Patient Experience and driving Value in healthcare are the now widely recognized drivers of a paradigm shift within the U.S. health system. The MedStar Institute for Quality and Safety will provide the resources, passion and expertise and will continue with MedStar Health's commitment to the Quadruple Aim: Better care for patients, better health for the communities we serve, lower costs, and support for the healthcare workforce to stem dissatisfaction and burnout.
We hope you will visit our website, learn more about the MedStar Institute for Quality and Safety, attend a learning session or collaborate with us in the pursuit of zero preventable harm.
Stay up to date and subscribe to our blog