NRH Rehabilitation Network at 19th Street | Sports Injury Therapists | 20036 | MedStar Health
Welcome to physical therapy at 19th Street
Our 19th Street location has a compassionate team who will design a personalized treatment plan to help you regain your independence and achieve your goals. Our highly skilled physical therapists provide rehabilitation for a full range of conditions, whether you need to recover from a sports-related injury, restore function, or safely return to work and activities you love.
Visiting MedStar National Rehabilitation Network at 19th Street
Hours of operation:
Monday to Thursday
7 a.m. to 6 p.m.
Friday:
7 a.m. to 4:30 p.m.
Insurance
We proudly accept most major health plans. The list below serves as a guide and is subject to change. If you are unsure about your coverage, please call your insurance provider. Insurance is collected prior to scheduling services.
Podcasts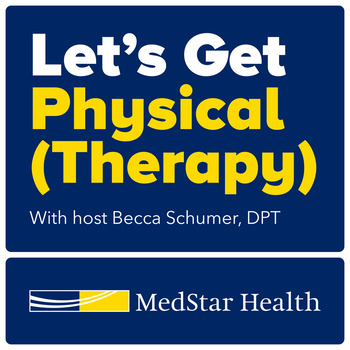 The "Let's Get Physical (Therapy) Podcast," hosted by MedStar Health Physical Therapy, is a new educational podcast series designed for rehabilitation professionals, students, new graduates, and those in related fields. Join us as we discuss treatment options, innovations, techniques, and more with a wide variety of medical professionals.
Cari Makiya, PT, OCS, SCS, MBA, Regional Director

Cari Makiya attended Boston University where she earned a bachelor's degree in health sciences and a master's degree in physical therapy. In addition, she also earned an MBA at George Washington University. Cari is a board-certified specialist in sports physical therapy (SCS) and orthopedic physical therapy (OCS). Her rehabilitation specialties include:

ACL Injury Prevention

Dry Needling

Foot Orthotics Evaluation and Casting

Knee, Foot, and Ankle Therapy

Neck Pain and Lower Back Pain

Orthopedic Injuries and Conditions

Repetitive Motion Disorder Services

Running Injury Care

Sports Injuries

Tim Eckert, PT, DPT, OCS, CSCS, Clinic Director

Tim Eckert received his bachelor's degree in Interdisciplinary Health Services from Saint Joseph's University. Tim completed his doctoral degree in physical therapy from Thomas Jefferson University. Tim's rehabilitation specialties include:

ACL Return-to-Play Testing

Endurance Athlete Care

Dry Needling

Orthopedic Injuries and Conditions

Falls Prevention

Megan Pedersen received her bachelor's degree in exercise science from James Madison University. Megan completed her doctoral degree in physical therapy from MGH Institute of Health Professionals. Megan's rehabilitation specialties include:

ACL Return-to-Play Testing

Concussion Management and Care

Knee, Foot, and Ankle Therapy

Neck Pain and Lower Back Pain

Orthopedic Injuries and Conditions

Pain Management

Running Injury Care

Sports Injuries

Vestibular/Balance Rehabilitation

Zack Kaye attended University of Maryland, College Park where he received his bachelor's degree in Kinesiology. He also completed his doctoral degree in physical therapy from Plymouth State University. His rehabilitation specialties include:

Arthritic Conditions

Knee, Foot, and Ankle Therapy

Back/Neck/Spin Pain

Falls Prevention Program

Joint Replacement

Orthopedic Conditions

Pain management

Emily Trosch received her bachelor's degree in psychology from Bucknell University. She also earned her doctoral degree in physical therapy from the University of Maryland, Baltimore. Emily specializes in the following rehabilitation programs:

ACL Return-to-Play Testing

Arthritis Treatment

Knee, Foot, and Ankle Therapy

Neck Pain and Lower Back Pain

Orthopedic Injuries and Conditions

Pain Management

Repetitive Motion Disorder Services

Dry Needling