Physical Therapy at Chevy Chase – South | Orthopedic PT & Sports Injuries | 20815 | MedStar Health
Welcome to physical therapy at Chevy Chase - South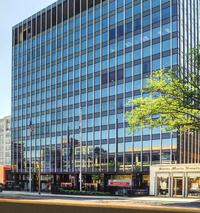 Our Chevy Chase - South site offers convenient and comprehensive physical therapy services one block away from the Friendship Heights metro station. Located in the same building as MedStar Health's urgent care center, our therapists specialize in orthopedic and sports injuries.
Visiting NRH Rehabilitation Network at Chevy Chase - South
Hours of operation:
Monday to Thursday: 7:30 a.m. to 5 p.m.
Friday: 7:30 a.m. to 4 p.m.
Saturday & Sunday: Closed
Insurance
We proudly accept most major health plans. The list below serves as a guide and is subject to change. If you are unsure about your coverage, please call your insurance provider. Insurance is collected prior to scheduling services.
Kristina Indriksons, PT, DPT, Clinic Director

Kristina Indriksons attended the University of Dayton, where she earned her bachelor's degree in exercise science. Kristina also completed her doctoral degree in physical therapy from Northwestern University and is certified in manual therapy (CMPT). She is bilingual in English and Latvian. Her rehabilitation specialties include:

ACL Injury Prevention

Neck Pain and Lower Back Pain

Knee, Foot, and Ankle Therapy

Manual Therapy

Orthopedic Injuries and Conditions

Physical Therapy

Running Injury Care

Sports Injuries

Kaylie Nielson, PT, DPT, Clinic Coordinator

Kaylie Nielson received her bachelor's degree in psychology from the Ohio State University. She received her doctoral degree in physical therapy from the University of Dayton. Kaylie is certified in Astym® treatment and specializes in the following:

Arthritis Treatment

Knee, Foot, and Ankle Therapy

Neck Pain and Lower Back Pain

Orthopedic Injuries and Conditions

Pain Management

Rachel Friedman, MSOTR/L, CHT

Rachel Friedman attended Washington University where she obtained a bachelor's degree in psychology. She received her master's degree in occupational therapy from Boston University. She has been practicing since 2004 and received her specialization in hand and upper extremity therapy (CHT) in 2012. She is proficient in speaking and understanding Spanish. Her areas of interest and expertise include:

Hand Therapy

Orthopedic Injuries and Conditions

Orthotic and Splint Fabrication

Shoulder and Wrist Therapy

Cody Meashaw, PT, DPT, OCS

Cody Meashaw attended Syracuse University where he earned a bachelor's degree in health and exercise science. Cody continued his education at George Washington University, completing his doctoral degree in physical therapy. Cody is a board-certified orthopedic clinical specialist (OCS). His rehabilitation specialties include:

Arthritis Treatment
Neck Pain and Lower Back Pain
Knee, Foot, and Ankle Therapy
Orthopedic Injuries and Conditions