NRH Rehabilitation Network at Germantown | Physical & Aquatic Therapists | 20876 | MedStar Health
Welcome to physical therapy at Germantown
Our Germantown clinic is located inside OneLife Fitness where our therapists and patients are able to use the full-service gym—and one of the only aquatic therapy pool in Montgomery County. Whether you are a weekend warrior, high school athlete, or active adult, our therapy team will customize a plan of care to get you back in the game.
Visiting NRH Rehabilitation Network at Germantown
Hours of operation:
Monday: 7 a.m. to 7 p.m.
Tuesday: 7 a.m. to 7 p.m.
Wednesday: 7 a.m. to 7 p.m.
Thursday: 7 a.m. to 7 p.m.
Friday: 7 a.m. to 5 p.m.
Saturday: 8 a.m. to 12 p.m.
Insurance
We proudly accept most major health plans. The list below serves as a guide and is subject to change. If you are unsure about your coverage, please call your insurance provider. Insurance is collected prior to scheduling services.
Podcasts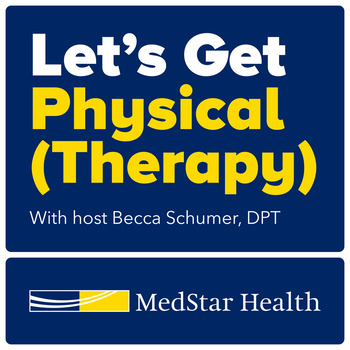 The "Let's Get Physical (Therapy) Podcast," hosted by MedStar Health Physical Therapy, is a new educational podcast series designed for rehabilitation professionals, students, new graduates, and those in related fields. Join us as we discuss treatment options, innovations, techniques, and more with a wide variety of medical professionals.
Tom Sutton, PhD, DPT, Regional Director

Tom graduated from the University of Southern California with a clinical doctorate in biomechanics and physical therapy. Tom is a Certified Strength and Conditioning Specialist. Tom enjoys treating overhead athletes, runners, golfers, sports medicine and performance enhancement restoration.

Ortho
Sports
Vestibular, including fine motor coordination

Iyna Adams OTR/L, CPAM, CLT

Iyna Adams is a graduate of Penn State University and Thomas Jefferson University with a degree in Occupational Therapy. She was elected to serve on the Maryland State Board of Occupational Therapy for eight years, the last two as chair and vice chair. Iyna's rehab specialties include:

Stroke Recovery (neurorehabilitation)
Arthritis Treatment
Custom Fabrication of Orthotics (Splinting)
Orthopedic Injuries and Conditions of the Hand and Elbow
Overuse Injuries and Tendonopathies of the Hand and Elbow

Dorota Hassett received a master's degree in physical therapy and physical education from Opolski University in Poland. She specializes in the following rehabilitation areas:

Aquatic Therapy

Arthritis Treatment

Fibromyalgia Care

Knee, Foot, and Ankle Therapy

Neck Pain and Lower Back Pain

Neurorehabilitation

Orthopaedic Injuries and Conditions

Samyukta (Sami) Kappagantula, PT, DPT, CMTPT

Samyukta (Sami) Kappagantula graduated from Clemson University and recieved her DPT from the University of St. Augustine in San Marcos, CA. Sami specializes in neurorehabilitation with an emphasis on PD, MS, CP and stroke. Sami is a certified LSVT clinician and works on falls prevention as well. Sami's rehab specialties include:

Neck Pain and Lower Back Pain
Orthopedic Injuries and Conditions
Pain Management
Stroke Recovery
Neurorehabilitation
LSVT BIG for Parkinson's
Dry Needling

Arsalan Nejad embraces his passion in the sports physical therapy realm as he is a former DIII athlete and has dedicated his studies in rehabilitation, injury prevention, biomechanics and sports performance.

Arsalan Nejad graduated from The University of Maryland, College Park with a Bachelor's degree in Kinesiology. He then graduated from Stony Brook University where he received his Doctorate in Physical Therapy. Throughout Arsalan's career, he has been working with a wide variety of patients including youth athletes, working professionals and professional athletes. He has over five years of experience and a strong academic background working in the sports rehabilitation and performance field.

Arsalan's scope of practice revolves around thorough examination, movement analysis and identifying asymmetries and imbalances to help his patients optimize the way they move.

ACL Return-to-Play Testing

Functional Movement Screening (FMS)

Running Analysis

Knee, Foot, and Ankle Therapy

Neck Pain and Lower Back Pain

Orthopaedic Injuries and Conditions

Performance Enhancement

Selective Functional Movement Assessment (SFMA)

Strength and Conditioning

Megan Repoley received her doctoral degree in physical therapy from Lebanon Valley College. Megan specializes in the following rehabilitation areas:

ACL Return-to-Play Testing

Concussion Management and Care

Fibromyalgia Care

Knee, Foot, and Ankle Therapy

Neck Pain and Lower Back Pain

Orthopaedic Injuries and Conditions

Pain Management

Stroke Recovery

Vestibular/Balance Rehabilitation

Veronica Rivera Palm, PT, DPT, LMT

Veronica Rivera Palm attended Towson University where she received her bachelor's degree in fine arts. Veronica also completed her doctoral degree in physical therapy from New York University. In addition, she attended the Baltimore School of Massage and is a licensed massage therapist. Her rehabilitation specialties include:

ACL Return-to-Play Testing

Cancer Rehabilitation

Knee, Foot, and Ankle Therapy

Neck Pain and Lower Back Pain

Orthopaedic Injuries and Conditions

Performing Arts Therapy

Randy Toth received his bachelor's degree from East Stroudsburg University. Randy also completed his master's degree in education from Salisbury University. In addition, he earned his master's degree in physical therapy at Western Carolina University. Randy is a certified athletic trainer and a certified strength and conditioning specialist (CSCS). He is also a certified specialist in both performance enhancement and corrective exercise through the National Academy of Sports Medicine (NASM). Randy's rehabilitation specialties include:

ACL Return-to-Play Testing

Arthritis Treatment

Blood Flow Restriction Therapy

Dry Needling

Functional Movement Screening (FMS)

Knee, Foot, and Ankle Therapy

Neck Pain and Lower Back Pain

Orthopaedic Injuries and Conditions

Performance Enhancement

Selective Functional Movement Assessment (SFMA)

Strength and Conditioning

Bradley Nguyen received his bachelor's degree in Psychology from the University of Maryland, Baltimore County. Brad completed his degree to become a Physical Therapist Assistant from Montgomery College in 2020. Brad specializes in orthopedic injuries, return-to sport, joint replacements, vestibular rehab, volleyball rehab, Olympic and power lifters, BFR, and is certified in the Barbell Rehab Method. Brad's rehabilitation specialties include:

Aquatic Therapy
Blood Flow Restriction Training
Barbell Rehabilitation Method
ACL Return-to-play testing
Knee, Foot, and Ankle Therapy
Neck Pain and Lower Back Pain
Othopaedic Injuries and Conditions
Sports performance
Vestibular/Balance Rehabilitation