Physical Therapy at Lorton | Orthopedic & Sports Medicine | 22079 | MedStar Health
Welcome to physical therapy at Lorton
Our physical therapy clinic in Lorton brings access to MedStar Health's comprehensive network of rehabilitation experts to Fairfax County. Our highly trained physical therapists offer a variety of specialized services, including manual therapy, dry needling and cancer rehabilitation. From sports-related injury prevention to rehabilitation for orthopedic conditions and arthritis, our therapists will tailor a treatment plan that helps you achieve your goals.
Visiting physical therapy at Lorton
Hours of operation:
Monday to Thursday: 7 a.m. to 6 p.m.
Friday: 7 a.m. to 2:30 p.m.
Insurance
We proudly accept most major health plans. The list below serves as a guide and is subject to change. If you are unsure about your coverage, please call your insurance provider. Insurance is collected prior to scheduling services.
Podcasts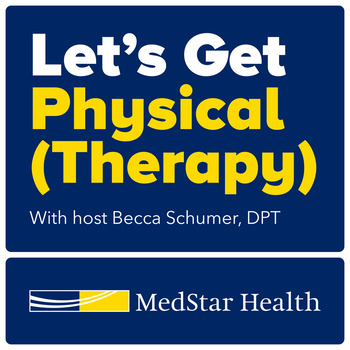 The "Let's Get Physical (Therapy) Podcast," hosted by MedStar Health Physical Therapy, is a new educational podcast series designed for rehabilitation professionals, students, new graduates, and those in related fields. Join us as we discuss treatment options, innovations, techniques, and more with a wide variety of medical professionals.
Jasmine Majors received her bachelor's degree in Kinesiology from the University of Virginia. She went on to complete her Doctoral degree in physical therapy from Hampton University. Jasmine's rehabilitation specialties include:

Orthopedic Injuries and Conditions

Balance Rehabilitation

Cancer Rehabilitation

Kristy Murphy received her Bachelor's degree in Biology from Midwestern State University. Kristy went on to complete her Master's degree in Physical Therapy from Old Dominion University. Kristy's rehabilitation specialties include:

Dry Needling
Orthopedic Injuries and Conditions
Postoperative Rehabilitation
Vestibular/Balance Rehabilitation