Stem Cell Transplant and Cellular Immunotherapy Program at MedStar Georgetown University Hospital | 20007 | MedStar Health
Stem Cell Transplant and Cellular Immunotherapy Program at MedStar Georgetown University Hospital
Our Stem Cell Transplant and Cellular Immunotherapy Program is the only adult, FACT-accredited program in the Washington, D.C., area. We give patients with cancers affecting the blood or immune system and other disorders access to life-saving treatment options not otherwise available in our region. These include:
Our specialists have extensive experience performing these complex procedures safely, effectively, and comfortably. Our program features:
Experienced and dedicated specialists

Expertise with high-risk patients

A dedicated 18-bed stem cell transplant, oncology, and hematology unit staffed by specialty-trained nurses

Holistic care, with training for caregivers

The nation's largest marrow harvesting site

State-of-the-art transplant clinic with bright, beautifully decorated space
Our research engine, Georgetown Lombardi Comprehensive Cancer Center, the only National Cancer Institute (NCI)-designated comprehensive cancer center in the Washington,D.C., region, provides access to clinical trials as well as breakthrough treatment options. Together, we deliver comprehensive, advanced care to our patients.
We are also proud of our close collaboration with the John Theurer Cancer Center at Hackensack University Medical Center–one of the nation's ten largest programs.
Our services
Conditions we treat:
---
Procedures we perform:
Additional information
Our team is committed to maintaining collaborative relationships with you throughout treatment.
Our dedicated team is here for you. To speak with a specialist about our program or to schedule an appointment, please call 202-444-3736.
Monday - Friday:
7:30 a.m. - 5 p.m.
Awards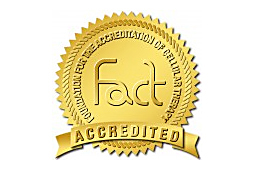 Our program at MedStar Georgetown University Hospital has been awarded FACT Accreditation. Home to the nations' largest stem cell collection facility, is the region's only adult, Foundation for the Accreditation of Cellular Therapy (FACT)-accredited program for autologous transplant, allogeneic transplant, and cellular immunotherapy.
Videos
Dr. Alaa Ali

Dr. Pashna Munshi

Dr. Munshi - What is an Allogeneic Stem Cell Transplant?

Dr. Munshi - What is an Autologous Stem Cell Transplant?

Dr. Munshi - What is CAR-T Cell Therapy?