MedStar Health Teams up with Local Sports Figures to Teach CPR and AED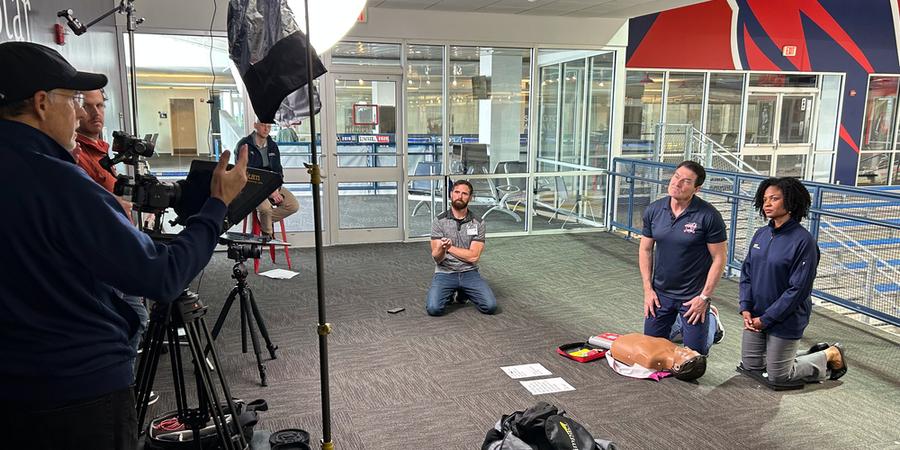 Emergency and critical care physicians, alumni, staff and players from the Capitals, Wizards, Mystics, and Georgetown get camera-ready to address gender and racial disparities in bystander CPR
Columbia, Md. – Emergency and critical care physicians from MedStar Health have teamed up with former and current players and staff from local sports teams to teach CPR and how to use an Automated External Defibrillator (AED) with a video campaign to address disparities in who is most likely to receive life-saving CPR from a bystander.
"Studies show women and Black and Hispanic adults are less likely to receive CPR should they have a cardiac arrest in public," said Munish Goyal, MD, section director, critical care, MedStar Emergency Physicians. "In fact, a January 2022 study of CPR in the Washington, D.C. area shows the nation's capital is below the national average for bystander CPR rates and zip codes with higher proportions of White people had higher rates of bystander CPR. The same goes for the Baltimore area. We know that bystander CPR saves lives, and we hope these videos will connect with people and help them overcome any fears or hesitations."
Teams participating in the three-minute videos include the Washington Wizards, Washington Capitals, Washington Mystics, and Georgetown Women's Soccer.
All videos can be seen at MedStarHealth.org/CPR.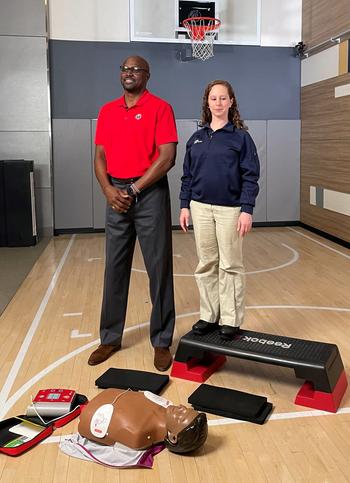 "We wanted to address known disparities and show people that virtually anyone can do CPR," said Miriam Fischer, MD, an emergency physician for MedStar Health who appears in one of the videos with Harvey Grant, formerly from the Washington Bullets/Wizards. "After the on-field collapse of Buffalo Bills player Damar Hamlin earlier this year, there was a national conversation about CPR and AEDs and saving lives. We believe it was important to engage with athletes from different ethnic backgrounds and specifically female athletes to be a part of that conversation and save lives by making CPR feel more accessible to everyone."
"I was surprised to learn about the racial and gender disparities when it comes to using CPR to save the life of someone in need," said Grant who played for the team when it was the Washington Bullets/Wizards from 1988-1993 and then again from 1996-1998. "I was more than happy to be part of this project to allay fears in the community. It's like we said in the video, 'anyone can do it.'"
Recent changes to the way CPR can be administered should also make the public feel more comfortable performing CPR, according to MedStar Health physicians.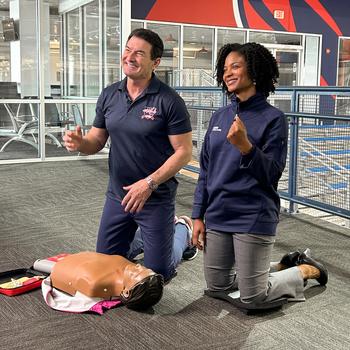 "There is no need to perform mouth-to-mouth anymore, which is the way people used to learn CPR," said Jennifer Thompson, MD, an emergency physician for MedStar Health who appears in a video with retired Washington Capitals player Alan May. "We know that just getting hands on chests to massage the heart and get it beating again is enough to save a life. The other thing is that people should not feel they have to be certified in CPR to give it and be successful."
"We're proud to be part of this educational video project with MedStar Health physicians," said May who played 12 seasons of professional hockey, including five seasons with the Capitals from 1989-90 to 1993-94 and now works as an NHL Capitals TV analyst. "This is an important campaign to address a serious public health challenge that we can all work together to improve."
Alex Koo, an emergency physician with MedStar Health teams up for a video with Kala Flagg, DPT, ATC, CSCS, head of rehabilitation for the Washington Mystics. Julia Leas, an Athletic and Academic All-American with Georgetown Women's Soccer partners with Critical Care Physician David Gordon, MD.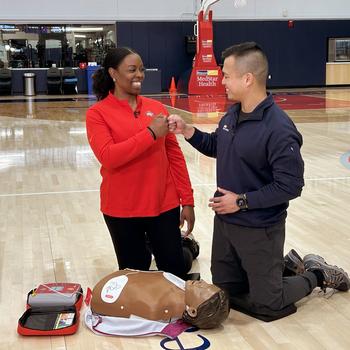 The videos also remind people that all states plus the District of Columbia have Good Samaritan laws to protect bystanders when they try to help people in distress.
MedStar Health social media channels are running the videos that will also be shared by the teams.
Overall, about 92 in 100,000 Americans suffered a cardiac arrest out of the hospital in 2021, and fewer than 10-percent of those survived. Many survivors sustain serious neurological damage due to lack of oxygen to the brain. Currently, bystander CPR happens in about 40 percent of cases. "We would like to see that response rate much higher because providing bystander CPR and using an AED can dramatically increase the odds of survival. That's a campaign we can all get behind," concluded Dr. Goyal.
Very sincere thanks to Laerdal for their generous loan of the mannequin and instructor AED used in the production of these videos.
* Editors/Reporters: To download the CPR/AED videos for media coverage, please click here.
Julia Leas: "Ready to save a life"

Addressing health disparities