Hypertrophic Cardiomyopathy Clinic – Genetic Heart Conditions | MedStar Health

Comprehensive care for hypertrophic cardiomyopathy (HCM) patients
Hypertrophic cardiomyopathy (HCM) is the most common genetic heart condition. The HCM Clinic at MedStar Union Memorial Hospital in Baltimore is here with specialized care from cardiac experts who diagnose, treat, and manage patients long-term.
Our patients require specialized care to maintain quality of life, reduce their chance of sudden death, and appropriately screen their family members.
Led by Sandeep Jani, MD, our interdisciplinary team of cardiac imaging experts, electrophysiologists, and interventional cardiologists provide an individualized approach to care. In addition, Ankit Shah, MD, one of the few fellowship-trained sports cardiologists in the nation, specializes in managing cardiac conditions in athletes. The team also includes a dedicated cardiogenetics specialist, Aime Agather, to determine genetic factors that may be involved.
The HCM Clinic treats patients diagnosed with or suspected to have hypertrophic cardiomyopathy, in addition to their first-degree relatives who may be at risk.
Clinic of choice: Backed by the strong reputation of the MedStar Heart & Vascular Institute (MHVI), HCM patients receive the highest quality of care.The program offers ongoing:

HCM management

Sudden cardiac death risk stratification

Arrhythmia management

Septal reduction therapies for obstructions

Heart failure management

Sports and exercise prescriptions

Research

Genetic counseling: A dedicated cardiogenetic specialist helps appropriately screen and treat family members who may be at risk.

Coordinated care: Being referred to the HCM clinic doesn't mean you will no longer address your condition with your physician. The clinic will keep your physician updated on your results every step of the way.

Location: HCM patients in general must often travel long distances for specialty care due to the complexity of the condition. Our clinic is accessible to patients throughout Maryland and the D.C. area, with everything under one roof for added convenience.
Testing for HCM
Patients may undergo the following tests:
Meet the Hypertrophic Cardiomyopathy Clinic Team
Glenn Meininger, MD, Ankit Shah, MD, and Sandeep Jani, MD, MPH, Program Director
Treatment for HCM
Treatments can include:
Medications such as beta blockers, calcium channel blockers, or anti-arrhythmic drugs to help regulate heart contractions

Surgery to implant a pacemaker to regulate your heartbeat or a defibrillator to correct dangerous heart arrhythmia

Open-heart surgery to remove parts of the thickened muscle or replace heart valves

Cardiac catheterization for septal alcohol ablation to remove excess muscle tissue in the heart

Lifestyle changes, including avoiding very strenuous activity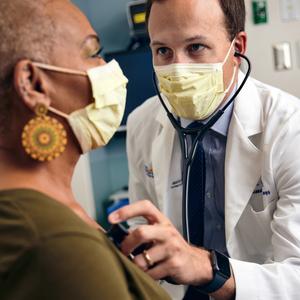 Expert cardiology care
Getting the care you need starts with seeing one of our cardiologists.