5 tips to safely celebrate the holidays during COVID-19
If you are experiencing a medical emergency, please call 911 or seek care at an emergency room.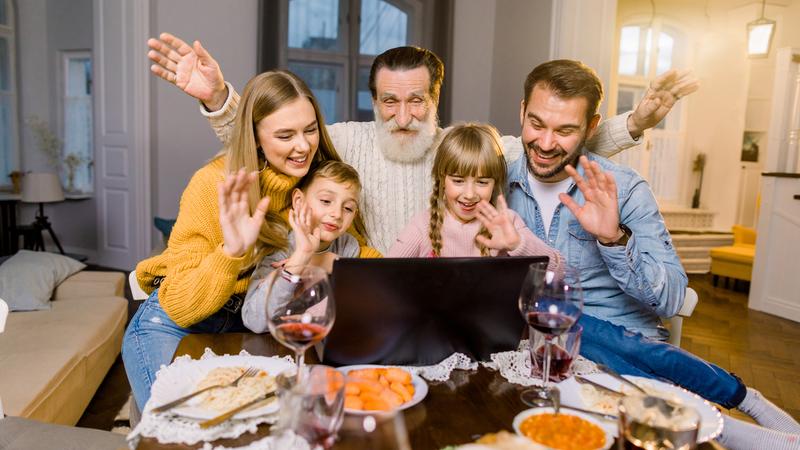 The pandemic—and 2020 in general—has been stressful and isolating for many people, and this holiday season, it's more important than ever to reconnect with loved ones, even if it looks different than tradition. That's because connection helps you to decompress and destress, causing happy hormones to positively affect your immune system and keep you healthy.
But with COVID-19 cases spiking in some areas across the nation, you may be wondering how you can safely celebrate Thanksgiving and other holidays without increasing your risk of getting sick. Fortunately, with a little bit of planning and creativity, there are lots of ways to safely celebrate the holidays during COVID-19, whether you decide to gather with family or friends in person or virtually.
It's more important than ever to reconnect with loved ones over this holiday season. On the #LiveWellHealthy blog, Dr. Maragh and Dr. Mcdonald share 5 tips for celebrating the #Holidays safely during #COVID19: https://bit.ly/35WYRT6.
1. Weigh your risk for being exposed to or spreading COVID-19.
The Centers for Disease Control and Prevention notes that small household gatherings contribute to the rise in COVID cases, which is why it's important to be cautious about when, where, and with whom you decide to gather over the holidays.
There are several factors that can determine your level of risk for either catching COVID-19 or unknowingly exposing someone else to the virus. When deciding how your family can safely celebrate the holidays during COVID-19, consider the following questions.
What are the local rules and regulations?
Many states have established quarantine guidelines for individuals visiting from out-of-state, which may make it difficult to visit family members who don't live nearby. And, some places, like Maryland and Washington, D.C., are also enforcing laws to keep group sizes to less than ten people in order to limit the risk of infection and spread among their communities.
What do you know about the people who will be in attendance?
You have control over your own safety precautions, like wearing a face mask and frequently washing your hands, but do you know if other attendees are taking the same precautionary measures? If you're gathering with one other family who you know is following the same safety recommendations, then your risk of exposure to COVID-19 is likely low. However, if you've been invited to a large gathering that includes people who you don't know, you increase your risk of being exposed to the virus.
What is your health status?
If you've recently tested positive for COVID-19 or have been around someone who tested positive, you should definitely avoid gathering with others over the holidays so that you don't spread the virus. And, if you have comorbidities that increase your risk of complications from the virus, it's best to find an alternative way to celebrate the holidays without physically being around other people.
If you have any of the following conditions, you should stay home to reduce your risk of severe illness:
Cancer
COPD
Coronary artery disease
Diabetes
History of smoking
Kidney disease
Obesity
And, as a primary care doctor, I have to add that if you're overdue on a preventative screening, see your doctor. You can't afford to skip a screening that might save your life!
Learn about our primary care and urgent care options:
2. Communicate expectations with your loved ones.
While many of us may feel alone, we're all in this together and we'll get through it by supporting one another. If you've been invited to an in-person gathering, be honest about your expectations related to:
Number of attendees
How attendees will maintain social distancing
Mask-wearing
Duration of the gathering
Food preparation
You have to determine for yourself what level of risk you're willing to take to safely celebrate the holiday season. It's important to be transparent about what that means for your family out of love and a desire to keep both you and those around you healthy. If it's going to be too hard to stay six feet away from your favorite aunt who is at increased risk of severe illness from the virus, then it may be in your and her best interest to stay home. Likewise, if you decide it's best for your immediate family to have your own intimate Thanksgiving to minimize your exposure in a group setting, most people will be understanding as long as you're upfront about it.
3. Take steps to mitigate risk when traveling or staying at overnight accommodations.
If you decide to travel over the holidays, be sure to understand what the local rules and regulations are for quarantine and/or testing. You should also get your flu shot before traveling, because that's one way you can reduce your risk of getting sick.
If you have to stay in the same residence as another family over the holidays, it's important to be cautious by:
Sleeping and bathing in a separate area of the home
Avoiding high traffic areas of the home
Following social distancing guidelines
Wearing a mask when you can't maintain social distance
Frequently washing your hands and disinfecting surfaces
If you start to experience symptoms of COVID-19 while traveling, you should shelter-in-place before returning home to minimize exposing someone else to the virus during your travels. You should also contact your doctor immediately. That way they can help you monitor your symptoms and determine if and where you should get tested.
4. If hosting, plan for extra safety precautions.
If you're hosting a small gathering for Thanksgiving or another upcoming holiday, it's your responsibility to make sure you establish a safe place for celebrating. To minimize your risk and the risk of your attendees, consider the following:
Adhere to local regulations
Limit the number of attendees
Host outdoors, if possible, or open windows when indoors
Wear a face mask and ask attendees to do the same
Set-up your space with social distancing in mind
Establish hand-washing and sanitizing stations equipped with disinfecting wipes
Delegate only a few people to food prep so the kitchen remains uncrowded
Use one-use utensils and dishes
Using a combination of safety precautions in your home can lower your risk of spreading COVID-19.
5. Embrace the challenges of this holiday season, even if it looks different than usual.
With family members geographically dispersed across states,one of the ways my extended family plans to celebrate Thanksgiving this year is to take a virtual cooking class from my mom, where we'll watch her prepare a family recipe via video. We snagged the idea from the HBO Max series 'Selena + Chef', and we think it'll be a unique and memorable way to celebrate the holidays this strange year.
Here are a few other suggestions to creatively and safely celebrate the holidays during COVID-19:
Watch the Macy's Day parade on TV
Compete in a virtual Turkey Trot 5K
Schedule a sporting event or holiday movie virtual watch party
Organize a virtual Secret Santa gift exchange
This will be an unforgettable holiday season.
We're all yearning for a bit of normalcy, and that applies to the holidays, too. But, try to keep a positive perspective that recognizes this year as the anomaly that it is while holding onto hope for a more traditional holiday season in 2021. One day, we'll be back to normal, but until then, let's try to make the best of it.
Regardless of what you plan, you will probably never forget "that year we celebrated Thanksgiving during a pandemic". Let's be thankful for what we do have and allow that to give us the strength to make it into the New Year!
Want more information on COVID-19 or MedStar Health Primary Care and Urgent Care?
Click below to learn more.
Stay up to date and subscribe to our blog