Celebrated Physician: Alexander Papolos, MD|MedStar Health
If you are experiencing a medical emergency, please call 911 or seek care at an emergency room.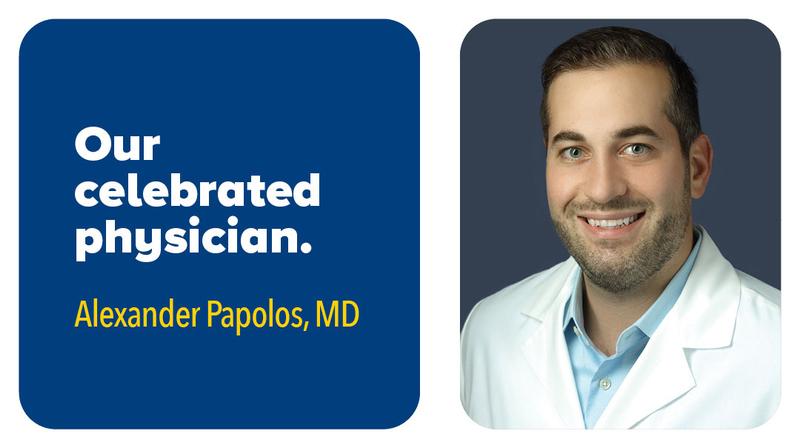 From his first introduction to cardiology at New York Medical College, Alexander Papolos, MD,knew he had found the specialty that would become his career. Inspired by the physiology of the cardiovascular system and the field's emerging technologies, hesays, "Cardiology really spoke to me from a scientific perspective."
Dr. Papolos' career might easily have gone in another direction. He graduated from Ithaca College with a degree in biochemistry, and then returned to his hometown to work in a genetics lab at New York University.After a year,he realized that he wanted to pursue his love for science in a more tangible human way, which led him to medicine.
Once he had discovered his passion for cardiology, Dr. Papolosstarted his residency at Mount Sinai Medical Center, then moved across the country for his fellowships in cardiology and cardiac critical care at the University of California,San Francisco.
Joining MedStar Washington Hospital Center as a cardiac intensivist last year proved to be the perfect opportunity for Dr. Papolos to apply his skills and interests. "The large volume of cardiac cases is ideal for someone like me," he says. "I enjoy managing multidisciplinary teams that work together to care for criticallyill patients, pre- and post-surgery, using mechanical circulatory support devices and other advanced technologies."
Research Focus
Dr. Papolos is investigating the application of a novelechocardiographic measure of pulmonary arterial capacitancefor treating patients with pulmonary hypertension and right heart dysfunction. He is also helping to develop a multidisciplinary cardiogenic shock team initiative,which focuses on the early identification of cardiogenic shockand facilitates the use of early invasive hemodynamics to guide treatment.
"The sooner we can identify and diagnose the cause of shock, the faster we provide targeted therapy and prevent complications," he says.
Outside of Work
Medicine isn't the only skill Dr. Papolos has developed. He's also an avid cook and considers barbecue to be his specialty. "Cooking was one way to help deal with the crazy hours during my training," he says.
Your heart deserves expert care.
Connect with our cardiology team.
Stay up to date and subscribe to our blog