Research Reveals New Avenues for Triple-Negative Breast Cancer Treatment.
If you are experiencing a medical emergency, please call 911 or seek care at an emergency room.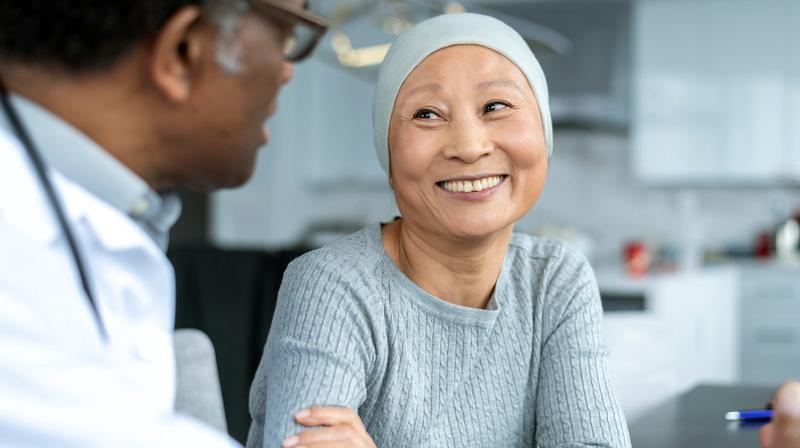 Research at MedStar Health Research Institute and throughout the U.S. is revealing novel strategies to advance treatment of triple-negative breast cancer, which is one of the most complex and elusive forms of the disease.
In the past decade, new breast cancer treatments have been developed that are more precise, expanding our ability to help patients achieve more positive outcomes. Many of these have been developed for triple-negative breast cancer (TNBC), one of the most complex and elusive forms of the disease.
For many patients, personalized strategies such as the use of immunotherapy and molecularly targeted therapy are repositioning treatment plans to be more aggressive at curing or containing TNBC while at the same time becoming less toxic.
Because of these scientific advancements, the five-year relative survival rate for women with TNBC contained to the breast is now 91%—a remarkable increase from decades ago.
However, there is still more work to be done.
Breast cancer remains the most common cancer among women in the U.S., and 10-20% of all breast cancers are TNBC. Data from The National Cancer Institute shows that TNBC affects 13 of every 100,000 females in the United States.
In 2023 and beyond, physician researchers at MedStar Health Research Institute are further refining our clinical study research to focus on unique strategies to eradicate TNBC cells. Two of our recent clinical trial contributions have focused on genomically directed treatment strategies and novel antibody-drug conjugate chemotherapy.
Genomically directed therapy may reduce the risk of TNBC recurrence.
Triple-negative breast cancer can evade standard and even some advanced treatments and has a higher recurrence rate because it does not contain the receptors for estrogen, progesterone, or human epidermal growth factor (HER2) that are often targeted to destroy cancer cells.
Our researchers participated in a phase 2, multi-center clinical trial to understand whether standard chemotherapy versus standard chemotherapy plus the addition of a genomically directed treatment, was more effective at reducing recurrence after chemotherapy and surgery for TNBC. Genomically-directed therapy works by identifying mutations in the cancer that can be targeted by newer novel drugs.
The preliminary results, published February 2022 in the proceedings of the San Antonio Breast Cancer Symposium, have not yet published long-term outcomes, but the study has shown the presence of circulating tumor DNA (ctDNA) was an important predictor of response to chemotherapy. All cells—including cancer cells—contain DNA. Portions of cancer cell DNA that enter the patient's bloodstream are called ctDNA.
Evaluating the blood for ctDNA is a newer technology, sometimes referred to as a "liquid biopsy," that may test a patient's blood for ctDNA to identify new cancers, and recurrent cancers, and be used as a surveillance tool in cancer survivors. Most times a biopsy of the tumor itself remains the gold standard, but advances in liquid biopsies will provide important information in treating cancer.
Related reading: Triple-negative Breast Cancer: Who Should Get Tested for Their Genetic Risk
Antibody drug conjugates: Trojan horse against TNBC.
Our latest research focuses on the effectiveness of the antibody drug conjugate medication sacituzumab govitecan in treating early-stage TNBC that hasn't responded completely to chemotherapy.
Antigens are substances that cause the immune system to evoke a response against substances such as chemicals, bacteria, or viruses. An antibody is a complex protein that binds to a specific antigen to help destroy it. When an antibody drug conjugate binds to cancer cells, it delivers chemotherapy directly to the tumor, sneaking in through natural channels like a Trojan horse. Research has already shown that this approach improves outcomes for several different types of cancer, including patients with metastatic TNBC.
Our study is focused on whether antibodies targeting the Trop-2 antigen engineered to carry a chemotherapy drug called govitecan can help women with early-stage TNBC with an incomplete response to prior chemotherapy to achieve a long-term cure. The study compares standard immunotherapy and chemotherapy combinations versus standard immunotherapy with sacituzumab govitecan.
Previous research has shown that using sacituzumab govitecan can improve outcomes for patients with advanced TNBC, so we're working to learn whether antibody-drug conjugates can have a similar effect in treatment-resistant early-stage TNBC.
Related reading: 5 Breakthrough Breast Cancer Treatments.
The future is bright.
MedStar Health Research Institute clinicians-scientists and researchers participate in multiple, concurrent studies to help advance science and treatment for patients. I expect that in the next few years, we'll see FDA approval of several new hormone-based therapies to target the estrogen pathway.
The landscape of breast cancer is changing rapidly, and we are at the forefront of science that changes the way we think about and treat breast cancer. With new technologies and ongoing research, we're now able to help many women not just survive breast cancer but thrive for many years after being diagnosed with advanced disease.
Want more information about the MedStar Health Research Institute?
Discover how we're innovating for tomorrow.
Stay up to date and subscribe to our blog