Growing from Within Ed Palmer
If you are experiencing a medical emergency, please call 911 or seek care at an emergency room.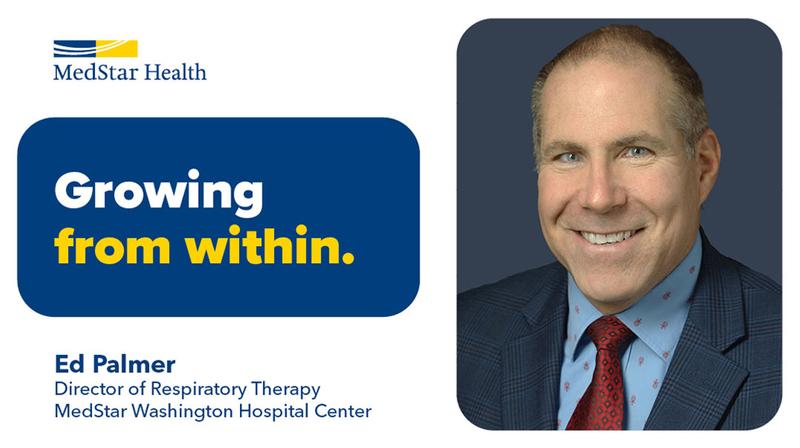 When Ed Palmer was a respiratory therapist student at Prince George's Community College, he had a professor who worked at MedStar Washington Hospital Center. This professor encouraged Ed to apply here, which he did, starting part-time while he was a student and beginning full-time night shifts after graduation.
"I was told this was a great place to learn," said Ed.
After five years, Ed became a supervisor, then a manager, crediting mentors for leading him down his path.
"As I was moving through the ranks, I had wonderful mentors," said Ed. "[MedStar Heart & Vascular Institute Chief Administrative Officer] Cathie Monge is a big part of why I have stayed this long when other opportunities arose, and I appreciated our thought-provoking discussions. [Senior Director of Patient Experience Operations] Joe Lynott has been a valuable longtime mentor and friend as well. Joe has always been there to discuss situations and provide guidance; he has taught me many valuable lessons. [Vice President of Operations] Tiffany Northern is someone who will say 'I'm going to challenge you and set you up to continue to learn.' These are all good people who encourage you and support you, while they challenge you."
Because of this type of encouragement from leadership, Ed finished his bachelor's and master's degrees while working at the Hospital Center, taking advantage of the hospital's tuition reimbursement program. Ed also sees value in participating on committees, as he has learned a lot from being on the Wellness, Hand Hygiene and Safety Committees. In addition, Ed says he believes his participation on these committees has led to him being able to better understand the views of others, get through challenges, and help all participants come up with better ideas.
Five years after becoming a manager, Ed was promoted to Associate Director and has spent the last five years as Director of Respiratory Therapy.
Ed encourages his family to consider the Hospital Center, both as a place to come for treatment (as he did for his father, who he says lived five years longer because of the care he received here), and as a place to consider for employment, as he does with his daughter.
"It's important for everyone to realize there are lots of opportunities here and you're working with others who can help you get the skills you'll need for your next role," said Ed.
Looking for a new career opportunity?
Join our team.
Stay up to date and subscribe to our blog