Effectively Managing Geriatric Arthritis
If you are experiencing a medical emergency, please call 911 or seek care at an emergency room.
Conservative Approach Improves Quality of Life
The Center for Successful Aging at MedStar Good Samaritan Hospital continues to expand its services to address the needs of individuals experiencing age-related conditions. With the addition of a new program focused specifically on geriatric arthritis, older adults dealing with this often debilitating degenerative joint disease have easier access to specialized care.
"Osteoarthritis is the third most common diagnosis in the elderly and can cause significant pain leading to disability and decreased quality of life," says Carmen Pichard-Encina, MD, the new chief of Geriatric Orthopaedics at MedStar Good Samaritan. "Unfortunately, many believe that the only treatments for this condition that provide real relief are surgical ones. That could not be farther from the truth."
Working on-site with the geriatrics experts at the Center for Successful Aging, Dr. Pichard-Encina focuses on patients who may be suffering with arthritis and its symptoms. She emphasizes the importance of customized treatment plans that rely on non-surgical options for managing it.
"Many older individuals are not candidates for surgery and some individuals simply do not want surgery," she explains. "There are numerous other treatment options that can provide them with relief from the pain and other symptoms they may be experiencing."
Novella McLean, a patient of George Hennawi, MD, director of the Center for Successful Aging, is a good example. The 100-year-old had been experiencing a lot of pain in her knee as a result of osteoarthritis. "My mom is very independent … she wouldn't even agree to move here from her home in North Carolina unless she could have her own apartment," says Rev. Brenda Tuggle, her daughter. "But her knee pain was affecting her quality of life. She was not getting any relief taking medications and she didn't like taking them. At her age, surgery was out of the question and, for a long time, she refused to consider any other options."
Finally, she agreed to see Dr. Pichard-Encina. "The best treatment plan depends on the cause of the pain as well as any other issues that may be contributing factors. That's why a team approach that ensures a complete understanding of each patient's complex needs is so important," she says.
Dr. Pichard-Encina notes that conservative measures play an important role in the management of osteoarthritis-related pain and disability in the geriatric population due to increased risk of other existing conditions, medication toxicity, and the use of multiple medications.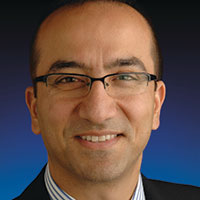 "In the elderly, treatment options like exercise, weight loss, physical therapy, bracing, and the use of assistive devices, such as canes and walkers, should be considered first to minimize the adverse effects of medication," she says. "Unfortunately, these treatments aren't effective for all individuals, so we rely on the use of non-steroidal anti-inflammatory drugs (NSAIDs) and corticosteroids to treat osteoarthritis pain. Several other oral, injectable, and topical agents are available as well. We try to avoid the use of narcotics."
To help alleviate McLean's pain, Dr. Pichard-Encina recommended an intra-articular cortisone injection, a minimally invasive treatment for pain that involves injecting a corticosteroid medication into the joint to help decrease swelling and thus relieve the associated pain. Today, McLean is feeling much better and is thriving.
"Most elderly patients are dealing with multiple health issues. We provide them with access to all the specialists they may need, all in one place, which promotes communication and collaboration. As a result, treatment plans address the needs of the whole person, not just one condition," Dr. Pichard-Encina adds.
For more information, visit MedStarHealth.org/DestinationGoodHealth or call 410-248-8322.
Location Information
Center for Successful Aging
MedStar Good Samaritan Hospital
Russell Morgan Bldg., Suite 502
5601 Loch Raven Blvd.
Baltimore, MD 21239
443-444-4100
Learn More About Arthritis and Geriatric Care
Did You Know?
Osteoarthritis is the most common type of arthritis. It is associated with a breakdown of cartilage in joints and can occur in almost any joint in the body. It commonly occurs in the weight-bearing joints of the hips, knees, and spine.
Stay up to date and subscribe to our blog