Healthy Holiday Snacks 5 Ideas From Our Fresh Savory Program
If you are experiencing a medical emergency, please call 911 or seek care at an emergency room.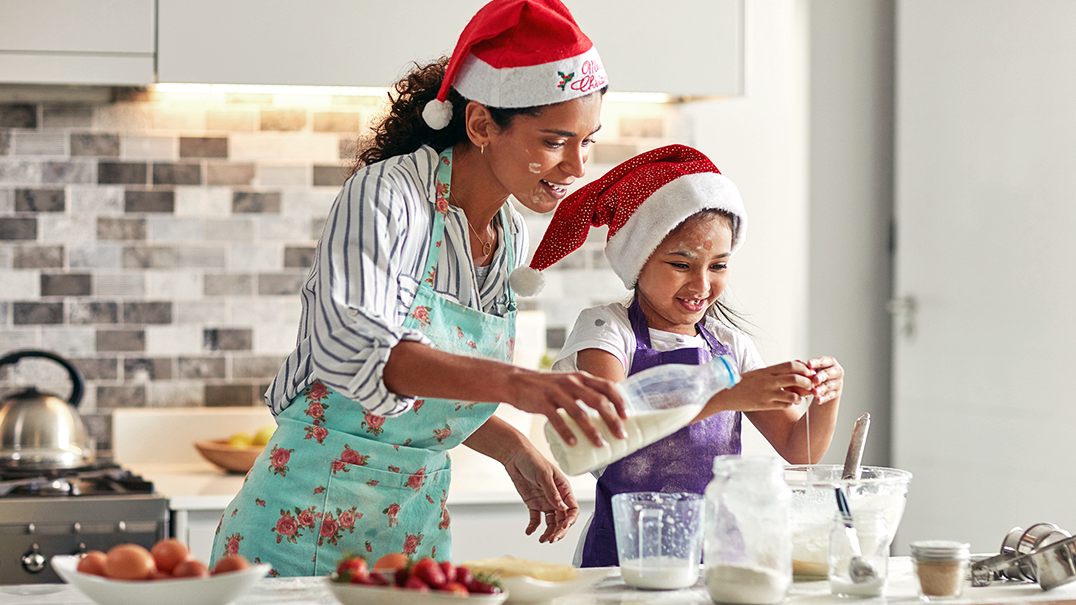 Eating healthy is one of the best things you can do for your health. In fact, consuming a healthy diet that prioritizes fruits, vegetables, and whole foods can reduce your risk of:
As the medical director of Fresh & Savory, an eight-week culinary and lifestyle program in which we teach people how to cook and eat healthy using an actual kitchen, I've seen numerous people lose weight and improve not only their health after learning how to cook healthy meals but also the health of their entire family, as they often relay the information they learn during our classes to their loved ones.
Eating healthy can be particularly difficult during the holidays. The average calorie intake during Thanksgiving alone is about 4,000 calories, and many people gain one to two pounds between Thanksgiving and New Year's Day. As a result, it's important to prepare your meals or snacks ahead of time so you can avoid eating tempting but unhealthy foods.
What to Make During the Holidays
1. Date Energy Balls
Date energy balls are ideal for when you want a snack throughout the day or eating prior to a workout, as they're filling and have carbohydrates, which are essential to consume before working out. To make date energy balls, combine the following ingredients and mix them together using a food processor:
2 cups of walnuts (substitute almonds, peanuts, or other nuts you prefer)
1 cup of shredded, unsweetened coconut
2 cups of soft, pitted Medjool dates
2 tablespoons of almond butter (or preferred nut butter)
½ teaspoon of sea salt
1 teaspoon of vanilla extract
Scoop the dough using a tablespoon and roll it between your hands to form balls. Arrange them on a baking sheet lined with parchment paper, and place in the freezer for one to two hours before serving. If you want gourmet-looking date balls, you can also roll them in shredded coconut or cocoa powder before chilling.
These snacks store in a sealed container for about a week in the fridge or a month in the freezer.
Date energy balls are a great, easy-to-make #snack to keep you full during the #holidays. Learn how to make them and other healthy snacks, via @MedStarHealth. #LiveWellHealthy
2. Aromatic Quick Quinoa
Quinoa is gluten-free, high in protein, and a great source of carbohydrates. Moreover, it can work well as both a main dish and a side dish. To make quinoa, use the following ingredients:
1 cup of quinoa
Juice from one lemon
3 tablespoons of tamari (soy sauce)
2 medium-sized zucchini
1 small broccoli head
1 tablespoon of tahini
1 teaspoon of olive oil
Salt and pepper
You'll want to place the quinoa in a sieve and rinse with cold water until the water runs clear. Place the quinoa in a saucepan with 1.5 cups of water, lemon juice, and the tamari. Stir and cook on high heat until it comes to a boil, then boil for one to two minutes and reduce to a simmer, covered, for 12 minutes (or until all the water is absorbed and the quinoa is fluffy).
Now, slice the zucchini in half, chop it into half-moons, and cut the broccoli into florets. Heat your pan on medium heat; add olive oil, tamari, salt, pepper, zucchini, and broccoli; and sauté for seven minutes. Mix the cooked quinoa together with the tahini and sautéed vegetables and drizzle with olive oil.
Get the printable recipe card here!
3. Mango Salsa
Salsa is good for almost any occasion—and, thankfully, it doesn't contain many calories and can be relatively healthy when you make it yourself. Use the following ingredients for a delicious mango salsa:
1 garlic clove, minced
1 jalapeno, diced
1 red onion, diced
3 limes, juiced
3 red mangos or 6 yellow mangos
1 teaspoon of kosher salt
1 ½ teaspoon of cilantro, chopped
You'll want to combine all of the ingredients together into a large bowl, mix them together, and chill in the refrigerator for an hour or two before serving with pita chips.
Get the printable recipe card here!
4. Glowing Turmeric Latte
Some people may not initially consider lattes a snack, but they can be filling. A glowing turmeric latte is lightly sweetened with natural ingredients; can contain a good amount of protein (if you opt for regular milk); and contains turmeric, a spice from eastern Asia and Central America. Turmeric is an anti-inflammatory and a good source of antioxidants, or substances that can prevent or slow damage to cells caused by free radicals.
Use the following ingredients to make a glowing turmeric latte:
1 cup of milk (of your preferred milk type)
½ teaspoon of turmeric
1 teaspoon of honey
2 teaspoons of ground cardamom
To prepare the latte, combine all the ingredients into a saucepan over medium to high heat until the ingredients begin to boil. Then pour into a mug and serve.
5. Zesty Curried Chickpeas
Zesty curried chickpeas is a wonderful dish that's uncomplicated, fast, and tasty. Chickpeas contain many healthy nutrients, such as fiber, potassium, B vitamins, iron, and magnesium, making them an ideal main ingredient for any meal. To make this dish, use the following ingredients:
½ teaspoon of salt
½ teaspoon of turmeric
1 ¼ teaspoon of cumin seed
1 ¼ teaspoon of kalonji seed (also called black caraway or nigella)
¼ cup of olive oil
1 small onion, chopped
½ chili pepper, chopped
One 15-ounce can of chickpeas
½ cup of water
¼ cup of cilantro
Heat your saucepan and add olive oil, onion, and chili. Saute on low heat or until onion starts to brown at the edges. Add in the remaining spices, and continue to saute until the spices are well mixed.
Add chickpeas and mix in the saucepan, add water, and let it simmer, covered, for about 10 minutes. Let the ingredients cool for a few minutes, then add cilantro and serve.
The Fresh & Savory Program
Fresh & Savory consists of a shared medical appointment in which individuals meet as a group. This way they can work together and inspire one another, learn from each other, and share recipe ideas. We also introduce other lifestyle modifications that are known to promote longevity and vitality, including ways to:
Exercise regularly
Get more sleep
Develop a sense of community
Reduce stress
If you're near Washington, D.C., and interested in participating in the Fresh & Savory program, please call (202) 416-2000 to speak with a member of our team.
While the holidays can make it easier to eat unhealthy foods, you can still continue eating a healthy diet by planning your meals in advance and sticking to them. Make sure to consider these snacks during this year's holidays.
Want to learn more about the Fresh & Savory program? Call us to find out how you can enhance your healthy eating habits.
Stay up to date and subscribe to our blog