How your primary care provider can help you prevent heart disease- via your smartphone tablet or computer
If you are experiencing a medical emergency, please call 911 or seek care at an emergency room.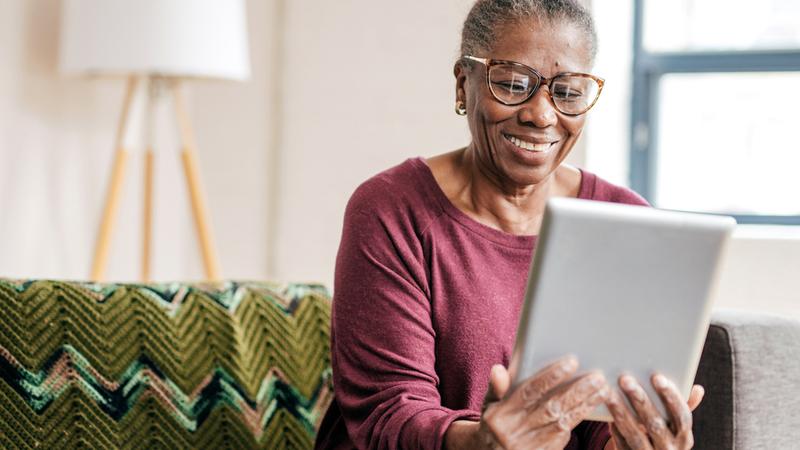 Every 37 seconds, someone in the United States dies from heart disease.
The good news is there are things you can do today to reduce your chances of developing heart disease, and you don't have to do it alone. With the onset of the COVID-19 pandemic, many may be delaying medical care that can help with this important prevention. But telemedicine is changing that.
Your primary care provider, or PCP, knows your health and medical history better than anyone else. You've built a trusting relationship that helps you talk openly and honestly about your health changes, which is why they're great partners in helping you maintain a healthy heart. Through the MedStar Health Video Visits, you can connect with your PCP in the comfort and safety of your home. These scheduled visits allow you to talk with your provider over secure video from your computer, tablet, or smartphone.
Someone in the U.S. dies from #HeartDisease every 37 seconds. Internal medicine physician Dr. Newkirk explains 4 ways a PCP can help you maintain a #HealthyHeart on @MedStarHealth's #LiveWellHealthy blog: https://bit.ly/2V2xO3v
A PCP can help you prevent heart disease by:
1. Identifying your risk for heart disease.
Your primary care provider's main goal is to help you stay healthy. One of the ways they do this is by looking at your risk factors for various diseases, including heart disease.
A risk factor is something that increases your chances of developing a disease. By looking at your medical history and talking to you about your current lifestyle, your PCP can better understand your risk.
The following risk factors increase your chances of developing heart disease:
High blood pressure
Tobacco use
History of diabetes
Obesity
Being of certain ethnicities, including African American or Hispanic
Aging
Your doctor can evaluate your risk factors to determine if you have a low, moderate, or high risk of developing heart disease. Knowing you have a moderate or high risk can help you and your PCP determine if you need to make lifestyle changes to lower your risk and improve your chances of preventing heart disease. If you have a low risk, chances are you are already living a healthy lifestyle and maintaining a good heart.
2. Setting realistic goals for preventing heart disease.
If your primary care provider identifies you as someone who is at risk for heart disease, you can count on them to help you set achievable goals that will reduce your chances of developing it. Since your primary care provider knows you, they'll make sure your goals are realistic.
A primary care provider can also offer resources and suggestions to make healthy habits easier. They'll help to keep you accountable by checking in regularly on your progress towards those goals. And, they may help you enlist your family to support your lifestyle changes.
3. Supporting your lifestyle changes.
Once your PCP helps you set goals, it's time to take steps toward achieving your goals. Many times lifestyle changes can help you reach your goals. That's because healthy habits have the biggest impact on your blood work and can greatly reduce your risk of heart disease.
Lifestyle changes may include:
Regularly checking and managing your blood pressure
Increasing your activity level to at least 30 minutes a day, most days of the week
Making healthier food choices, such as:

Eating more vegetables and fish
Limiting fatty meats (e.g. Choose chicken breast instead of chicken thigh)
Avoiding sugary foods

Quitting smoking
One of the most important things your PCP can do is help you figure out WHY you want to reach your goals because that will help you stay motivated to follow through with your lifestyle changes. Do you want to be around to walk your daughter down the aisle? Or, do you want to make sure you can run and play with your grandchildren ten years from now? Understanding your personal reasons for lowering your risk of heart disease will help you stay focused and persistent in your lifestyle changes.
4. Coordinating seamless care with a cardiologist.
When lifestyle changes or other interventions aren't successful in lowering your risk of heart disease, your PCP can refer you to a cardiologist or a cardiac surgeon if needed. Cardiologists and cardiac surgeons are experts in preventing and treating heart disease. Having a connection to a reputable heart specialist through your PCP can ensure you receive coordinated and seamless care.
Your primary care provider probably has one or two cardiologists that they maintain a close relationship with. Many times, both the PCP and the cardiologist are within the same health system, which offers many benefits including:
Less duplicative care. Since your PCP is already communicating with the cardiologist, you won't need to complete any repeat tests, screenings, or blood work.
More personalized, focused care. Your PCP will share your medical history and preferences with your cardiologist. That helps them to be prepared before you even arrive for your appointment.
Quicker treatment process. Because you have a direct link to the cardiologist through your PCP, you may not have to wait as long for an appointment. And since your cardiologist will already know what is and isn't working, they can get started quickly on new treatment options.
Concerned about your heart health? No need to leave home to talk to a doctor. Schedule a video visit and receive care from the convenience of your home.
How to catch heart disease early.
Regular screenings or tests can help you prevent heart disease or catch it early. For example, you should have your blood pressure checked at least once a year. Monitoring your cholesterol is also important at various frequencies for the following age groups:
Ages 20-39 should get their cholesterol checked every four to six years
Ages 40 and older should receive more frequent checks
If you already have a primary care provider, hopefully you are taking steps to minimize your risk of heart disease. If not, it's important to know the first signs. Be sure to talk to a doctor if you notice any of the following heart disease symptoms:
High blood pressure
Diabetes symptoms, such as:

Increased thirst
Frequent urination
Unexplained weight loss
Once heart disease has started, you may have other symptoms, including pain in the chest, arms, or jaw.
In my experience as an internal medicine doctor, I've noticed that women may not experience some of the same traditional symptoms as men when it comes to heart health. For example, women are likely to experience more subtle symptoms when having a heart attack, which makes them easier to ignore.
To learn more, take the women's heart disease risk assessment from MedStar Heart & Vascular Institute.
You know your body best, so if something doesn't seem right, make it a priority to talk to a doctor.
Interested in learning more about how a PCP can help you prevent heart disease? Watch Dr. Newkirk explain the role your PCP can play in helping you maintain a healthy heart.
How to choose a helpful primary care provider.
If you don't already have a primary care provider, it's important to find one who can help you minimize your risk of developing heart disease. Here are a few qualities to look for.
Choose someone who comes recommended by friends or family. If you have loved ones with similar values, they may appreciate qualities in their PCP that will also resonate with you.
Ask about their specialties or areas of interest. Every person has unique health needs, and those needs change as people age. You want to find a PCP that keeps your needs in mind.
Find a PCP at a convenient and accessible location. You want it to be easy to see your PCP when and where you need them so that you're more likely to show up for scheduled appointments.
Pay attention to the atmosphere of the office. Once you visit your new PCP, think about how the office made you feel. Were they welcoming? Were they responsive when you needed them to answer a phone call or call back? Do they have availability and easy ways for you to make an appointment?
Don't wait to talk with a primary care provider.
During these challenging times of COVID-19, you may be inclined to delay visits to the doctor as you take steps to limit any exposure to the virus. But even during a pandemic, your ongoing health needs remain of great importance.
That's why MedStar Health is offering virtual care through MedStar Health Video Visits. These scheduled video visits are designed to provide a secure way to keep up with medical appointments from the safety of your home, including ones with your PCP. You can schedule a MedStar Health Video Visit by calling your provider's office.
MedStar Health is committed to providing safe, easy at home care options during the COVID-19 pandemic and after, as part of out commitment to the most convenient access to our expert providers. Click the button below to learn more about MedStar Health Video Visits.
Stay up to date and subscribe to our blog