I Am Nursing - MedStar Health 2016
If you are experiencing a medical emergency, please call 911 or seek care at an emergency room.
Celebrating Nursing
Each of our nursing associates at MedStar Washington Hospital Center has a unique story about what drew them to nursing and what keeps them calling the Hospital Center home. In our I am Nursing series, we meet these amazing people, learn more about who they are and what inspires them, and celebrate their commitment to helping others heal. 
Clory Morrison-Rosales, RN, likes helping people and being a nurse.
"I got both from my aunt," she says.  A nurse in the 1940's and 1950's at St. Elizabeth's Hospital in D.C., her aunt purchased several houses around the hospital and would provide housing for people who were recovering from nervous breakdowns, says Morrison-Rosales. "They would then get jobs, and begin the process of starting their lives again."
Morrison-Rosales received her nursing degree from the University of D.C., then worked at George Washington University Hospital and at Washington Hospital Center before moving on to manage evening supervisors and staff  for MedStar's Visiting Nurse Association.  She then worked at D.C. General Hospital. When D.C. General  closed in 2001, Morrison-Rosales returned to the Hospital Center, where she has worked in the intermediate nursery ever since. "All my friends were here, so it just made sense," she says. She cares for infants that do not need the NICU but still are not quite ready to leave the hospital . "I like it because you're helping  these babies mature enough to go home. "
She earned a certification as a breast feeding counselor, and loves working with new mothers on caring for their babies. In fact, it is watching mothers care for babies that inspired her to begin providing temporary living space for homeless moms or veterans in a house she owns. "I did it from my heart, so they could have peace of mind. At one point this homeless person was a newborn, and his or her mother didn't want them to have this kind of life. Anything we can do to help people lead productive lives is a good thing."
 Mark Marino, MSN, BSN, is a humanitarian at heart and a great motivator. 
Within 72 hours of arriving in Haiti after the devastating January 2010 earthquake, the Navy Hospital ship USNS Comfort accepted more than 250 patients.  With 12 operating rooms, 1,000 beds and several intensive care units, the population doubled again only a few days later. "There was a huge need for a comprehensive medical facility to treat what was mostly crush injuries, as the country's main hospital had been destroyed"  notes Mark Marino, MSN, BSN.
As the chief nursing officer on the ship, Marino also saw the need for basics after the complete devastation in the country. "Everything was gone, buried and destroyed," he recalls. "People needed water, clothes, and especially something to protect their feet as they walked through rubble."
Marino sent his mother an email asking for help and relief agencies also began bringing donations to aid in recovery.  "Pallets of boxes started arriving, and they had everything – clothes, shoes, blankets. People from all over the U.S. started sending things."  Marino found a clinical use for a pretty pair of sandals. "One little girl had a leg injury and she wouldn't walk even though she needed to.  I told her we save pretty shoes for little girls who can walk.  It was the motivation she needed.  She put on the little pink sandals and started her rehab."
These days Marino motivates nurses to focus on reducing injuries and infections for patients and Hospital Center employees.  He consults with patients, talks with their families, nurses and physicians to make certain everyone understands the steps needed to reduce infections and prevent injuries.  As a clinical specialist, he works on staff safety initiatives and heads a committee involved with promoting safety for everyone. "The Hospital Center has committed these resources to our patients and staff, investing in safety and mitigating risk," he says. "It shows our extraordinary dedication to patients and staff and our promise to provide excellent and safe care."
Learn more about our celebrated nurses at MedStar Washington Hospital Center.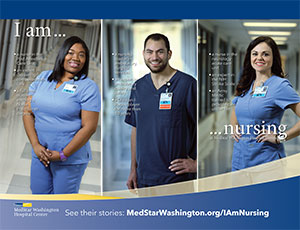 Have any questions?
We are here to help! If you have any questions about nursing at MedStar Washington Hospital Center visit our nursing career page here or contact Human Resources at 202-877-7441.
Stay up to date and subscribe to our blog