Long-term COVID: Patient Perspectives on Recovery.
If you are experiencing a medical emergency, please call 911 or seek care at an emergency room.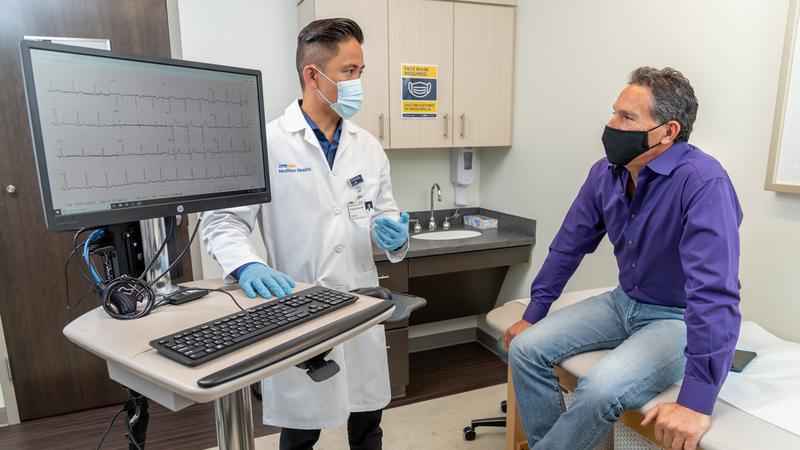 Experiencing "long-term COVID" or as it is medically termed, post-acute sequelae SARS-CoV-2 infection (PASC), can be a confusing and circuitous process, full of uncertainty and non-linear progress. Firstly, it can be difficult for many people to know whether they are experiencing long-term COVID symptoms, and even more difficult to know what to do about them. To provide some clarity and firsthand knowledge, three MedStar Health COVID Recovery Program patients—Patrick, Stephanie, and Debbie— have generously shared their perspectives on this journey.


Any patient's first step in joining the program is realizing that acute COVID-19 symptoms are transitioning into long-term sequelae. Many patients report that some of their initial COVID symptoms tend to improve before PASC symptoms occur, while other acute symptoms—such as shortness of breath, respiratory difficulties, or loss of taste and smell—might linger from the acute period into the PASC period. Finally, other symptoms—such as brain fog, anxiety and depression, fatigue and exercise intolerance, or other more unique symptoms—may not arise at all until later in the PASC trajectory.

When interviewed, Patrick stated that after his acute infection he "felt better and thought I would bounce back easily, but then didn't get to 100%, and instead stayed at 90% for months." He described lingering fatigue relating to long standing exercise intolerance, explaining that he "used to go to gym every other day, but then it took 3 months before I could even go on a light jog without winding myself."
Choosing MedStar Health and the initiation of care at the clinic.
Prior to being established in our program, patients reported difficulty finding providers who understood and had experience with treating lingering symptoms of COVID—which was a key motivator for them to seek care in our program. Many began with treatment through their primary care providers (PCP), or tried to navigate the healthcare system on their own by requesting to see specialists they felt could treat their symptoms. Lack of widespread knowledge and understanding about PASC led patients to feel frustrated, dismissed, and ignored. Then, as specialized clinics devoted to seeing and treating patients with PASC began to emerge across the country, many patients were able to establish care at MedStar through word of mouth or referrals from their PCP or other providers.
To enter our COVID Recovery program, patients must be 6 weeks out from symptom onset and have either a laboratory confirmed positive COVID-19 test from their initial infection, or a clinical presentation indicating COVID-19. Patients complete an online medical-history form and standard patient assessment prior to their first appointment. For the initial visit, patients may be seen by one of the physical medicine and rehabilitation (PM&R) doctors that have dedicated part of their practice to helping patients suffering from PASC. A comprehensive medical history is performed, including details of the acute phase of a patient's COVID illness, as well as focusing particularly on addressing PASC symptoms and goals for recovery. From there, referrals are made to various specialists to address the specific needs and symptoms of each person.

The role of the COVID Recovery Program is not to replace a patients' PCP, but instead to serve as the patient's PASC "home-base" and provide the framework of care during their recovery journey. Finally, as treatment proceeds and patients see the various specialists and rehabilitative therapists relevant to their case, they will also complete online assessment forms at two, four, and six-month intervals, which helps track their progress and the program's effectiveness.
Perspectives on the journey's beginning.
In describing their outlook after the initial intake appointment, one of the main emotions patients described was "validation". One of our patients, Patrick, stated his initial visit with the MedStar Health COVID Recovery Program was the "first time I talked to someone who actually understood and validated the reality of my symptoms, and also the first time the doctor explained that other people had those symptoms too." Another patient, Stephanie, explained her first experiences with our program made her "feel like people really want to listen and help me get to the other side." This validation came alongside feelings of relief and a return to self-control, but also came with feelings of apprehension.

The hope of recovery was mixed with worry that symptoms may not improve. Amidst this unshakeable worry, however, is trust. Patrick commented on his appreciation for his providers' honesty. With his initial infection occurring back in March 2020, he was at the forefront of COVID long-haulers, and the providers in our program admitted that they may not have answers to explain some of his symptoms. Yet he still "felt grateful to be talking to someone who is aware of what is happening." Stephanie expressed similar sentiment, describing a feeling that she was "getting a fresh set of eyes on a problem," and that particularly in such a focused clinic, the providers' "knowledge of other patients and situations has really helped."
Through our COVID Recovery Program, many people not only find their long-term COVID symptoms improving, but also feel a renewed sense of hope for their progress. Learn more about how our program can help from patient's perspectives: https://bit.ly/3xIp8Rh.
Click to Tweet

Treatments and specialists.
Though the list of specialists differs for each patient, the most common referrals have been to cardiologists, neurologists, pulmonologists, rheumatologists, and rehabilitative therapists. The treatment trajectory can also vary from patient to patient, and for some may involve medical testing and specialist visits in the early weeks, followed by more time with rehabilitative therapists later on.

To give further insight into the integration of these multiple treatment specialties, Debbie gave a detailed outline of the care each specialist provided:
Cardiologist: Performed an electrocardiogram (EKG) and an echocardiogram and gave her a wearable heart monitor to assess her tachycardia (fast heart rate) and check for associated abnormalities.
Neurologist: Performed a magnetic resonance imaging (MRI) to rule out a stroke as possible explanation for the cognitive symptoms she was facing. This confirmed that her cognitive and mental-health issues were COVID related.
Gastroenterologist: Did exams and provided treatment to help with reflux.
Neuropsychologist: Performed a 4-hour cognitive assessment to further address cognitive symptoms.
Psychiatrist: For help with anxiety and panic attacks.
Occupational therapist: Helped establish techniques for energy conservation and provided help with the more physically interactive elements of maintaining energy.
Speech and language therapist: Also established techniques for energy conservation, as well as making return to work plans.
Debbie explained that working with such a diverse group of physicians and therapists to find the treatment plans that worked best for her was like "throwing darts at a dartboard and hoping something would hit the middle." In this sense, treating PASC often involves lots of trial and error, in which the physician and patient work together to track all attempted treatment tactics, assess what is and is not effective, and move forward with the best methods.
Rehabilitative therapies are the cornerstone of treatment, playing a particularly effective role in helping patients overcome fatigue, malaise, and cognitive challenges. These therapists help patients incorporate concrete tools into their daily lives that help mitigate PASC's impact on functioning. For example, Patrick uses a G-Mail plug-in that helps read his emails out loud to him, while Debbie implemented a plan with her coworkers in which they communicate with her largely over email rather than in-person. This allows for control of her information intake and offers her the ability to respond to them at her own pace.

Managing all aspects of PASC.
Our comprehensive program requires patients to communicate with a wide range of specialists and manage various integrated therapies on top of keeping track of their own medications and symptoms. Following this complicated schedule requires personalized strategies to control its multiple moving pieces. The online patient portal is one central and extremely helpful tool that allows for easy communication with specialists and care navigators. However, in addition to using the portal and following the care provided by the program, many patients establish their own coping strategies to stay on top of their care needs. Patients report using an app or online calendar to keep track of all appointments, medications, and exercises, which ensures that every element of treatment is updated in real time and preserved in a central location.
Stephanie checks her online calendar every night to make sure she knows what is scheduled for the next day. She has also developed a strategy of leaving schedules and to-do lists in strategic locations—such as the car, bathroom, or dresser—to provide immediate reminders of her daily tasks. She emphasizes the value of finding someone in your own life to help you as you recover from PASC. Relying on a spouse, child, or friend can be an enormously beneficial asset. An additional coping strategy she suggests is to make a file of all the notes and resources provided by each specialist, which can be helpful to keep track of progress and treatments, as well as provide a way to keep information easily accessible at all times.
Our program's environment.
The culture of our program is extremely team-oriented, emphasizing communication, integration of care between specialists, and doctor-patient collaboration. One of our patients, Debbie, describes her experience as characterized by partnership with her physicians, explaining that they give her the autonomy to diagnose and identify her needs, and then they work alongside her to address them. Furthermore, Patrick, another of our patients, says he was given the opportunity to provide feedback on his rehabilitative therapy sessions, thus playing a role in bettering his own care experience.
Final thoughts and valuable advice.
Through our COVID Recovery Program, many people not only find their physical PASC symptoms improving, but they also feel a renewed sense of hope for their own progress. Patrick also describes a welcome feeling of empowerment, explaining that he "now can make it all day without logging off or closing my eyes," and "no longer feels defeated."
Another common feeling is one of being increasingly accepted and heard. Stephanie explains that she is finally confident enough to be a part of her own treatment. She feels more capable of participating in her medical care and much less afraid to wonder if a new symptom is part of her long-COVID or not. She no longer hesitates to describe her symptoms or feelings to providers because she knows that she will be cared for.
In sharing their experiences, current patients of the program say that their main piece of advice for those just embarking on their treatment journey is to be patient. Debbie offers further advice, saying: "Believe that it will help. It may not fully heal you, and might not happen as fast as you want, but believe that the steps are making a difference."
Debbie also encourages people not to give up—as "everyone is different and has different problems to focus on."
The MedStar Health COVID Recovery Program is one of just a few comprehensive COVID recovery programs in the country, and just like the knowledge of PASC itself, is constantly evolving in its understanding of the illness and its strategies for treatment. As Patrick explains to future patients, "you are at the forefront of what the medical community knows—so they are still learning,"
highlighting the fact that
our program will continue engaging in learning and research that will only make its treatment stronger.
Interested in the MedStar Health COVID Recovery Program?
Click below to learn more.
Stay up to date and subscribe to our blog