How to Determine if Outpatient Hip Replacement Surgery is Right for You.
If you are experiencing a medical emergency, please call 911 or seek care at an emergency room.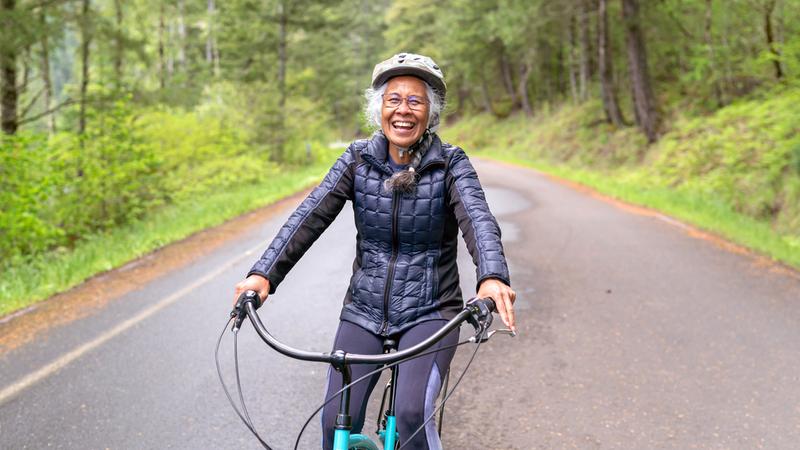 When severe hip pain doesn't respond to medication, physical therapy, or lifestyle changes, total hip replacement surgery can be an effective option for lasting relief. Based on your current activity level and future goals, your surgeon will recommend either inpatient or outpatient hip surgery.
How do you decide which option is best for you? The first step is to have a transparent conversation with your surgeon about what to expect before, during, and after surgery.
Outpatient hip replacement can offer faster, less painful recovery. Compared to an average hospital stay of two or three days after inpatient surgery, outpatient surgery allows you to leave the hospital the same day you have surgery.
But successful outpatient hip replacement requires preparation, motivation, and a strong support network. I often compare hip replacement surgery to a dental procedure: You'll go home feeling great, but once the anesthesia starts to wear off, pain and discomfort set in.
Patients who are prepared for the recovery process can focus their time and energy on getting better instead of managing unexpected pain, discomfort, or inconveniences.
Patient safety is our priority, which is why we are selective about who can have outpatient surgery. For those who qualify, there are several advantages—as long as they plan ahead.
Related reading: New Hip Gets Patient Back on Her Feet
Outpatient #HipRelacementSurgery can lead to a faster, safer recovery. But it's not for everyone. In this blog, hip & knee orthopedic surgeon Afamefuna Nduaguba, MD, discusses important qualifications & considerations for same-day #HipSurgery: https://bit.ly/3K0z2SU.
Click to Tweet
Who qualifies for outpatient hip replacement?
Outpatient hip replacement can be a good option for patients who have:
An active lifestyle

Good health overall, including a healthy weight

Determination to return to their activities

Little muscle mass and fat in the hip and thigh area

Friends or family who can help them recover at home

A thorough understanding of their post-surgery instructions
Spending less time in the hospital lowers your risk of infection as well as the cost of hospital room charges. And you'll experience less pain. During surgery, you'll receive long-lasting anesthesia to numb the affected area and control the pain for a day or two.
Inpatient hip replacement surgery often is the best choice for patients who have multiple health conditions or poor health overall. In the hospital, a team of care providers can monitor for potential complications, such as nausea, infections, or blood clots.
Obesity, in particular, has been linked to longer hospital stays and diseases that increase complication risks after hip surgery, such as hypertension and heart, liver, kidney, and pulmonary disease.
With either surgery option, you will be up and moving within hours of your procedure. Movement increases muscle strength, prevents stiffness in the hip, reduces the risk of blood clots, and minimizes scar tissue.
We won't sugarcoat it: Recovering from joint replacement surgery will be uncomfortable. But if you start planning for recovery before your surgery date, you'll be prepared for a more manageable and quicker recovery.
Related reading: Outpatient Hip Replacement Surgery: A Welcome Alternative to a Common Procedure
Recovery planning: Think backward to move forward.
As soon as your joint replacement procedure is scheduled, start talking with your surgeon about what to expect during recovery: wound care for the surgical incision; pain medication; exercise and weight-bearing activities; follow-up appointments; and how to communicate with your care team between appointments.
During the first few days after surgery, you'll have limited mobility and will need a lot of support. To set yourself up for success, follow these guidelines:
First and foremost, expect pain and discomfort. Experiencing some post-surgical pain and discomfort is normal; you had a major surgery and your body needs time to recover.
Pick up prescription medications before surgery. The last thing you'll want to do right after a hip replacement is stop at the pharmacy. Ask your doctor to prescribe the pain medication you'll need before your surgery date so you can go straight home to start recovering.
Meet with a physical and occupational therapist before surgery. They can teach you strength exercises to start the day after surgery and show you how to use a walker or crutches. They also can recommend ways to prepare your home to navigate stairs and use the restroom.
Designate your at-home helpers. Determine who is going to drive you home from surgery and to your follow-up appointments. Find out who can stay with you to assist with daily tasks such as cooking or getting a drink of water.
Establish communication methods. Be sure the phone number your care team has on file is accurate in case they need to reach you and that you know who to call if you have questions during recovery.
Resuming activity after hip replacement surgery.
Recovery after hip replacement takes about six weeks for most patients. After two weeks, you'll have a follow-up appointment with your surgeon to discuss your comfort level with increasing activity. Patients who were active before surgery generally bounce back quicker and can resume many of their favorite activities at this time, such as running, walking, and biking.
After five to six weeks, most patients can drive again. Your recovery speed depends on how you feel physically and mentally. But no matter what, it's important to keep moving, even if your intensity level is much lower than it was before surgery.
Some patients are concerned that fully resuming activity will increase their chances of needing future surgery to replace their hip replacement. But there's no reason to worry – hip implants are lasting longer than ever.
Related reading: 'GPS' Improves Knee and Hip Replacement Outcomes
How long does a hip replacement last?
While the life of an artificial joint varies for everyone, modern hip implants last much longer than older models. The first generation of hip implants had modular components that sometimes failed after 15 years.
And with over 450,000 total hip replacements being performed in the U.S. each year, I expect even more hip implant advancements in the next several years.
Most of my patients are in their 60s and 70s, and they're unlikely to ever need another hip surgery. However, more younger patients are also receiving joint replacements and it's too soon to tell if or when they'll need more surgery.
Related reading: Am I Too Young for Knee or Hip Replacement
One of the reasons I love performing hip replacement surgery is because of how effective it is. But many people delay surgery and tolerate unnecessary pain because they fear the recovery period. Though you will experience short-term pain and discomfort, the weeks or months it takes to recover are nothing compared to the years you can spend enjoying your favorite activities again.
If hip pain is interfering with daily activities, it might be time for a hip replacement.
MedStar Health orthopedic surgeons specialize in personalized hip surgery; request an appointment to meet with one today.
Stay up to date and subscribe to our blog