How a Virtual Travel Consult Can Help You Plan a Healthy Trip.
If you are experiencing a medical emergency, please call 911 or seek care at an emergency room.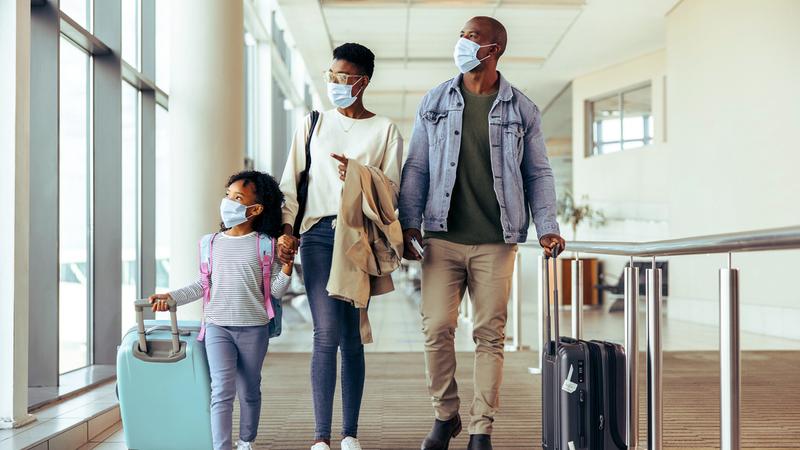 If you're planning to travel this upcoming holiday season—or anytime—a pre-travel virtual consultation with a MedStar Health physician can help you stay healthy on your trip. Whether you're traveling for business or pleasure, connecting with a doctor ahead of time can help you prevent illness and manage your health while out-of-state or abroad. Most importantly, it can help you feel prepared to anticipate and navigate any health issues that may arise while traveling.
Traveling for business or pleasure? Connecting with a doctor ahead of time can help you manage your health while out-of-state or abroad. Dr. Coleman shares how on the #MedStarHealthBlog: https://bit.ly/3hq1c12.
Click to Tweet
What happens during a pre-travel virtual consultation?
If you have an iPad, computer, or smartphone, you can schedule an e-visit with a MedStar Health urgent care provider online. During the conversation, your doctor will ask you questions about your travel and provide recommendations specific to your travel destination, medical condition, and risks.

Be proactive about preventing illness at your travel destination.
Where you plan to travel may affect what you pack and how you prepare for your trip. Your doctor may ask you where you're going, when you're going, and how long you expect to be there. They might also ask about the type of lodging you'll be staying in.

Some countries and regions are known for certain vaccine-preventable illnesses, and your doctor may recommend immunizations that could minimize your risk of getting sick. That's why it can be helpful to provide a record of your vaccine history. This information can help your urgent care doctor determine if any of your vaccines are outdated or if you need additional shots to either comply with travel guidelines or prevent certain illnesses prevalent where you're going. Therefore, it's important to schedule a pre-trip planning visit well enough in advance to have time to get any immunizations. Generally, four to six weeks ahead of time is enough. You may also need documentation to show your health status, as some places require proof of COVID-19 vaccination or a negative test.
Your doctor may also guide you to the Centers for Disease Control and Prevention (CDC) traveler's website to see if there are any health advisories that may impact your travel plans. Sometimes public health concerns may require additional precautions or a change in travel plans. While the decision to travel ultimately is up to you, your doctor can help you weigh the risks and benefits.
Gather everything you need to manage any existing medical conditions.
To stay healthy while traveling, you should leave for the trip while you're healthy. During your virtual visit, your doctor will ask you about any existing medical conditions, such as diabetes or allergies. They'll want to know that any chronic conditions are stable and that you're prepared to pack any medications or monitors that help you manage your condition. Be prepared to discuss any current medications, as your doctor can help ensure you have enough supply to last throughout your travel.

Your doctor can also provide tips for keeping your medication safe while traveling, including packing it in your carry-on for a flight, rather than checking it as cargo. In the event that you need a prescription refill before you leave, your doctor can help with that, too.
A MedStar Health travel doctor can also direct you to the patient portal, where you can access and print your medical records, including your medication list. This may be helpful to carry with you while traveling in case you need to seek in-person medical care at your destination.
Anticipate common injuries or illness and plan where to seek care, if needed.
Depending where you travel, you may be susceptible to developing certain illnesses that are uncommon in your hometown. Having the appropriate vaccines can help to minimize your chances of developing a region-specific disease, but there are always risks. During a virtual pre-planning consultation, your doctor can provide information related to safety and minimizing infectious diseases or non-infectious injuries.

If you're traveling domestically to another state, your doctor can help you formulate a plan in the event of an emergency. They'll provide recommendations for what kinds of signs or symptoms may require an urgent visit in-person at your travel destination, such as a fever, abdominal pain, or recurrent vomiting. Due to state regulations, your doctor may be limited in how they can care for you if you get sick in a state they're not licensed to prescribe medicine. However, they can always provide recommendations for where and when to seek emergency care if you need it.
Education and navigation to help you stay healthy wherever you go.
To schedule a pre-travel consultation, reserve a spot through our MedStar Health Telehealth Urgent Care. Our scheduled telehealth service is open Monday-Friday, from 2 p.m. to 9 p.m.

Don't forget to make your pre-travel appointment with enough time to collect any necessary documentation needed for your trip. We also recommend making a list of questions or concerns so you don't forget anything when you meet with your provider.
Because we're the largest healthcare system in the region, we can connect you to any necessary specialists, if needed, at a location nearest you. We can also help to arrange follow-up care, provide educational information about your medical condition, and facilitate access to your patient portal, where you can view and print your visit notes, lab results, and medication lists.
Wherever you're going, we can help you be prepared and equipped to stay healthy, navigate medical emergencies, and return home safely.
Planning a trip?
Schedule a pre-travel appointment today.
Stay up to date and subscribe to our blog