Physical Medicine & Rehabilitation Residency | Washington D.C. | MedStar Health
The MedStar Health—Georgetown/National Rehabilitation Hospital Residency Program in Physical Medicine and Rehabilitation
We are a categorical program that accepts six residents per year. The MedStar National Rehabilitation Hospital is the "main game in town" for rehabilitation in our major metropolitan area, which gives residents the ability to see such a broad range of pathology. You will see tons of "bread and butter" PM&R, but also the rare diagnoses you may not see everywhere. We have a great, inclusive culture here. In addition, our program believes in fostering your interests to meet your career goals. To that end, we have four months of electives in addition to a research and ultrasound track.
All residents are required to obtain competence in the six areas listed below, to the level expected of a new practitioner:
Patient Care
Medical Knowledge
Professionalism
Practice-based Learning and Improvement
Interpersonal and Communication Skills
Systems-based Practice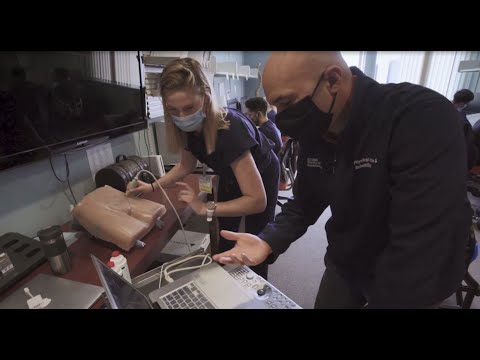 Why train here
Categorical program in which PGY-1s become incorporated into the program through a spinal cord injury rotation, opportunities to connect with research, sports coverage, and social activities
PGY-2 year includes a variety of specialty-specific inpatient and outpatient rotations, allowing residents to get a broad spectrum of the field early on to help with career planning
3 to 5 month optional research track that can be done at the National Institutes of Health
Amazing electrodiagnosis training at Walter Reed National Military Medical Center

Program specifics
Inpatient rotations
Extensive training is provided in the areas of rehabilitation for patients with spinal cord injury, brain injury, stroke, arthritis, amputation, and other musculoskeletal and neurologic disorders.
Outpatient rotations
Outpatient rotations offer exposure to these same diverse populations as well as to those individuals who require the services of the specialty clinics offered through MedStar National Rehabilitation Network and its affiliated hospitals. Rotations include exposure to spine/pain medicine, neuromusculoskeletal radiology, rheumatology, orthopedics/sports medicine, orthotics/prosthetics, and cancer rehabilitation.
Ultrasound training
Musculoskeletal Ultrasound training begins in the PGY-2 year and continues through the Residency Training Program with a longitudinal program. Additional rotations focusing on musculoskeletal ultrasound are available.
Continuity clinic
The resident will be assigned to a continuity clinic team that begins in the PGY-2 year and continues throughout their training. All residents participate in the weekly clinic regardless of clinic rotations and are supervised and mentored by faculty physiatrists.
Didactic training
Residents participate in a variety of structured and regular didactic instructional sessions, which include the Peer Lectures Series, Case Studies, Ultrasound Lecture Series, Anatomy and Kinesiology Lecture Series, Journal Club, Morbidity and Mortality Conference, and Grand Rounds.
Quality improvement
All residents participate in quality improvement initiatives during their tenure in the Residency Training Program. Residents receive formal education in process improvement methodology and design.
Research
All residents are required to participate in a scholarly project during their tenure in the Residency Training Program. All residents participate in a one month rotation at the National Institutes of Health (NIH).
Curriculum and rotations
PGY-2 year (all rotations one month unless otherwise specified)
Inpatient stroke
Outpatient neurorehabilitation
Inpatient brain injury (2 months)
Patient safety/quality improvement (2 weeks)
Prosthetics/orthotics (2 weeks)
Inpatient musculoskeletal (1 month)
Inpatient general rehabilitation (2 months)
Outpatient sports/spine
Inpatient cardiac rehabilitation
Inpatient spinal cord injury
Outpatient pain medicine or elective
PGY-3 year (all rotations one month unless otherwise specified)
EMG (3 months at Walter Reed National Military Medical Center – cannot rotate at this site if you have dual citizenship)
Outpatient pain medicine or elective
Inpatient spinal cord injury
Inpatient consults (at MedStar Washington Hospital Center)
Inpatient pediatric rehabilitation
Outpatient pediatric rehabilitation (Children's National Medical Center)
Inpatient stroke
Elective or outpatient sports/spine
NIH Outpatient/consults
Outpatient at Washington, D.C., VA Medical Center
PGY-4 year (all rotations one month unless otherwise specified)
Inpatient consults (MWHC)
Inpatient musculoskeletal
Elective (2 months)
EMG (Walter Reed National Military Medical Center)
Outpatient orthopedics or pain medicine
Elective or outpatient rotation (variety of diagnoses)
Outpatient cancer rehabilitation
Outpatient spine/sports (2 months at MedStar NRH at McLean)
Inpatient brain injury
Outpatient neurorehabilitation
Eric Wisotzky, MD
MedStar GUH/NRH Physical Medicine and Rehabilitation
Residency Program
Program Director
Department of Rehabilitation Medicine
MedStar National Rehabilitation Hospital
102 Irving Street, NW, Room 2135
Washington, D.C., 20010