Podiatric Surgery Residency | MedStar Washington Hospital Center | MedStar Health
The MedStar Health Residency Program in Podiatric Surgery
The Podiatric Surgery Residency is a three-year program at MedStar Washington Hospital Center is approved by the Council on Podiatric Medical Education (CPME) and is a Podiatric Medicine and Surgery Residency (PMSR) with the added credential in Reconstructive Rearfoot/Ankle Surgery (RRA).


Letter from the director
This residency program is a comprehensive three-year experience which incorporates clinical and academic didactic experiences. The physicians that graduate from this institution are highly qualified individuals who are well prepared for the various practice settings of a career in podiatric medicine and surgery.
Why train here
Our educational program is focused on foot and ankle surgery. The diverse rotations provide exposure to medicine and surgery at many locations and practice settings, and there are extensive opportunities to gain experience in all disciplines of medicine and surgery. The attending staff at the MedStar Washington Hospital Center is eager to teach residents and to help better prepare them for the world of medicine and surgery that awaits.
There are approximately 60 podiatry attendings that are involved in the education of our residents throughout the metropolitan Washington, D.C.,/Baltimore area. Their involvement includes activities such as journal clubs, didactic lectures, hands-on workshops, outpatient clinic, inpatient management, and extensive operating room and emergency room coverage.
In this video, Jamie Padmore, Vice President of Academic Affairs at MedStar Health and Associate Dean of GME and Educational Scholarship at the Georgetown University School of Medicine, describes the variety of residency training settings we offer, including close to 90 specialty and sub-specialties in hospitals across the DC, Maryland region, as well as an abundance of research and innovation opportunities through the MedStar Health Research Institute and MedStar Innovation Institute.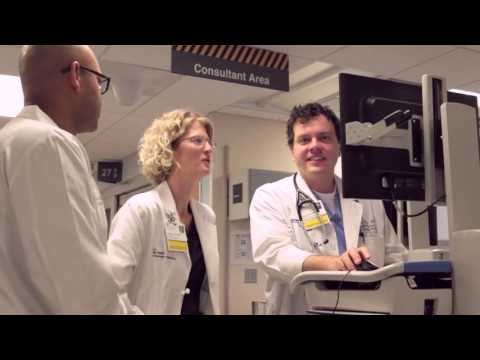 Program highlights
Extensive trauma exposure at level 1 trauma center with Orthopedic Trauma during PGY-1 and PGY-2, and General Surgery Trauma and Burn teams as a PGY-1.
Pediatric Orthopedic Rotation at CNMC for two months with broad surgical exposure with a pediatric orthopedic surgeon.
Baltimore outpatient surgery rotation during PGY-2 and PGY-3, with comprehensive exposure to reconstructive surgery and limb deformity correction.
Heavy emphasis on medical management of complicated inpatients with multiple comorbidities.
Limb Salvage Team at MedStar Georgetown University Hospital, a combined team with podiatric surgery, plastic surgery, and vascular surgery.
Host the Annual Diabetic Limb Salvage Conference with MedStar Georgetown University Hospital.
Operate with numerous fellowship-trained attendings.
Inpatient Podiatric Medicine and Surgery
Outpatient Podiatric Surgery
MedStar Georgetown University Hospital - Limb Salvage Rotation 1
MedStar Washington Hospital Center – SICU
Orthopedic Surgery – Trauma
Internal Medicine
General Surgery – Trauma, Burn, and Acute Care
Anesthesiology
Radiology
Behavioral Sciences
Endocrinology

Inpatient Podiatric Medicine and Surgery
Outpatient Podiatric Surgery
MedStar Georgetown University Hospital – Limb Salvage Rotation 2
Pediatric Orthopedics at Children's National Medical Center
MedStar Franklin Square Medical Center – Baltimore
Orthopedic Surgery – Trauma
Infectious Disease
Vascular Surgery

Inpatient Podiatric Medicine and Surgery
MedStar Georgetown University Hospital – Limb Salvage Rotation 3
MedStar Franklin Square Medical Center
University of Maryland
Kaiser Permanente Hospitals of DC
Kaiser Permanente Hospitals of MD
Kaiser Permanente VA
Pathology
Elective Rotation

We have several podiatric surgery clinics that serve our community, including:

Podiatric Surgical Clinic
Orthopedic Clinic
Vascular Clinic

Our program also has the unique privilege of being affiliated with private surgical centers in suburban Maryland and Virginia, and the District of Columbia. We currently have routine coverage at the following centers:

Adventist White Oak SC
Baltimore Washington Medical Center
Children's National Medical Center
Kaiser Permanente Baltimore
Kaiser Permanente Maryland
Kaiser Permanente Virginia
Laurel Medical Center
Massachusetts Avenue Surgery Center
MedStar Franklin Square
MedStar Georgetown University Hospital
MedStar Harbor Hospital
MedStar Surgery Center at Lafayette
MedStar Union Memorial
MedStar Washington Hospital Center
Podiatry Associates ASC at Franklin Square
Reston Surgery Center
SurgCenter of Silver Spring
Surgery Center of Chevy Chase
Timonium Surgery Center
University of Maryland Midtown
Virginia Hospital Center
Westminster Surgery Center, SurgCenter of Glen Burnie, Elliott City ASC

Ongoing rotations throughout each academic year

Podiatric Surgery Outpatient Clinics
Emergency Department
Private Surgery Center Coverage
Private Office Coverage
Conferences
We continuously challenge our residents academically and encourage them to remain clinically skillful.
Our many conferences are designed to augment areas relevant to a resident's surgical and medical competence. These include the following.
In-house conferences
Teaching Rounds (every Monday)
Pre- and Post-Operative Conference (every Tuesday)
Academics/Grand Rounds (every Wednesday)
Radiology Conference (every Thursday)
Cadaver Workshop (twice monthly)
Journal Club (twice monthly)
Quality Improvement (monthly)
SiTel Simulation Labs (biannually)
National conferences
ACFAS Annual Conference
AAFAO Course
Arthroscopy Course
Baltimore Limb Deformity Course
Diabetic Limb Salvage
Telluride Patient Safety
Many others
DLS conference
The Diabetic Limb Salvage Conference is an international conference hosted by MedStar Georgetown University Hospital, co-chaired by Dr. John Steinberg and Dr. Christopher Attinger. It is a three-day conference including lectures, live cases, and hands-on cadaver workshops. All residents are encouraged to attend.
Research
The Podiatric Surgery Division requires residents to pursue ongoing research throughout their tenure. This can include posters, abstracts, and case reports. Residents are encouraged to complete one large project during each academic year. Likewise, one large group project spanning the three-year program is also encouraged.
The Graduate Medical Education office covers all travel expenses for residents whose posters are accepted for presentation.