Patient Experience | MedStar Good Samaritan Hospital | MedStar Health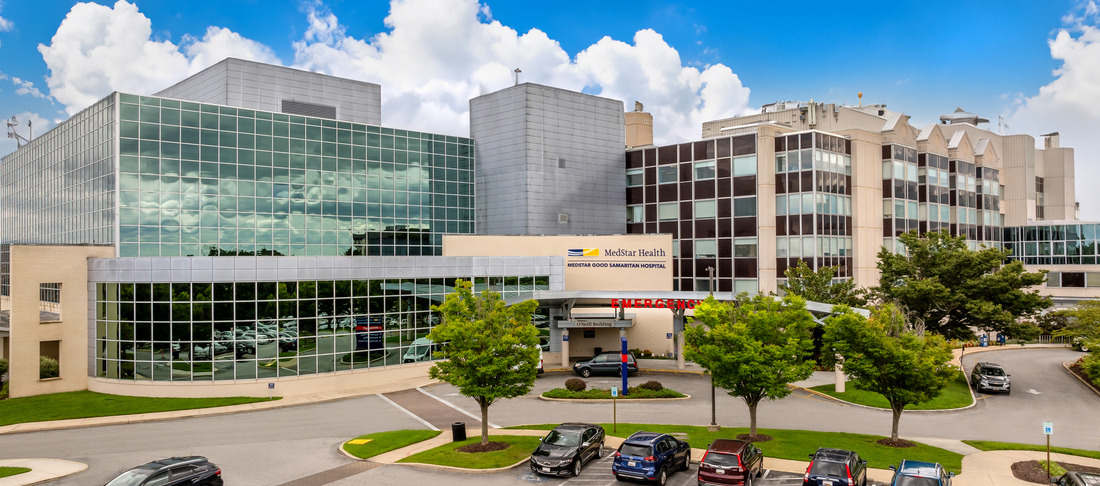 For years, our hospital has sought balance in its approach to greatness. We work toward overall excellence with thoughtful consideration to our five puzzle pieces: service, quality, people, growth, and financial. For example, we can't achieve greatness without great people. And without constant improvement to service, we can't achieve the results that put us on the road to greatness as one of the nation's leading healthcare providers.
Our goal is to create a culture that is ultimately focused on patient satisfaction. Our vision is to be trusted good Samaritans, delivering ideal healthcare experiences to the communities we serve.
Preparing for your surgery or hospital stay
Pre-surgery phone call
You can expect a call from us about two weeks prior to your admission, so we may obtain all the necessary preliminary insurance information and address your questions or concerns. Please feel free to contact an admissions officer at any time at 443-444-3800.
If your doctor orders pre-operative tests
We will call you to schedule testing for the week prior to your admission. For questions, call 443-444-3725.
On the day of pre-admission testing, patients may go to the Admissions office (located just inside the hospital's main entrance) to verify personal and insurance information.
If you are staying overnight
All patient rooms are either semi-private (two patients per room) or private (one patient per room). Requests for private rooms should be made in advance of admission by calling 443-444-3800, or upon confirmation of your scheduled admission or surgery date.
There is a fee of $10 per day for a private room. The fee is not covered by insurance companies. It is payable on admission and based on your expected length of stay as determined by your physician. We cannot guarantee room availability, but we will do our very best to honor your request.
Admissions
If you're staying in the hospital after surgery, we ask that you register at our admissions office. Please bring your insurance and Social Security cards and any referral or authorization forms with you on the day of admission.
If you are returning home after surgery, please register at the outpatient registration desk in the Russell Morgan building.
Advance directives
Upon admission to the hospital, we ask all adult inpatients to provide copies of their advance directives if they have them.
Advance directives are documents written in advance of serious illness that state your choices for healthcare, or name someone to make such choices should you become unable to make decisions. Advance directives enable you to limit or extend the use of medical or life-sustaining procedures.
Donating blood to yourself
Many patients donate blood for their own use prior to elective surgery. Such autologous donations are usually scheduled months to several weeks before surgery. If you are interested in donating blood for your own use, contact your attending physician as soon as possible.
If you choose not to have any blood or blood derivatives (or a transfusion) administered, please advise the Admissions office before the day of your admission. To do so, call 443-444-3801 or 443-444-4856.
Day before surgery
Your doctor will give you instructions about what and when to eat and drink before surgery, as well as which medications you should take. A nurse will call you the day before your surgery to review your instructions, tell you what time to arrive, and assist you with any last-minute questions.
You must not drive immediately following surgery. Please arrange to have someone drive you home. The best way for you to prepare for your surgery is to get a good night's rest.
Your hospital stay
During your stay we will provide you with:
Fresh linens

Hospital gowns

Toothpaste

Toothbrush

Mouthwash

Skin care lotion

Soap
You may want to bring other personal hygiene items, and perhaps a robe and slippers.
What not to bring
Privately owned electrical appliances, such as hair dryers, radios, etc., are not allowed.
Please avoid bringing items of great value, such as jewelry or large sums of money. If you need to make a deposit or co-payment on your insurance deductible, or pay an out-of-pocket expense at the time of admission, be sure to bring the amount required to satisfy your non-covered insurance expenses, as well as a small amount of additional cash for the purchase of personal items such as telephone service or newspapers.
If you do bring valuables, please inform the admitting officer, who will check them, make a list of your items, and take them to our Security office to be stored in a safe until you request their return.
Food services
At MedStar Good Samaritan, we cater to your good taste and offer choices and professional, personal, caring service.
Breakfast à la carte
Our new breakfast cart provides a nutritious and tasty continental-style breakfast with a wide variety of choices.

Menu service
A hospitality assistant visits patients to personally take orders for the day's meals. Each meal includes a chef's special or an alternate selection. Rest assured that all our meals are well-balanced and nourishing, and are specific to your individual dietary needs. We even take into account your allergies. All food is prepared by Morrison Health Care, Inc.
Telephone and television services
There is no charge for television service. However, a $20 fee is charged for local telephone calls, regardless of your length of stay.
If you elect to have telephone service, payment is due at the time of admission for scheduled admissions and at the time of discharge for emergency admissions. Long distance calls must be charged to a credit card or calling card.
No smoking policy
Because we care about your health, smoking is not permitted in any area of the hospital buildings, including patient rooms and solariums. This policy adheres to State legislation and underscores our responsibility to provide a safe and healthy environment for patients, visitors, and employees.
After your surgery
You will be moved to a recovery area while your anesthesia wears off. Some things to note:
Waking up
As you wake up, you may be especially sensitive to noises, lights, heat, and/or cold. You may also be more emotional than normal. Let your nurses know and they will do what they can to assist you.

The nurses and doctors will ask you a lot of questions. This does not mean there is anything wrong. It is part of our normal routine.

To prevent pneumonia, you will be asked to cough and deep breathe frequently.
Potential side effects
You may experience some side effects, depending on the type of anesthesia you have received:

- Local or regional anesthesia: numbness, tingling, nausea, shivering, headache, or backache

- General anesthesia: nausea, thirst, shivering, gas, temporary memory lapses, sore throat, or sore jaw
Discharge
When your nurse and anesthesiologist think you're ready, you will be discharged from the recovery area.
Pain management
Most people have pain after surgery. Your nurse will help by giving you the prescribed and most effective pain medication and by helping you to position yourself most comfortably.
When you return home, it is important that you take your pain medication as prescribed. Please follow all precautions while taking your pain medication.
If you are admitted to the hospital, you can be assured that a pain management team will be continuously monitoring your care.
Going home
If you receive any sedating anesthesia, you will need someone to drive you home. If you receive general anesthesia, someone should stay with you for at least 24 hours.
You will receive written instructions prior to your discharge from the hospital. A nurse will review these instructions with you and answer any questions that you may have.
Have all your prescriptions filled promptly. MedStar Good Samaritan has pharmacy, which is conveniently located in the lobby of the Morgan building.
Parking and shuttle service
All parking is free at MedStar Good Samaritan. Our complimentary shuttle makes routine rounds of the hospital's parking lots and stops at the Russell Morgan building. Shuttle service is available from 7 a.m. to 7 p.m., Monday through Friday. For more information about the shuttle service, call 443-444-4304.
There is also free shuttle service for patients and associates between the campuses of our hospital and our sister hospital, MedStar Union Memorial Hospital. The shuttle will arrive at MedStar Good Samaritan on the hour and depart 15 minutes later.
If there is a need for wheelchair accessibility, please call the MedStar Good Samaritan security office at 443-444-4302.
Visiting with family and friends
While your visitors wait to see you after surgery, they can come and go from specified waiting areas as they please. However, they need to tell the waiting room receptionist where they are at all times, so they may be reached easily by the surgical staff.
Your visitors may see you once you have reached the Phase II recovery room or your hospital room.
Please note:
Smoking is prohibited inside the hospital. There are designated smoking areas outside.

We ask that no electrical equipment or cellular phones be used in the hospital, as they may interfere with some types of medical equipment.

You will be prepared for surgery in the Ambulatory Surgery preparation area. Your family may visit you in this area before you are transported to the Surgical Suites.

Visiting hours are from 9 a.m. to 9 p.m. daily.

Four visitors are allowed per patient at any one time.

Exceptions can be made to accommodate what is best for our patients by talking to your nurse or your unit's patient care coordinator
Financial responsibilities
Discuss your estimated length of stay and anticipated tests and services with your doctor. All insurance programs—including Blue Cross, Medicare, and Medicaid—have coverage limitations on room and board charges and certain tests and services.
Once your admission is scheduled and pre-admission information is obtained, our financial counselors will contact your insurance carriers to verify your eligibility and benefits and to complete any pre-certification requirements.
Patients are advised to contact their insurance carriers to review benefits, policy limitations, and exclusions.
What to do if you have limited coverage
If your insurance company will not fully cover your hospital stay, you will be asked to bring a deposit covering the estimated balance at the time of your admission.
The balance is calculated according to your expected length of stay, and the verification of your coverage communicated to our financial advisors by your insurance carrier's representatives. Please be aware that deposit amounts are estimates only.
What to do if you have no insurance
If you do not have insurance, our financial counselors are available to help arrange alternative methods of payment or to coordinate your financial assistance. Our counselors are available to assist you Monday through Friday from 8 a.m. to 5 p.m.
To schedule an interview with one of our financial counselors, please refer to the following list and call accordingly. If your last name begins with:
Fees and billing
Your hospital bill will not include physician fees. Each physician providing a service will bill you separately. In addition to your attending physician, this may include anesthesiologists, cardiologists, radiologists, surgeons, or other consultants.
Questions about professional fees should be directed to the person providing the service.
You may easily pay your bill online using our convenient online bill pay.
Patient rights
Our mission to provide quality healthcare means doing our best to provide you with excellent care. In the event a patient or family has questions or concerns about treatment or the care environment, he/she has the right to discuss this with his/her physician, nurse, or a member of the administrative staff.