About Our Hospital | MedStar Union Memorial Hospital | MedStar Health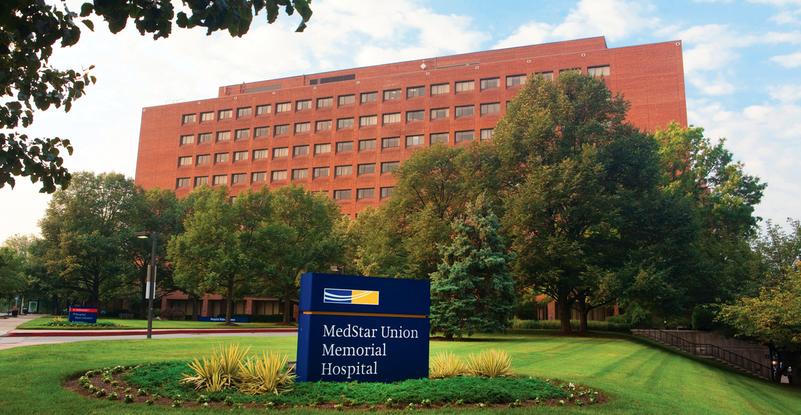 Providing the best healthcare experience
We have a culture that promotes quality, service, and safety to our patients, providing them with the best healthcare experience possible.
Since 1854, MedStar Union Memorial Hospital has provided high-quality care to our community. Located in northeast Baltimore City, MedStar Union Memorial is a regional specialty and teaching hospital.
We are known for The Curtis National Hand Center, MedStar Heart & Vascular Institute, MedStar Orthopaedic Institute, and the development of the first hospital-based sports medicine program in the country.
Our mission, vision, and values
Mission
We are a regional hospital with specialty services of distinction connected by clinical education, innovation, and an integrated approach to care.
Vision
Our vision is to be the trusted leader in caring for people and advancing health in the communities we serve.
Values
Service: We strive to anticipate and meet the needs of our patients, physicians, and co-workers.
Patient First: We strive to deliver the best to every patient every day. The patient is the first priority in everything we do.
Integrity: We communicate openly and honestly, build trust, and conduct ourselves according to the highest ethical standards.
Respect: We treat each individual, those we serve and those with whom we work, with the highest professionalism and dignity.
Innovation: We embrace change and work to improve all we do in a fiscally responsible manner.
Teamwork: We build on the collective strength and cultural diversity of everyone, working with open communication and mutual respect.
Our history
Our hospital is rooted in a long history of medical and nursing excellence, and our commitment to serving the community has been evident from the beginning.
The seven women who established the Union Protestant Infirmary (UPI), as it was first called in 1854, wanted a place where "the sick, the poor, and the infirm" could receive quality care. In 1867, UPI became the first non-university hospital to develop a residency training program and by 1890 the School of Nursing (now closed) was established.
UPI was renamed Union Memorial Hospital in 1920 and 3 years later, the hospital expanded into a new home at Calvert and 33rd Streets in Baltimore. Expansions to the campus continued through 1975 and beyond, and in 2004, MedStar Union Memorial celebrated its 150th anniversary. In 2012, the hospital was renamed MedStar Union Memorial Hospital.
We have evolved from a 20-bed to a 223-bed hospital with more than 2,500 employees and a medical staff of more than 620 physicians. As long as there are new challenges in medicine, MedStar Union Memorial will find new ways to meet those challenges with compassion and quality care.
MedStar Union Memorial History

2012
Union Memorial changes its name to MedStar Union Memorial

2008
Arnold Palmer SportsHealth Center, rooftop helipad open

2006
Decker Orthopaedic Institute, Harry & Jeanette Weinberg Heart Institute open

2004
Union Memorial Hospital 150th Anniversary

2000
Diabetes and Endocrine Center, Vascular Institute open

1994
U.S. Congress designates Curtis National Hand Center as the National Center for the Treatment of the Hand and Upper Extremity; Open Heart Surgery program opens

1991
Union Memorial School of Nursing closes

1979
Sports Medicine Center opens

1975
Union Memorial expands into North Building on University Parkway; Raymond Curtis National Hand Center opens

1924 - 1929
Johnston Hospital & Nurses Home and Bauernschmidt Building expansions

1923
Union Memorial moves into new home at Calvert and 33rd Streets

1920
Union Protestant Infirmary (UPI) renamed Union Memorial Hospital

1890
UPI School of Nursing opens

1867
First non-university hospital in Maryland to develop residency training program

1854
UPI founded as first community hospital in Baltimore
Facts and figures
For fiscal year 2023
191

Licensed Beds

867

Physicians (Employed/Affiliated)

653

Nurses

1,820

Total Associates

44,640

Annual Emergency Department Visits

8,792

Annual Admissions

2,752

Annual Observations

8,236

Annual Ambulatory Surgeries