Physical Therapy at Hunt Valley | 21152 | MedStar Health
Welcome to physical therapy at Hunt Valley
Our physical therapy experts care for you—and about you—right here in Hunt Valley. We are located in the national headquarters for USA Lacrosse where our physical therapists and orthopedic experts proudly care for the region's professional and youth athletes. From sports injuries to pre- and post-operative care, you can trust us to give you the same personalized attention that we offer the pros.
Visiting physical therapy at Hunt Valley
Our Hunt Valley location is located just a few miles from Hunt Valley Towne Center. Parking is free. Please enter through the main lobby and take the stairs or the elevator to the ground floor.
Hours of operation:
Monday: 10 a.m. to 7 p.m.
Tuesday: 7 a.m. to 7 p.m.
Wednesday: 10 a.m. to 7 p.m.
Thursday: 7 a.m. to 7 p.m.
Friday: 8 a.m. to 3:30 p.m.
Insurance
We proudly accept most major health plans. The list below serves as a guide and is subject to change. If you are unsure about your coverage, please call your insurance provider. Insurance is collected prior to scheduling services.
Podcasts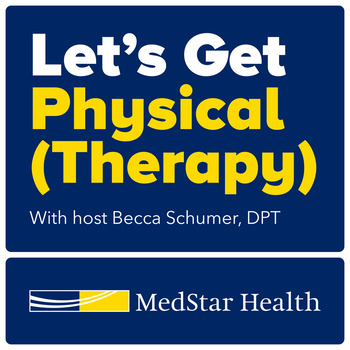 The "Let's Get Physical (Therapy) Podcast," hosted by MedStar Health Physical Therapy, is a new educational podcast series designed for rehabilitation professionals, students, new graduates, and those in related fields. Join us as we discuss treatment options, innovations, techniques, and more with a wide variety of medical professionals.
Bryan Caplan, PT, DPT, MTC, Regional Director

Bryan Caplan attended the University of Maryland where he received his bachelor's degree in journalism. Bryan also completed his doctoral degree in physical therapy from the University of Saint Augustine for Health Sciences. He is certified in manual therapy (MTC). His rehabilitation specialties include:

ACL Return-to-Play Testing

Blood Flow Restriction Therapy

Concussion Management and Care

Dry Needling

Fibromyalgia Care

Knee, Foot, and Ankle Therapy

Neck Pain and Lower Back Pain

Orthopedic Injuries and Conditions

Pediatric Physical Therapy

Running Injury Care

Temporomandibular Joint (TMJ) Disorder Treatment

Vestibular/Balance Rehabilitation

Jonathan Rouse, PT, DPT, Clinic Coordinator

Jonathan Rouse received his bachelor's degree in Biology from Widener University in Chester, PA. Jonathan completed his doctoral degree in physical therapy from Widener University. While completing his education, he completed a 12-week clinical rotation with the Philadelphia Phillies during Spring Training 2019. Jonathan primarily works with athletes of all levels and orthopedic injuries. His rehabilitation specialties include:

ACL Injuries and Return-to-Play Testing
Baseball Injuries and Throwing Assessment
Blood Flow Restriction Therapy
Pre- and Post-Operative Care
Sports Injuries

Rebecca Schumer received her bachelor's degree in exercise science and physical therapy from the George Washington University, where she played soccer and softball at the Division I level. Since then, she has presented at national conferences on various topics, including injury screening in female collegiate cross-country runners. She also volunteers annually in the finish line medical tent at the Baltimore Running Festival. Rebecca primarily works with athletes of all levels and patients with orthopedic injuries. Her rehabilitation specialties include:

ACL Injuries
Blood Flow Restriction Therapy
Dry Needling
Gait Analysis
Injury Risk Reduction for Athletes
Performance Enhancement for Runners
Pre- and Post-Operative Care
Selective Functional Movement Assessment
Sports Injuries

Stefan Rasinski, PT, DPT, CSCS

Stefan Rasinski attended the Towson University where he received his bachelor's degree in exercise science. Stefan also completed his doctoral degree in physical therapy from the University of Maryland, Baltimore. He is certified strength and conditioning specialist (CSCS). His rehabilitation specialties include:

ACL Return-to-Play Testing

AlterG Treadmill

Back/Neck/Spine Pain

Concussion

Dry Needling

Vestibular/Balance Rehabilitation

Orthopaedic Conditions

Running Injury Care