3 Reasons to Celebrate Healthcare Workers During National Inventors Month
If you are experiencing a medical emergency, please call 911 or seek care at an emergency room.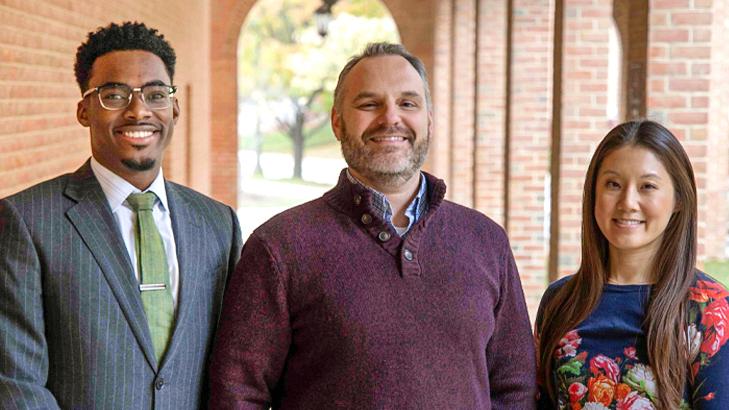 When you think of famous inventors, you might think of Thomas Edison, the inventor of the lightbulb, or the telephone inventor, Alexander Graham Bell. But did you know that your doctors, nurses, and anyone else involved in your care may possess the same creativity, tenacity, and human ingenuity necessary for changing the future?
May is National Inventors Month and an opportunity to recognize healthcare providers and associates who are always looking to address challenges they experience in the clinical setting. It's probably no surprise that many of the tools and technologies used to help care for sick and injured patients were developed by medical professionals who saw a need and engineered a solution.
Take the stethoscope, for example. In 1816, a French physician, René-Théophile-Hyacinthe Laennec assembled the first stethoscope with a rolled up piece of paper to better hear the heart of a woman with symptoms of cardiovascular disease. Today, millions of providers depend on the stethoscope as a diagnostic tool, and it's become a symbol of the medical profession.
At MedStar Health, we know that improved care quality, efficiency, and safety lead to better outcomes and experiences for our patients. And our leaders at MedStar Institute for Innovation and beyond know that our associates can advance health through new technologies and discoveries.
Improved quality, efficiency, and safety leads to better outcomes. On the #MedStarBlog, learn how our healthcare workers innovate to improve patient care: https://bit.ly/37VI1HY.
Click to Tweet

Advancing patient care through innovation.
We encourage and celebrate the ideas of our associates who are involved in the day-to-day care and operations within every MedStar Health hospital and outpatient facility. One of the ways we do this is by helping associates catalyze ideas about unique tools, processes, and solutions.
Through MedStar Inventor Services, we guide and support physicians, nurses, and other associates through the process of making an innovative idea or discovery a reality. With the help of experts in engineering, entrepreneurship, business, and licensing, our associates are making a difference in the lives of their patients, colleagues, and communities.
Read on to learn more about three inventions developed by MedStar Health associates.
1. Accelerating safer aneurysm treatment.
Jeffrey Mai, MD, PhD, is a cerebrovascular and endovascular neurosurgeon at MedStar Washington Hospital Center and an assistant professor in the Neurosurgery Department at Georgetown University.
As a neurosurgeon, Dr. Mai recognized a challenge associated with treating brain aneurysms. Brain aneurysms can rupture, causing internal bleeding that can lead to a hemorrhage or stroke. Prompt treatment is important, but current options have some limitations:
Microsurgical clipping requires open brain surgery to place a clip at the base of the aneurysm.

Endovascular coiling is a minimally invasive procedure that deploys platinum coils to contain the aneurysm. When an aneurysm has a wide base, coils can fall out which can cause additional complications.
To prevent clippings or coils from detaching from the aneurysm, Dr. Mai invented a device that contains the coils, minimizes the risk of rupture, and establishes a scaffold for treating both ruptured and unruptured aneurysms. With the help of MedStar Inventor Services, Dr. Mai's invention secured a U.S. patent in 2021. Now, we're seeking partners to further develop and commercialize his product.
2. Preventing knee injuries with real-time biomechanical monitoring.
Carter Mitchell, MD, is the director of Sports Medicine at MedStar Montgomery Medical Center and an assistant professor of Orthopaedic Surgery at Georgetown University. With board-certification in both orthopedic surgery and orthopedic sports medicine, Dr. Mitchell specializes in treating all types of sports injuries, with a special interest in ACL injury prevention, reconstruction, and rehabilitation.
Research suggests that many ACL injuries can be prevented with proper training. While there are a variety of ACL prevention programs available to help train better neuromuscular control in the knee, Dr. Mitchell's invention involves real-time biomechanical monitoring. Using fiber optics in a compression sleeve for the leg, his patented FitSense Solution can be used to detect and monitor any concerns in the athlete's leg position during training, games, and rehabilitation. This real-time analysis allows athletes to adjust their form before an injury occurs.
3. Improving ease and efficiency of patient care with a portable gravity feed syringe holder.
Tiffany Morris, RN, BSN, is a nurse in the Neonatal Intensive Care Unit (NICU) at MedStar Franklin Square Medical Center. While working in the NICU, Tiffany discovered that some temperature-controlled isolettes didn't have a place to hold a syringe that drips formula or breast milk into babies requiring feeding tubes. Because of this, nurses had to hold the syringe, which could take up to ten minutes at a time–or hours a day, depending on the number of newborns in the NICU.
To solve this problem, Tiffany developed a device designed to hold syringes of four sizes while attached to a NICU isolette or IV pole, expanding its application to any hospital or residential setting. With the help of MedStar Inventor Services, the syringe was constructed using computer-aided design and drafting (CAD) and 3D printing. Currently awaiting patent, Tiffany's syringe holder has already won a Cool Ideas Award from Cleveland Clinic Innovations and Protolabs, Inc.
Have an idea that could enhance patient care?
If you're an associate at MedStar Health, we offer inventor services to help you fully explore your invention idea. Whether you have a general concept or you have a well-constructed invention, we can help you:
Solidify your invention, including developing prototypes

Evaluate the potential systemwide and commercial impact of your idea

Negotiate with experts in the industry who can help catalyze your invention

Protect your invention with patents, copyrights, and/or trademarks

Negotiate and manage legal agreements, grant funding, and investor partnerships

Submit your idea today at
invent@medstar.net
.
Want to learn more about MedStar Health's inventor services?
Click the button below for more information.
Stay up to date and subscribe to our blog