How Primary Care Providers Support Your Overall Health and More
If you are experiencing a medical emergency, please call 911 or seek care at an emergency room.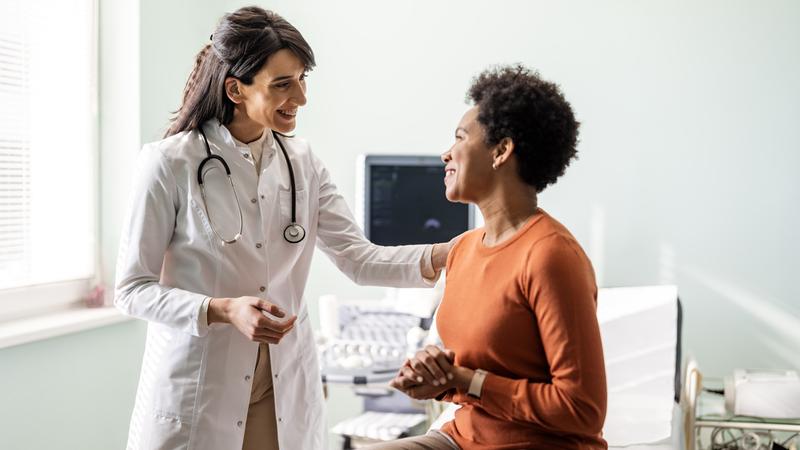 Primary care is an important part of everyone's health care, no matter your age or health. Primary care providers (PCP) like me see a wide variety of patients, serving as their home base for health care.
If you're feeling sick, managing a chronic condition, headed for surgery, or need care from a specialist, your PCP is the first stop. We'll get to know you, learn your health history and family history, and work with you to help develop a plan to help you get and stay healthy.
Fewer people in the U.S. have been seeing a PCP in recent years, down from 77% in 2002 to 75% in 2015. Yet studies show that having a PCP means you get better healthcare access and have a better experience.
With chronic conditions like obesity and diabetes on the rise, it's more important than ever to get regular preventative care from a doctor who knows you.
Why should you have a PCP?
They say an ounce of prevention is worth a pound of cure, and your PCP knows that's true. We work with our patients to conduct a wide variety of tests and screenings to optimize your health.
We'll check your blood pressure, cholesterol, blood sugar, and depending on your personal history, we can screen for many conditions such as sexually transmitted infections, cancer, liver disease, sleep apnea, and recommend vaccinations based on the latest guidelines. Some PCPs prescribe and manage PrEP (pre-exposure prophylaxis) for HIV.
If you have a chronic disease, your PCP can help you manage that, too. We can support you in managing high blood pressure, high cholesterol, diabetes, certain thyroid disorders, acid reflux (GERD), and refer you to a specialist if your condition is complex. We'll work with you to help make lifestyle changes that can benefit you and prescribe medications to help when appropriate.
If you are transgender, make your doctor aware so they can order the appropriate screenings based on your sex assigned at birth and any surgeries or other measures you may have taken to align with your gender identity.
Many PCPs can help manage depression and anxiety, too. At MedStar Health, we work closely with the collaborative care mental health team to help our patients get access to important resources like psychiatrists and counselors.
Regular visits with your PCP help your doctor provide you with the best care as they work to help you achieve your best health, but it can be confusing to decide which doctor is right for you.
Factors to consider when choosing a PCP.
First, it's important to choose which type of PCP is right for you. Generally, there are three types:

Family doctor: These doctors are trained in a wide variety of preventative health and chronic disease management measures. This training encompasses newborns through seniors, and some family doctors even offer prenatal and obstetric care. A family doctor could be the right choice if you want everyone in your family to see the same provider.
Internist: With similar training to a family doctor, internists care for adults 18 and older. They are experienced in office visits, and their residency training included care in the hospital, including the intensive care unit. They often work closely with specialists such as endocrinologists and neurologists.
Nurse practitioner or physician associate: These advanced practice providers (APPs) have a broad scope of knowledge and provide excellent care to a range of patients.

To help you decide upon which PCP is right for you, consider these additional factors:

Accessibility.

Will you be able to get an appointment in a timely manner? PCPs are in short supply, so sometimes there can be a longer wait for your first appointment. Be sure to ask how long it usually takes for established patients to be seen.

Appointment options.

Many types of visits don't require a trip to the doctor's office. At Medstar Health, our

telehealth services

make getting care convenient, without leaving the comfort of home. For certain symptoms, existing patients may have a telehealth visit with a MedStar Health provider. For existing and new patients, we offer our 24/7 on-demand

MedStar eVisit

. No appointments needed.

Personality fit. Consider whether you want a doctor who's all business or someone that's more informal. Be sure to choose a doctor with whom you'll feel comfortable sharing personal details.
Shared values. If you have strong feelings about your care – for example, holistic medicine or medication use – look for a PCP who shares your values.
The bottom line. Check to make sure your preferred PCP is in-network for your insurance or you could get stuck with big bills.
When you meet with your new PCP, don't be shy. Ask them questions about their training, care philosophy, and whether you'll be able to get in touch with them if you have a health concern. Building a relationship is important. Your PCP will be your doctor for a long time, so make sure you're comfortable having personal conversations.

What to discuss with your doctor.
Your PCP is likely to talk with you about your lifestyle—there's a lot people can do to feel better that has nothing to do with surgery or medicine. Consider these topics to discuss with your doctor and stay well between appointments:
Build strength. You don't need six-pack abs, but setting a good foundation for core and strength training can help retain muscle mass and maintain balance as we age.
Drink less. Limiting alcohol and caffeine intake can make a big difference to your long-term health.
Eat right. Eating habits make a difference, so it's worth a conversation with your PCP about the right plan for you. As a rule, keep an eye on your intake of carbs, salt, and sugar. Fresh foods are the best foods.
Find joy. It's critical to our mental health that we participate in activities that make us happy. Your PCP has some ideas to help spark joy.
Get moving. It's rare that a health issue is not improved by physical activity. From high blood pressure to diabetes, joint pain to migraines, I always recommend physical activity to help. That doesn't mean you have to go to the gym. Dancing, walking, and bike riding with your kids are great ways to get started. Your PCP will have even more great ideas.
Quit smoking. There are so many benefits to stopping tobacco use. Your PCP can provide resources to help you quit.
Ditch the scale. Many people are concerned about losing weight, but it's just one part of staying healthy. Rather than just minding the number on a scale, find ways to measure your health instead. Your PCP can help you set realistic health goals.
Some of my patients come to see me with symptoms that can be indicators of chronic conditions. If anything is worrying you, talk with your PCP about how you feel. Some red flags of chronic diseases can include:
Chest pain

Difficulty breathing

Excessive urination

Blood in the urine, or anywhere it's not usually found. Vaginal bleeding after menopause should be reported to your doctor right away.

Fevers

Fatigue

Joint pain
No matter what ails you, talk with your doctor and try not to be embarrassed. We've heard it all, and we're here to help.

Your insurance's Open Enrollment Period, usually in the autumn, is a great time to find the PCP that's right for you. This doctor is one of the most important members of your healthcare team, as we help to coordinate care, prevent diseases, and support you in staying your healthiest.
Get support with your health.
Click below to learn more about primary care services at MedStar Health and request an appointment with a primary care provider.
Stay up to date and subscribe to our blog