PAs, NPs, MDs, Oh My! A Quick Guide to the Alphabet Soup of Provider Acronyms.
If you are experiencing a medical emergency, please call 911 or seek care at an emergency room.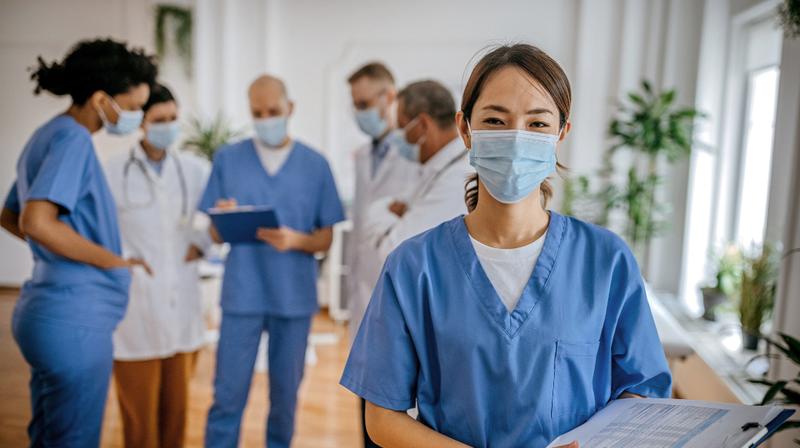 PA, DO, NP, oh my! With so many types of healthcare providers and so many acronyms, you may find that even regular checkups involve a several providers, each with specialized training and skills. There's a good reason why all these experts play a role in your health. As I've learned first-hand over many years specializing in emergency medicine: team-based care results in better healthcare.
Research has demonstrated that teamwork really does make the dream work when it comes to health. When providers with diverse training and experience work together, adverse events happen less often—patients feel more satisfied and demonstrate better outcomes.
MedStar Health employs team-based approaches because we've seen the benefits for our patients and providers first-hand. Let's take a moment to introduce you to the members of the team and clear up what the most common acronyms mean.
Physicians.
A physician is a doctor who is trained to practice medicine. After earning a bachelor's degree, physicians typically study for four years at a medical school.
Then they spend another three to seven years in a residency program designed to help them get experience and apply the lessons learned in medical school, much like an extended apprenticeship. Following their residency, some physicians receive additional sub-specialty training in a fellowship program, which can last from one to three years.
While the terms "physician," "doctor," and "MD" are often seen as the same thing, not all physicians hold the same degree. And not all healthcare providers with a doctorate degree are physicians. Optometrists, pharmacists, and others earn advanced degrees but do not attend medical school.
Doctor of Medicine (MD).
The Doctor of Medicine degree indicates a physician is trained to diagnose and treat illnesses and disorders with preventative care and evidence-based therapies such as medications and surgery.
This allopathic training is the most common education for doctors, with about 66% of physicians in the U.S. holding the MD degree.
Doctor of Osteopathic Medicine (DO).
The Doctor of Osteopathic Medicine receives similar training to an MD. DOs take an additional 200 hours of osteopathic training to learn how illness impacts the musculoskeletal system and how to provide treatment by manipulating the joints, bones, and muscles.
Both MDs and DOs are licensed nationally, and you will receive excellent care from a physician with either degree.
What about surgeons?
All surgeons are physicians, but not all physicians are surgeons. After graduating from medical school, some new physicians will choose an accredited residency program in an area of practice such as pediatrics, internal medicine, neurology, or many others.
During the residency program, physicians practice under the close supervision of an experienced provider. Some choose to practice general surgery, treating conditions and diseases of the abdomen, breast, head and neck, blood vessels, and digestive tract. Others choose to specialize in a field that includes surgical practice such as thoracic (chest), orthopedic (muscle and skeleton), or oncologic (cancer) surgery for example.
Surgeons perform many duties that are similar to those of physicians, and they also use surgical techniques to treat conditions and restore function.
Advanced Practice Providers.
Physicians aren't the only experts providing care, of course. Healthcare teams are made up of people with a range of expertise and experience, including a group known as Advance Practice Providers that includes those with advanced degrees who are not physicians.

Our healthcare system relies on the expertise of these providers to deliver excellent patient care in a wide range of specialties. Some of the most common APPs include:
Physician Assistant (PA).
PAs are medical professionals who can serve as your primary healthcare provider. They earn a master's degree and are licensed by state boards to practice medicine. PAs can diagnose illnesses, manage treatment plans, and prescribe medications while practicing under the supervision of physicians in a number of specialties.
Nurse Practitioner (NP).
NPs are registered nurses who take advanced graduate education and clinical training that prepares to practice independently in collaboration with or under the supervision of physicians.

They to manage a wide range of health services, such as:
Diagnosing and managing medical conditions

Ordering and interpreting diagnostic tests

Prescribing medications

Initiating treatment plans
Certified Registered Nurse Anesthetist (CRNA).
CRNAs are advanced practice nurses who satisfy rigorous requirements to be state credentialed. They work with other healthcare professionals to provide anesthesia care for all types of surgeries and procedures.

Certified Nurse Midwife (CNM).
CNMs take advanced education and clinical training with an emphasis on pregnancy, childbirth, reproductive, and gynecologic health. They are state licensed to prescribe a full range of medications and treatments for women and girls of all ages and backgrounds. Many work closely with obstetricians, gynecologists, or maternal-fetal medicine specialists. They are often important components of the birthing team and are trained in medical techniques unlike some birth support specialists such as doulas.
Nurses.
Nurses are often some of the first providers patients see at our clinics and hospitals. Like physicians and APPs, nurses come with many different backgrounds and abbreviations.
Certified Nursing Assistant (CNA).
CNAs often work in home care and long-term care settings and can be the main point of contact between a patient, their family, and the healthcare system. Sometimes called nursing assistants or nursing aides, they assist patients with daily activities and may administer medication, take vital signs, and keep health records. CNAs must pass a state licensing exam to provide patient care.
Licensed Practical Nurse (LPN).
LPNs often serve as the primary means of communication between the patient and your healthcare team. They monitor health and perform tasks like taking blood pressure, starting intravenous (IV) medications, changing bandages, and more. LPNs complete Practical Nursing Program coursework and must pass a state licensing exam.
Registered Nurse (RN).
When many people hear the word "nurse," they likely think of the wide range of responsibilities of an RN, such as administering medication and collaborating with physicians and APPs to coordinate patient care.
Some RNs supervise LPNS and CNAs, and others specialize in certain areas of care. RNs hold either an associate's or bachelor's degree and must pass a state licensing exam. RNs can take additional training (such as a master's degree) to become an Advanced Practice Registered Nurse (APRN). Nurse practitioners, nurse anesthetists, certified nurse midwives, and clinical nurse specialists are all examples of APRNs.
The benefits of a diverse care team.
When team members with diverse skills work together, patients get better care. Team members come together to form a complete patient care plan, giving patients the best care each step of the way.
For example, a PA or an NP with expertise in orthopedics might initially evaluate a knee injury. They can spend time with you, learning about your history and developing a plan to care for your injury. If surgery is required, they can work with a surgeon and radiology expert to review your X-rays or MRIs and prepare for a procedure.
Improving your access to high-quality care is our priority; that's why you will sometimes be treated by an APP instead of a physician. This process is more efficient for patients than waiting for an appointment with a physician—without sacrificing excellent care.
Collaboration within care teams and between specialists allows us to provide consistently excellent care for our patients. That's our collective mission, no matter what letters come after a provider's name.
Schedule an appointment with us today.
Stay up to date and subscribe to our blog