Oral and Maxillofacial Surgery Residency Program | MedStar Washington Hospital Center | MedStar Health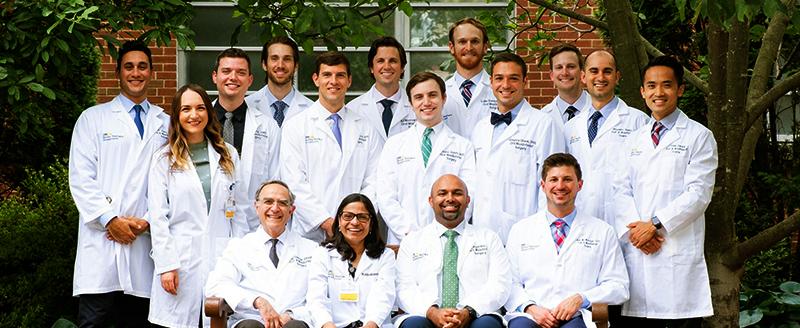 The MedStar Health―Washington Hospital Center Residency Program in Oral and Maxillofacial Surgery
We have provided inpatient and outpatient services to the metropolitan Washington, D.C., community since 1936. The oral and maxillofacial surgery residency program is a four-year program with three available positions each year.
The oral and maxillofacial surgery residency program is a four-year certificate program. The overall goal of the residency is to train graduates to be well-rounded, well-balanced surgeons in the field of Oral and Maxillofacial Surgery. Our department is designed with the focus of the training program in mind, maintaining a key focus on the most up-to-date procedures and technology.
Program Goals & Objectives
To enable residents to practice the full scope of Oral & Maxillofacial Surgery in a competent and skillful manner through a didactic and clinical curriculum.
To provide residents with excellent didactic and clinical experiences by conducting a 48-month residency program in Oral & Maxillofacial Surgery
To provide a training program that will qualify graduates to apply for board certification by the American Board of Oral & Maxillofacial Surgery or other appropriate accrediting body.
To help develop an individual's sense of moral, ethical, and professional standards in order to provide proficient and quality care throughout their professional careers.
To develop in each residents an interest in scholarly activity and clinical research
To train residents in contemporary oral & maxillofacial surgeries to either operate a successful private practice or to enable them to have an academic career
To foster an environment of lifelong learning and commitment to service.
Curriculum
The residency program at MedStar Washington Hospital Center is designed to train superior oral and maxillofacial surgeons who are capable of practicing the full scope of oral and maxillofacial surgery in a comprehensive, ethical, compassionate, and knowledgeable manner. The educational experience is progressive, offering increasing responsibilities as residents proceed through the program in an environment of collegial and lifelong learning.
The program is designed to provide the residents with sufficient didactic and clinical education to meet the requirements of the American Board of Oral and Maxillofacial Surgery. All residents should be extremely well prepared for careers in clinical practice, both in academic and private practice settings.
Scope
The department practices the full scope of Oral and Maxillofacial Surgery at MedStar Washington Hospital Center. Residents perform dentoalveolar, preprosthetic, pathology, implants, tissue engineering, and sedations in the busy outpatient clinic. Our major operating room times covers the scope of core oral surgery including orthognathic surgery, benign pathology, reconstruction, temporomandibular joint disorders, and facial trauma.
The department covers 2-3 weeks each month for both soft tissue and hard tissue facial trauma in the emergency department and MedStar Shock/Trauma. Residents take in-house call for the department seven days a week.
The faculty and residents are integral members of the Cleft & Craniofacial clinic at Children's National Medical Center and work in conjunction with the Pediatric Dentistry department covering pediatric oral maxillofacial surgery including emergency call for oral infection, oral/mandibular trauma. Lastly, residents rotate for pediatric anesthesia at Children's National Medical Center.
Residents rotate with our core faculty at the National Institutes of Health focusing on oral surgery procedures and engage in research protocols. Additionally, residents rotate at the DC Veterans Affairs Medical Center to further expand on oral surgery in complex patients and multi-disciplinary care within the dental division.
On average, the department performs about 700 major operating rooms cases, approximately split 25% facial trauma, 20% orthognathic surgery, 20% benign pathology, 20% dentoalveolar, 15% reconstruction/TMJ.
Didactic curriculum and conferences
Friday morning presentations - a lecture series led by faculty and residents on a vast array of topics including dentoalveolar/preprosthetic surgery, infections, trauma, anesthesia, implant surgery, medicine (including history and physical diagnosis), anatomy, orthognathic surgery, temporomandibular joint disorders, cleft and craniofacial surgery, facial cosmetics, obstructive sleep apnea, etc.
Monthly surgical orthodontic conference - in conjunction with the Division of Orthodontics at MedStar Washington Hospital Center residents and faculty discuss planned cases, techniques, and treatment planning on a wide variety of dentofacial deformities.
Monthly pathology seminars - lectures, CPCs, and microscopic histopathology led by Johns Hopkins Oral Pathologist Robert Foss, DDS, MS.
Journal Club - monthly evening session held with our faculty for literature review of journals related to the specialty.
Implant conferences - discussions involving complex implant cases reviewing surgical and restorative treatment planning, surgical techniques, and emerging technologies with emphasis on tissue engineering in conjunction with consulting prosthodontists.
Opportunities in educational and scientific meetings - these include the general meeting of the American Association of Oral and Maxillofacial Surgeons, the Mid-Atlantic Society of Oral and Maxillofacial Surgeons meetings, the annual Board Review Courses offered by Colorado University, and the National Naval Medical Center in Bethesda, Maryland, along with many other lectures by leaders in the field of Oral and Maxillofacial Surgery.
High-caliber, motivated dental students find the brisk patient volume and diverse patient population very rewarding in their pursuit of OMS training. This clinical externship is designed for dental students seriously considering post-doctoral training. Selected applicants are integrated onto the OMS service and are afforded a firsthand view of residency training.
Operating room time, treatment planning, emergency and shock trauma coverage, case presentations, dental implant surgery, exodontia, morning rounds, and didactic lectures are some of the ways externs spend their time. On-campus housing may be available on a limited basis. This externship provides the student with extensive care delivery in both the inpatient and outpatient setting. Academic conferences, in-service presentations and morning resident teaching rounds also provide the externing student with valuable exposure to the depth and scope of the specialty.
Inpatient encounters will focus on treatment planning and surgery for the orthognathic, trauma, and pathology patient while exodontia, dentoalveolar, and implant surgery will comprise the bulk of outpatient care. The student will learn to evaluate head & neck infections and evaluating the acute trauma patient while on-call. The extern will be asked to assist and participate in all facets of our residency program.
The following items are necessary for an externship at MWHC and send to the address below.
Completed externship application (Click here for an Application - pdf)

Proof of malpractice insurance coverage,
Dean's letter stating the student is in good academic standing
Current Curriculum vitae
Record of current immunizations
Proof of Tuberculosis testing
MedStar Washington Hospital Center
Department of Oral and Maxillofacial Surgery
ATTN: Externship Coordinator
110 Irving Street, NW GA-144
Washington, D.C., 20010
For more information, contact:
Dr. Ravi Agarwal DDS
Department of Oral & Maxillofacial Surgery
110 Irving Street, N.W.,
GA144
Washington, D.C., 20010
Email: oralmaxsurgery@medstar.net
Rotations
During the course of their training, residents serve on a variety of clinical rotations, including anesthesia, internal medicine, cardiology, general surgery, shock/trauma, and surgical intensive care. The program's affiliations include Children's National Medical Center, where the residents are extensively involved in the craniofacial clinic and treatment of craniofacial deformities as well as pediatric trauma and dentoalveolar surgery. Other rotations include the Washington, D.C., VA Medical Center, and the National Institutes of Health. These rotations are used to supplement the residents' exposure to a variety of clinical conditions.
4-year Rotation Schedule
R1
R2
R3
R4
MedStar Washington OMFS

(CNMC & NIH Clinical Rotations)

10

(1)

5

(3)

3

12

VA OMFS
2
Anesthesia

(MWHC)

2
2
Pediatric Anesthesia

(CNMC)

1
Internal Medicine
1
Cardiology
1
General Surgery
1


Surgical ICU


2
Trauma Surgery
1
Otolaryngology
1
Plastic Surgery
1
MedStar Washington Hospital Center
Department of Oral and Maxillofacial Surgery
110 Irving Street, NW GA-144
Washington, D.C., 20010-2975
202-877-5381