Pharmacy Residency | MedStar Union Memorial Hospital | MedStar Health
Pharmacy Residency at MedStar Union Memorial Hospital
The PGY1 pharmacy residency program at MedStar Union Memorial Hospital is a 12-month comprehensive program that provides a wide range of clinical experiences designed to equip the resident with the training and skills to pursue his or her future career plans. Our program includes core and longitudinal rotations, longitudinal projects, teaching experience, and research opportunities.
Residents are mentored by resident advisors with assistance from the Residency Program Coordinators, Residency Program Director, and lead pharmacists for each longitudinal project.
MedStar Union Memorial Hospital - PGY1 Pharmacy Residency Program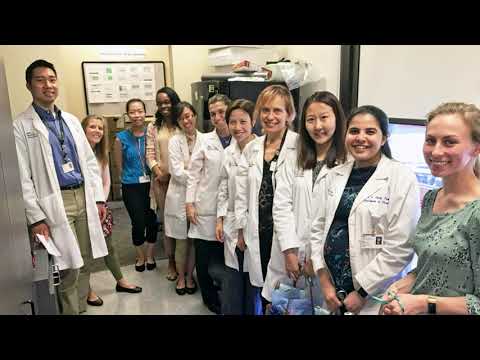 Why train here
The program offers diverse clinical experiences to accommodate a wide range of interests. An optional teaching certificate program is available through the University of Maryland School of Pharmacy. The program offers a systemwide approach with MedStar Health as a 10-hospital system in addition to focusing on individual site requirements and implementation of initiatives while benefiting from the support of a larger health system.
Program goals
Individuals who complete this program will be expected to be able to:
Practice in a professional and ethical manner, and exhibit accountability for personal excellence in the provision of patient care in various settings.
Provide patient care through direct interaction with interdisciplinary teams and maintain accountability for drug therapy outcomes.
Develop and implement systems/processes or clinical guidelines to improve the medication use process.
Develop leadership skills.
Perform practice-related research.
Provide education to patients and other healthcare providers regarding optimal pharmacotherapy.
Curriculum
The program will focus on training and developing the resident in preparation for a clinical pharmacist position and/or PGY-2 training. Residents will be eligible for board certification in pharmacotherapy.
Residents will master formal case presentations with a detailed assessment and plan for complex patients. They will further acquire leadership opportunities in working with a primary committee and functioning as chief resident.
The resident will also get to hone critical evaluation skills by analyzing literature and guideline recommendations and applying this to patient cases and formulary management.
Rotations
All residents will begin the residency year with a two month orientation period which will cover kinetics, order entry, and an introduction to pharmacy operations.
Subsequent rotations are conducted in 4 week blocks. Exceptions include longitudinal rotations in the Medication Management Clinic, order entry, kinetics, drug utilization/research, and leadership.
Orientation
Order Entry and Pharmacy Operations

Kinetics and Clinical Orientation
Core Block Rotations (4 weeks per experience)
Required:
Critical Care

Advanced Cardiac Support (ACS)

Hospitalist Medicine Rounds

Internal Medicine

Pharmacy Administration and Practice Management

Antimicrobial Stewardship

Orthopedic/Transitions of Care/Pain Management
Longitudinal Rotations
Required:
Order Entry (Staffing Requirement): 9 months

Kinetics: 9 months

Drug Utilization/Research: 9 months

Medication Management Clinic: 9 months

Leadership: 9 months

Ambulatory Care: 3 months (May only pick 1 clinic setting)

Outpatient Telemedicine Palliative Care

Infectious Disease Clinic

Geriatrics Clinic

Heart Failure Clinic
Elective Rotations (4 weeks per experience, residents may choose 3 electives)
Cardiac Surgery: Cardiovascular ICU (CVICU) and Cardiovascular Step Down (CVSD) MDR

Geriatrics

Inpatient Rehabilitation

Emergency Medicine

Pharmacy Informatics

Medication Safety

Palliative Care

Ambulatory Care

Additional rotations in any of the core rotations

Off-site rotations (only one non-MedStar off-site elective rotation)
Benefits
Health insurance (including dental and vision) is provided to all residents and dependents at the same cost as for full-time employees.

Associates receive paid time off (PTO), legal holidays for major and minor holidays, and personal time through an accrual process similar to any full-time associate.

Conference time is used for attending the ASHP MidYear Clinical Meeting and the Eastern States Residency Conference.

Free parking, fitness center (onsite), 403(B) participation
Salary
Staffing Requirements
Weekday Staffing

One 4-hour evening shift from 4-8:30 p.m. (with meal break) - 2 weeks/month

One full 8-hour staffing shift (with meal break) - once per month

Weekend Staffing

8-hour shift on Saturday and Sunday every third weekend
All training appointment agreements are binding for one year from the start of the residency and contingent upon receipt of verification of graduation from pharmacy school.
**Residents are strongly encouraged to be fully licensed as soon as possible after graduation.**