Breast Imaging & Mammograms | MedStar Health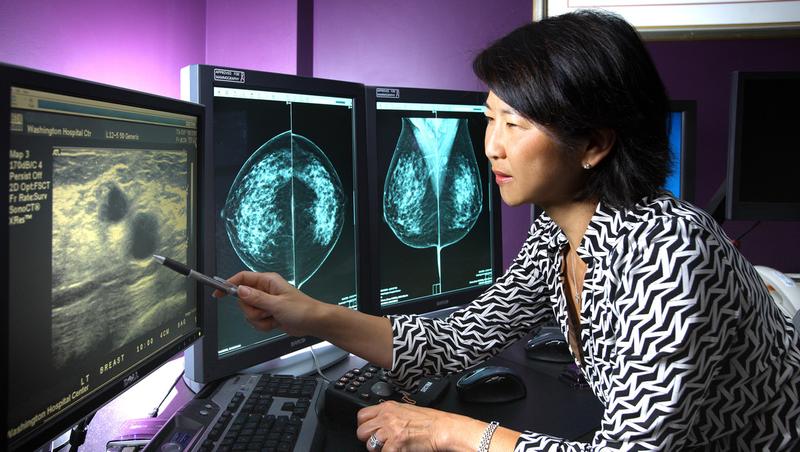 Our specialized radiologists use the latest advances in imaging technology to detect and diagnose all types of breast cancer.
Breast imaging plays an essential role in detecting and treating breast cancer at various stages in the patient journey. Here, you'll find comprehensive imaging breast care that spans the latest in screening technology to state-of-the-art image-guided biopsies and surgical procedures.
Throughout MedStar Health, you'll find multiple breast imaging centers, making it convenient to stay on top of regular screening mammograms. All of our imaging sites are accredited by the American College of Radiology (ACR), a testament to our unwavering commitment to offering the latest advances in breast imaging, including 3D mammography. And, many of those programs are recognized as Breast Imaging Centers of Excellence by the ACR. In addition, because we have an integrated reporting system, we can seamlessly view your imaging reports wherever you see us for care year after year.
We also work proactively in collaboration with our genetic counselors to identify your risk level. For example, for women with a family or personal history of the disease or a known mutation of the BRCA1 and BRCA2 genes, we can determine whether or not you may benefit from a personalized risk-management plan that may involve supplemental imaging, such as breast MRI or breast ultrasound.
Our approach
We offer the full spectrum of imaging care, personalized to each patient based on risk level.
Our specialists are fellowship-trained in breast imaging which gives us the experience and training to deliver accurate results. We work hand-in-hand with our colleagues in breast surgery, medical oncology, radiation oncology, and pathology to accurately diagnose your cancer, ensuring we can collectively personalize a treatment plan that considers every aspect of your care. Most importantly, you can expect to be treated with dignity and respect by every member of our team at every encounter.
At MedStar Health, our dedicated breast imagers are experts in the full spectrum of imaging care, including:
Interpreting screening mammograms
Evaluating new problems revealed by a screening mammogram with diagnostic mammography, ultrasound, and/or MRI
Giving every patient in our clinics for diagnostic evaluation their results and recommendations verbally and in writing, and the opportunity to ask questions directly of a radiologist after the visit
Using ultrasound, mammographic, or MRI guidance to perform biopsies and procedures facilitating surgical procedures
Collaborating with our colleagues in the assessment and planning for patients with breast cancer
Following patients with cancer after treatment
Types of breast imaging
Mammography
A mammogram is a special kind of X-ray designed specifically for the breast. Mammograms allow your doctor to closely examine the breasts for breast tissue changes. These tests can show small lumps or abnormalities that may not be detectable using a clinical or self-breast exam.
Mammography is the best tool that doctors have for finding and diagnosing breast cancer and may be used for:
Screening mammograms are typically performed once a year for women with average risk and no symptoms of breast cancer. The American Cancer Society recommends beginning these at the age of 40.

Diagnostic mammograms are problem solving mammograms that can clarify any abnormalities on a screening or determine the cause of breast cancer symptoms. A diagnostic mammogram takes longer than screening mammograms because it takes more pictures of the breast. Sometimes, a diagnostic mammogram also involves ultrasound imaging.
During a mammogram, the breast is placed on a small platform and compressed with a paddle while exposed to a very low dose of radiation. Compression helps even out the thickness of the breast so that all of the breast tissue is visible. The pressure also holds the breast still to minimize blurring of the image caused by patient movement.
Digital mammography
Digital mammography, also known as breast tomosynthesis or 3D mammography, is the next generation of mammography, allowing radiologists to take and view images in real-time on a computer rather than film. It captures 15 digital "projection" images as it arcs over the breast during a short four-second scan. These images are then digitally reconstructed into a series of high-resolution one-millimeter slices that can be reviewed individually or played back in a cine loop.
Recent trials have shown it to be a more accurate method for detecting early breast cancers than traditional 2D mammography alone, especially for women with dense breast tissue. An FDA-approved imaging tool, 3D mammograms offer numerous benefits for patients, including:
From the patient perspective, digital mammograms work in much the same way as traditional, and there is no additional cost to the patient. Patients are asked to remove clothing from above the waist, and the breasts are then positioned between two plates that flatten and compress the tissue as images are taken from all sides. Some patients report mild to moderate discomfort during the imaging process, but the test itself typically takes no more than 20 minutes to complete. While mammograms don't treat cancer, mammograms are a crucial tool in the early detection of breast cancer, which can improve treatment success rates.
A more comfortable experience using SmartCurve™ technology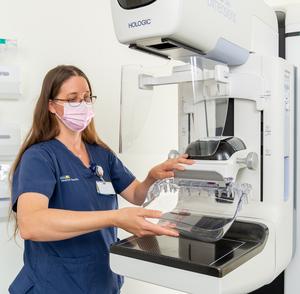 Our 3-D mammography technology is a fast and convenient option for baseline and routine breast cancer screenings made more comfortable with SmartCurve™ technology. Whether you need a screening mammogram or a diagnostic mammogram, this technology minimizes your discomfort while enhancing the quality of your exam by using:
Curved surfaces that mirror your breast shape

Uniform compression to reduce pressure points and pinching

Higher contrast for exceptional image quality
Breast MRIs
Breast magnetic resonance imaging (MRI) is a non-invasive diagnostic tool that uses magnets and radio waves to take a detailed image of the breast. The hour-long procedure is painless and considered very safe. In addition, MRI scans do not use radiation like other diagnostic tools (X-ray or CT scan). Therefore, the procedure can be used on women younger than 40 and more frequently for women at high risk of developing breast cancer. That's why we recommend that women begin talking to their doctor at the age of 30 about their risk levels for breast cancer. Breast MRI may be used to:
Evaluate abnormalities detected by a mammogram

Identify early breast cancer in those with a heightened risk (family history) or with dense breast tissue

Screen women with breast implants or scar tissue that might otherwise make imaging challenging to read

Determine the integrity of breast implants

Assess or look for multiple tumors

Diagnose breast cancer by guiding a breast biopsy procedure
This technology complements other imaging systems and does not replace conventional breast cancer screening mammograms.
Breast ultrasounds
Ultrasound is an imaging technology that uses sound waves to produce images of breast tissue. Because it is non-invasive and doesn't use radiation, it's considered safe, even for pregnant women. We may use a breast ultrasound to:
Complement mammogram screenings for some women, including women who are pregnant or have dense breast tissue

Diagnose breast lumps or other abnormalities found during a routine breast cancer screening

Examine lymph nodes to see if cancer has spread

Guide a breast biopsy procedure
A sonographer or radiologist will position you on your back or side during an ultrasound. Then, they will apply a water-based gel to the breast. The gel helps a hand-held device, a transducer, send sound waves to a computer. The computer translates these sound waves into images in real-time. Finally, a highly-specialized radiologist with additional training in breast imaging analyzes the images.
It is important to note that mammograms are far more accurate at detecting early signs of breast cancer, so breast ultrasounds should not replace routine mammograms for most women.
Frequently asked questions
How common is it to have dense breasts?

Dense breast tissue is not abnormal. Fifty percent of women will fall into one of two categories—heterogeneously dense or extremely dense. A radiologist can determine density by performing a visual assessment and will make recommendations accordingly.

Does having dense breasts increase my risk of cancer?

Breast density may increase your risk of breast cancer, but only slightly. Having dense breasts can make it hard to identify breast abnormalities on a screening mammogram. If you have dense breasts, talk to your doctor about a breast cancer risk assessment and whether additional tests will benefit you.

Should I continue to get mammograms if I have dense breasts?

Yes. Screening mammography is the only screening tool proven to lower breast cancer mortality. It is also the only test available that reliably detects suspicious calcifications. Such calcifications are often the first sign of in-situ (non-invasive) cancers, which coexist with otherwise invisible invasive cancers. You may be eligible for other options, but you should continue regular screening using mammography as well.

Are there other screening options for women with dense breast tissue?

Among the additional available tests, breast MRI, breast ultrasound, and 3D breast tomosynthesis (digital mammography) are impacted less by breast density in their ability to detect breast cancer than 2D mammography alone. At MedStar Health, we offer all of these modalities, and your doctor can help determine which is right for you.
Looking for expert cancer care?
With multiple locations throughout the region, patients have access to many of the nation's renowned cancer specialists offering high quality care, second opinions and a chance for better outcomes close to where they live and work. Georgetown Lombardi Comprehensive Cancer, one of the nation's comprehensive cancer centers designated by the National Cancer Institute (NCI), serves as the research engine allowing patients access to clinical trials that often lead to breakthroughs in cancer care.