Breast Cancer Screening | Women and Men | MedStar Health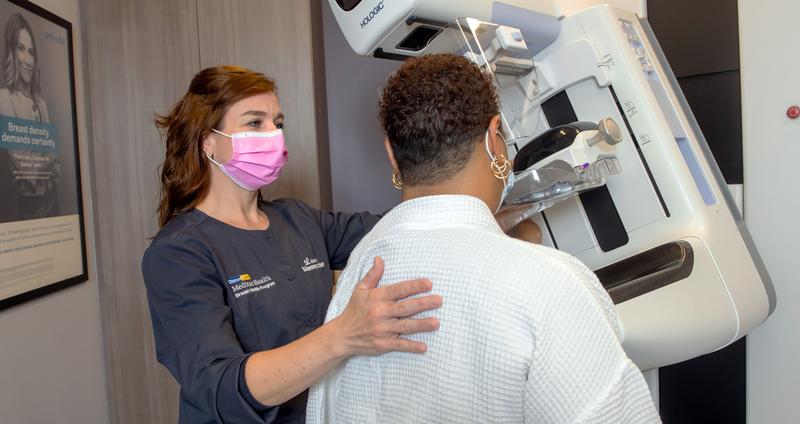 Mammograms are the best tool for detecting breast cancer early when easily treated.
Breast cancer is the second leading cause of cancer death for women in the United States. Fortunately, advances in detection and treatment are leading to higher breast cancer survival rates. According to the American Cancer Society the survival rate is as high as 99 percent if the disease is caught early before it spreads.
During a breast cancer screening, we use imaging technology to screen breast tissue for abnormalities. Getting regular mammograms ensures we find any suspicious lumps, masses, or changes in your breast tissue as soon as possible. The earlier we find breast cancer, the more easily we can treat it.
All of our breast programs are accredited by the American College of Radiology, and we're consistent winners of the Women's Choice Awards for "Best Mammogram Imaging Center." When you get a breast screening at MedStar Health, you'll benefit from:
The latest breast imaging technology, including digital mammography, which offers faster and more accurate results than the traditional X-ray exam
Accurate and timely results read by radiologists who specialize in breast imaging
A more comfortable experience, thanks to SmartCurve™ technology that uses curved surfaces and uniform compression to minimize your discomfort while enhancing the quality of your exam
Convenient screening locations close to where you live, work, and play throughout the Washington, D.C., and Maryland region
Screening eligibility
Women with average risk should start screening at the age of 40.
Starting at the age of 30, we recommend talking to your primary care doctor about when you should get your first screening. A shared decision-making visit will help you come to an informed decision about when to get screened based on your personal risk factors, or the things that increase your risk of breast cancer.
Current breast cancer screening recommendations suggest that women with an average risk start screenings at 40. As you age, your risk of breast cancer increases. Screening is the best way to catch signs of cancer early before the disease has time to spread. It's a quick, 20-minute visit that could save your breasts—and, more importantly, your life.
If you have risk factors that increase your odds of developing breast cancer, your doctor may recommend that you begin screenings earlier. Family history or personal history of the disease, for example, increases the likelihood that you will develop the disease in your lifetime. Through genetic counseling and our High-Risk Breast Clinic, we can help you stay on top of managing this risk using various prevention strategies that take into account your personal preferences and the risks and benefits of each option.
It's also a good idea to start breast self-exams in your 20s, although this should not replace annual screenings as you age. Knowing what is normal for your body can help you identify any unusual changes to your breasts, which is a sign you should seek care from a doctor.
Are you eligible for a breast cancer screening?
Don't wait for a breast lump or other sign of cancer. Take our five-minute breast health quiz to learn about your risk of breast cancer and when you should schedule your first—or next—screening mammogram.
Types of breast cancer screening tests
Mammograms
Screening mammography has long been considered the ultimate tool in the early detection of breast cancer. A mammogram is an imaging test that examines breast tissue, often before any signs or symptoms of the disease are present. Screenings produce detailed images of both breasts to detect any tumors that can't be felt under the skin. They can also detect calcium deposits that may indicate breast cancer or a benign breast condition.
Aside from screening tests, mammograms can also be used for diagnostic purposes if a patient has symptoms or as a follow up if abnormalities were present during a screening.
What to expect at your screening mammogram
During a mammogram, an imaging specialist will instruct you to position your breasts between two thin paddles. The curved paddles will gently but firmly flatten your breast for a brief moment while the machine takes images of your breast tissue. Many women report that it's uncomfortable, but it shouldn't be painful.
Screening mammography does emit a small level of radiation, so patients who are pregnant or suspect they may be pregnant should discuss concerns with their doctor before the screening.
After the screening, you can plan to return for your next mammogram in a year. If your mammogram reveals a suspicious lump or growth, we will call you to return for additional imaging. This doesn't necessarily mean you have breast cancer, but it's good that we caught it if you do. A dedicated team of experts will work together to give you the very best breast cancer treatment, which may include a combination of chemotherapy, radiation therapy, targeted therapy, and/or surgery.
MRIs
While most women benefit from screening mammography, a doctor may recommend a Magnetic Resonance Imaging (MRI) test for certain women. MRI scans are beneficial for screening women with a family history of breast cancer or a hereditary predisposition for the disease, such as someone who carries a mutation in the BRCA1 or BRCA2 genes. In some instances, you may benefit from both an MRI and a screening mammogram every year, alternating them every six months.
An MRI is a non-invasive scan that generally requires you to remain still inside the MRI tube as the images are taken. The test is painless and typically lasts for 30 to 60 minutes. Not all MRI screenings are covered by insurance, so it's best to check with your health plan.
Frequently Asked Questions
When should I get my first screening?

It's important to consider your family history and personal history of the disease when determining when to start screening. If a first-degree relative had breast cancer, or you know that you carry the BRCA1 or BRCA2 gene mutation, we may recommend earlier or more frequent mammograms because your risk of the disease is greater. Women who have an average risk with no symptoms and no personal or family history can typically start annual screenings at 40.

How do I prepare for a mammogram?

It's best to schedule your mammogram the week after your period when your breasts are the least tender. On the day of your mammogram, you should:

Let your technician know if you have breast implants or if you had any previous breast biopsies, as this can affect how your breast tissue appears in images
Avoid deodorant, perfumes, or lotions around the breasts or armpits

If you'd like and your doctor approves, you may consider taking a mild, over-the-counter pain medicine to reduce any discomfort.

A breast cancer screening shouldn't be painful, but it can be uncomfortable. Fortunately, screening mammograms are quick, and the temporary discomfort can be lifesaving. Many of our imaging locations also offer SmartCurve technology. Patients report it is more comfortable because it uses curved surfaces that mirror your breast shape and uniform compression to minimize pressure points and pinching.

What happens if screening reveals something abnormal?

We use a grading system to determine whether or not we need to take additional images to determine if an abnormality is cancerous. If we see something suspicious on your mammogram, the grading score helps us recommend when or how frequently you should get additional imaging to see if the abnormality changes.
Looking for expert cancer care?
With multiple locations throughout the region, patients have access to many of the nation's renowned cancer specialists offering high quality care, second opinions and a chance for better outcomes close to where they live and work. Georgetown Lombardi Comprehensive Cancer, one of the nation's comprehensive cancer centers designated by the National Cancer Institute (NCI), serves as the research engine allowing patients access to clinical trials that often lead to breakthroughs in cancer care.