Research Examines Patient Benefits from Robotic-Assisted Joint Replacement Surgery.
If you are experiencing a medical emergency, please call 911 or seek care at an emergency room.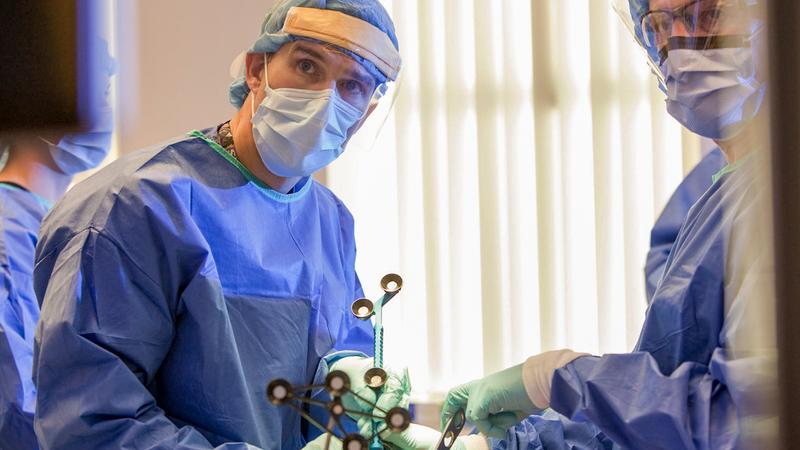 MHRI research into outcomes from technological advances such as robotic-assisted surgery helps ensure patients get leading care.
At the MedStar Orthopaedic Institute, we always look for ways to improve surgery and help patients have a better experience. That is why we conduct—and learn from—the latest research into technological advances and how patients benefit from them.
The most significant recent advancement in joint replacement is the advent of robot-assisted surgery. This technology helps improve surgeons' accuracy and precision during procedures to replace joints worn or damaged with age and extensive use, and the benefits for patients can be significant. My team at the Institute has initiated research to quantify these benefits to patients to help them achieve the most optimal outcomes after surgery.
Joint replacement surgical techniques.
Knee and hip are the most common joint replacement surgeries in the U.S. In 2021, almost 2.4 million people had one of these procedures. We've been performing robot-assisted joint replacement surgery at MedStar Health since 2017, and I now conduct all knee replacements with robotic guidance.
Historically, manual joint replacement relied solely on the surgeon's experience and understanding of the "average" anatomy to determine artificial joint fitting and positioning. While this expertise is still critical, robotic-assisted surgical technology helps us plan, execute, and assess precise replacement joints tailored to each patient's unique anatomy—allowing an experienced surgeon to cut and shape bones with accuracy within half a millimeter.
Robot-assisted knee and hip replacement surgery can be less invasive, maximizing benefits for many patients, such as:

Decreased trauma: Less tissue damage during surgery, minimized incisions and bone resections.
Faster recovery: Less trauma and more accurate surgery mean many patients can experience less pain and heal more quickly.
This greater degree of customization should lead to greater patient satisfaction with surgical outcomes, fewer revision surgeries, and fewer complications. We're researching now to understand the depth and breadth of these benefits.
Our research: Do patients have better outcomes?
My team and I are tracking and publishing our short-term outcomes from robot-assisted joint replacement surgery. We are comparing robotic-assisted surgery to traditional manual replacements, investigating if robotic surgery is helpful in specific subsets of patients, and comparing different robotic systems. Many of our studies analyze patient-reported outcomes to determine if patients perceive differences between robotic and manual joint replacement.

Particular questions our studies seek to answer include:
Do patients have different levels of mobility, range of motion, and joint function after robotic-assisted surgery?

Do patients experience fewer complications in the first two years after robotic-assisted surgery?

Are there fewer surgeries to correct robotic-assisted procedures (revision surgery) than manual surgeries?
We've also examined the impact of robotic-assisted surgery on other technological advances, such as cementless implants, and whether these technologies help increase how long implants can remain functional inside the joint. Lastly, we have studied the learning curve of multiple systems, so surgeons can know how long it takes to gain efficiency with robotic systems.
Our studies have shown that robotic-assisted joint replacement has a short learning curve for the surgeon and provides outcomes at least as good as manual in the first two years. It will be essential to follow our results over time as more patients can experience problems with their replacements leading to revisions or dissatisfaction, with the expectation that robotic-assisted surgery will provide superior long-term outcomes.
It is impossible for technology to replace a skilled surgeon with capable assistants by their side, but robotic assistance has been proven to enhance accuracy and precision. When I complete a knee replacement with the aid of a robot, I know I've done the best possible procedure, balancing the soft tissues, and placing components of the joint in the ideal location to maximize benefits for my patient.
Leaders in orthopedic technology and research.
MedStar Orthopaedic Institute is at the forefront of our field, and we're continually proving our commitment to patient health and contributing to the global body of orthopedic research:

We added a third PhD-trained scientist to our team, Dario Martelli, and we are building the laboratory where he'll perform state-of-the-art gait and motion analysis. This lab will work with collaborators throughout the MedStar Health system to gather data to address movement disorders, help prevent falls, and understand more about weight-bearing and recovery after surgery.

Experts at Union Memorial Hospital and Georgetown University regularly collaborate on groundbreaking research. Georgetown trainees often visit Union Memorial for first-hand experience.

Our

golf medicine

program studies how golfers return to play following joint replacement surgery. But it's not just about how soon they can get back on the links. We're learning whether the surgery has an impact on their golf game, too.

We are one of only a

few programs in the country

with a KUKA robot. This advanced biomechanical simulator helps us conduct precise tests of motion on multiple planes, making it better able to replicate human movement.
These advancements—including supportive administration, cutting-edge technology, academic affiliation, and research expertise—put us in the enviable position to investigate essential questions in orthopedics and deliver exceptional patient care.
Related reading: Novel Research Evaluates When Golfers Can Safely Hit the Links After Total Knee or Hip Replacement.
Our experts are here to help.
With aging can come problems like arthritis or wear and tear on the body's essential joints. The good news is we can fix a lot of these problems. The more research we conduct, the more we learn how to improve these procedures, improve recovery, and accurately predict how your activity levels might be affected.
My colleagues and I work to ensure our patients can continue to do the activities they love. Our greatest pleasure is helping you return to your preferred activity level after repairing a problem joint. Whether that's golfing, walking, or shopping, we're here to help you get on your feet and move again.
Want more information about the MedStar Health Research Institute?
Discover how we're innovating for tomorrow.
Stay up to date and subscribe to our blog