Robotic Assisted Joint Replacement | MAKOplasty | MedStar Health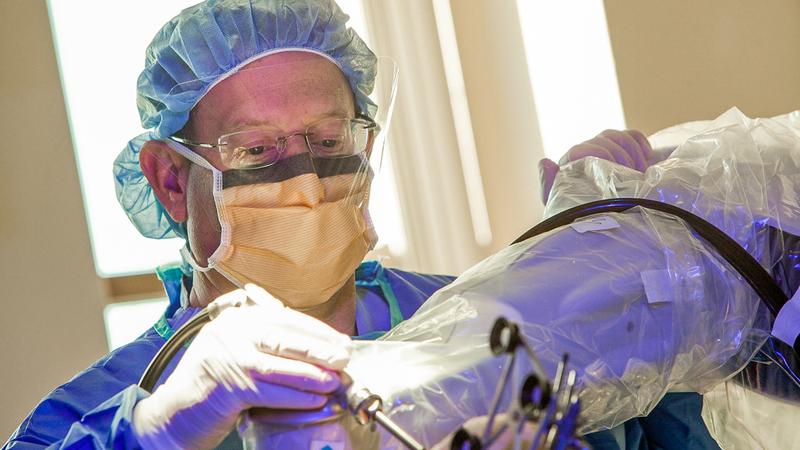 At MedStar Health, our fellowship trained spine and joint replacement specialists offer the latest techniques and technologies in spine, total hip, total knee, and partial knee replacement surgery. Surgical robots don't supplant the skills of the surgeon, but rather complement them. It's important to understand that the robot does not operate on its own. That means it does not move unless your surgeon prompts it to. Your surgeon is still in the operating room the entire time and is making all of the decisions throughout your surgery.
Robotic orthopedic surgery uses a computer assisted, three-dimensional planning and guidance tool that gives surgeons the ability to develop a pre-operative plan for each patient, as well as optimize the fit of the implant during the surgery itself.
Advancements in technology, such as robotic assisted surgery, can shorten recovery times, lessen pain in recovery, increase the life of the joint, and improve patient satisfaction. The orthopedic and spine experts at MedStar Health use several robotic systems and have built one of the largest orthopedic robotics programs in the United States.
Joint replacement
How does robotic joint replacement work? In the example of a knee replacement, a 3D model is formed for each patient using a CT scan of the patient's knee. This model is used to prepare a surgical plan and determine the implant's size and shape. During the surgery, the robotic arm is guided by the surgeon. Based on the patient-specific plan to prepare the patient's knee joint, only the diseased bone is removed, safeguarding the healthy bone and tissue. Next, the surgeon uses the robotic arm to implant the replacement prosthesis and make real-time adjustments to fit, ligament tension, and soft tissue balance. The computerized navigation also eliminates variability, allowing the joint to work more smoothly and with less wear and tear.

MAKOplasty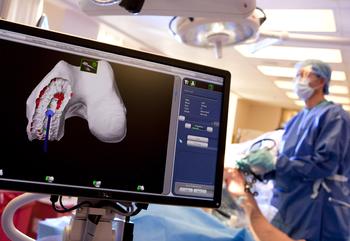 MedStar Union Memorial Hospital is the first hospital in Maryland to perform total knee replacements using MAKOplasty robotic surgery and this latest advancement in expertise supports our history of innovation in the specialty of orthopedic surgery. Now, we are performing more Mako procedures than any other hospital in the state.
Most patients are candidates for MAKOplasty as long as they have good bone quality and have the specialized CT scan.

ROSA
The ROSA, or Robotic Surgical Assistant, is offered at several MedStar Health locations. It supports surgeons performing total knee replacement with features that help them tailor the placement of your knee implant just for you.
During your procedure, ROSA utilizes a camera and optical trackers attached to your leg to know exactly where your knee is in space. If your leg moves even a fraction of an inch, the robot can tell and adjusts accordingly. This helps ensure that the plan your surgeon put into place is executed as intended. Throughout your surgery, ROSA Knee provides your surgeon with data about your knee. This information, combined with your surgeon's skill, helps them know how to position your implant based on your unique anatomy.
Spine surgery
MedStar Health's team of expert spine physicians is one of the largest in the mid-Atlantic. Our patients benefit from compassionate care, industry-leading research, and the expertise of our orthopedic surgeons and neurosurgeons. Innovative technology is available for patients needing spine surgery, and MedStar Health offers more options than ever. Robotic-assisted systems improve the way our expert physicians operate.
ExcelsiusGPS
Approved by the Food and Drug Administration in late 2017, the ExcelsiusGPS™ spinal surgery system utilizes navigation and 3-D technology to help surgeons premap their surgeries and a robotic arm to precisely place implants into a patient's spine. It also permits surgeons to separate the muscles surrounding the spine rather than cutting through them, resulting in smaller incisions and less tissue damage.
MedStar Union Memorial is the first in the mid-Atlantic to use robotic GPS navigation to perform a lateral lumbar interbody fusion (LLIF) through a tiny incision in the patient's side. With the most precise accuracy possible, surgeons were able to replace two discs and align their spine using robotic navigation.
Airo Mobile Introperative CT
The Airo, used in cranial, brain, spine and trauma procedures, provides high quality computerized tomography imaging and laser alignment. The entire spine can be imaged in a single scan, enabling surgeons to better visualize the patient's anatomy.