Hip Replacement Surgery in Washington DC, Baltimore, Maryland, Virginia | MedStar Health
The hip joint is the largest joint in your body, helping you perform most of your necessary daily movements, including walking, balancing, and running. When your hip or knee is damaged due to arthritis, injury, or another condition, your quality of life can suffer tremendously.

We provide care for all hip conditions, from non-operative to operative care, including complex joint revisions. Our team of orthopedic specialists have years of training and experience in joint care and offer the least invasive total hip replacement surgery possible. Our team is dedicated to helping you get back to your normal life quickly and safely. Learn more about our surgery services offered in the Washington D.C., Baltimore, Maryland, and Virginia areas.
Our orthopedic hip doctors are:
Specially trained and experienced in hip and replacement surgery
Able to provide access to multidisciplinary care centers all under one roof
Experienced surgeons who use innovative technologies, including robotic-assisted techniques and computer navigation, that provide a more precise and safer procedure
Specialists in minimally invasive surgical procedures, including direct anterior total hip replacement and mini posterior total hip replacement, that result in less pain and a quicker recovery from surgery
Advancing the field of orthopedics by taking part in nation-wide training programs and researching the latest techniques
Able to provide you with access to a sophisticated hip surgery recovery program to ensure you have the best possible outcome

Providing personalized and comprehensive hip care and hip replacement surgery
MedStar Health is a leader in orthopaedics in the D.C. and Baltimore region, providing personalized and comprehensive hip care. Our doctors are fellowship-trained in total hip arthroplasty surgery and specialize exclusively in caring for conditions that affect the hip, from simple cases to the most complex. Our physicians use state-of-the-art techniques and approaches to hip replacement, which promote a safe and successful recovery. Our network is proud to offer our patients tertiary care with access to multiple support systems all under one roof.
What is hip replacement surgery?
In a hip replacement, the damaged bone and cartilage is replaced with a prosthetic, or artificial, hip component. The goal of surgery, also referred to as total hip arthroplasty, is to help relieve your pain and improve your quality of life and hip function. At MedStar Health, we offer the most advanced approaches using innovative technologies to promote the safest and most successful outcomes possible.
Why is hip replacement surgery performed?
You may be a good candidate for surgery at MedStar Health if you suffer from any of the below hip conditions:
Rheumatoid arthritis of the hip

Hip injury or hip fracture

Bone tumors on the hip

Problem with existing hip replacement that may need a hip revision
What does hip replacement involve?
Hip Replacement
Injury and the wear and tear of aging can damage this joint, increasing the risk for ephemeral fracture or hip fracture. A hip fracture is most likely to be repaired with hip replacement surgery.
What are the benefits of undergoing hip replacement surgery?
Our goal is for you to experience the following benefits after having surgery:
Hip pain relief

Restored range of motion

Improved balance and function

Ability to bear weight on the affected hip

Ability to return to normal activities

Access to a multidisciplinary network of physicians

High quality care for simple and complex joint conditions


A minimally invasive option: Direct superior approach hip replacement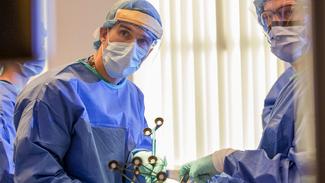 Direct superior approach hip replacement is a type of surgery that is minimally invasive and spares the IT band, which extends from the pelvis to the knee and supports hip function and stability. The surgery is performed using a smaller incision that is located higher on the hip. The surgeon accesses the hip between the muscles of the buttocks.

The benefits of the direct superior approach include:
Smaller incision
Earlier ability to walk—often while still in the recovery room
Shorter hospital stay
Quicker ability to get back to normal activities
Less risk of post-surgery hip dislocation
Less blood loss during surgery
Less discomfort and need for pain medication during recovery
Frequently asked questions
When should I consider hip replacement surgery?

The patient who is the appropriate candidate for hip replacement surgery is tired of living with the pain and limitations they are currently experiencing. Therefore, before considering surgery, exhaust non-operative measures, such as non-steroidal medication, physical therapy, steroid injections, bracing, or weight management.

While pain is an important symptom, consider how your pain has affected your ability to be active. Do you find yourself avoiding activities in order to reduce the pain and symptoms you may be experiencing? Does pain at night interrupt your sleep or do you experience pain while at rest during the day? These might also be reasons to choose surgery.

Ultimately, what makes the determination is the impact of your pain and the limitations that pain has on your life on a day-to-day basis. When pain can no longer reasonably be managed by non-operative measures and your activity is limited by hip joint pain, you may be ready for hip replacement surgery.

How much pain will I be in after hip replacement surgery?

There is pain with hip replacement surgery. We are working with the bones and muscles with various surgical approaches. We employ a multi-modality pain protocol to relieve pain and get patients more active and functional earlier. We emphasize pain control to allow patients to recover as quickly as possible.

Our team will work with you to tailor a pain management program for your specific case. We use a variety of physical measures such as cold therapy, compression, and elevation to reduce pain and swelling.

Activity is also important to minimize pain after hip replacement surgery. Greater levels of activity can result in a reduction in pain after surgery. We try to minimize the use of narcotic or opioid pain medications after any joint replacement. While these medications can be important tools immediately after surgery, extended use can lead to problems such as constipation, withdrawal, and addiction. Other medications such as non-steroidal anti-inflammatory agents are also helpful after surgery. Our long-term goal is to restore you to a functional lifestyle with minimal or no use of medications for pain.

Am I ever too old to have hip replacement surgery?

There is no strict chronologic age restriction on hip replacement surgery. If you are healthy and in good physiologic condition, it is reasonable to consider a joint replacement to return to being active and functional at any age. We have successfully performed the surgery for many patients in their ninth decade of life.

If I am overweight, what restrictions should I understand when considering hip replacement surgery?

Be sure you are at a healthy weight before surgery to optimize your general health, facilitate your rehabilitation and recovery, and alleviate stress on the implant. Excess weight can lead to an increased rate of complications such as blood clots, wound healing problems, and infection. While there is no maximum weight restriction, we try not to do hip replacement surgery in patients with BMI greater than 40. Research shows that doing joint replacements in patients with a BMI over 40 puts them at an increased risk of complications after surgery.

In addition to weight, patients who have significant edema or lymphedema in the legs are at high risk for wound healing problems and infection. We strongly recommend that these issues are evaluated and treated by your medical team and possibly a vascular surgeon, if necessary, prior to proceeding with hip replacement surgery.
Videos
Outpatient Total Joint Replacement
Relief from hip pain starts here

Don't let hip pain stop you from living your best life. Take our free assessment below to learn about your treatment options.

Our Locations
Convenient locations in Washington, DC, Baltimore, Maryland, and Virginia.
Online courses
Hip and Knee Replacement Class

This online pre-operative class is designed for patients preparing to undergo total knee replacement, partial knee replacement, or total hip replacement at MedStar Union Memorial Hospital.

Occupational Therapy Tips & Tricks

For outpatient hip or knee replacement patients, this online class will teach you how to prepare your home before your surgery and safely move around afterwards.