New Data on Orthopedic Care Disparities Mirrors Lack of Provider Diversity.
If you are experiencing a medical emergency, please call 911 or seek care at an emergency room.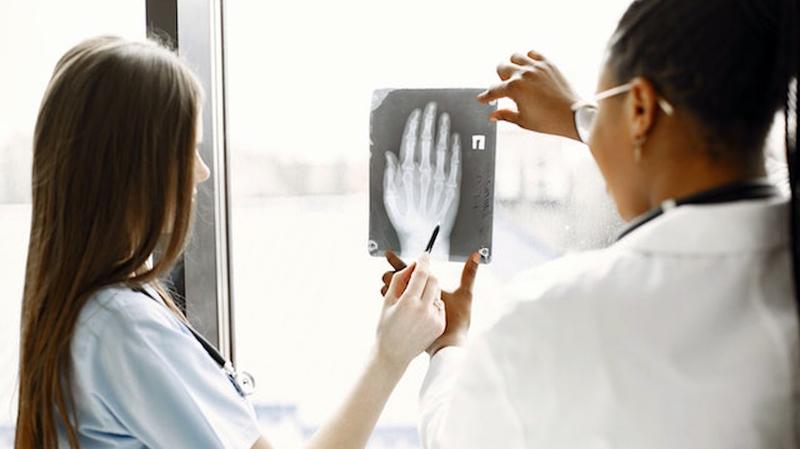 A 2023 MedStar Health research review article found that low racial, ethnic, and gender diversity among orthopedic surgeons may contribute to disparities in surgery access and outcomes.
Each year, about 2 million patients have a hip or knee replacement in the U.S. But there are stark differences in who gets these procedures and their recovery afterward.
While many factors contribute to healthcare disparities, a growing body of data is showing that a lack of diversity among orthopedic surgeons may be associated with fewer non-White patients getting joint replacements and having worse outcomes after orthopedic surgery.
Work from MedStar Health researchers, published in the Journal of the American Academy of Orthopedic Surgeons, sought to understand the existing evidence and provide ctionable steps for U.S. orthopedic surgeons to improve patient care.
Trends in joint replacement outcomes.
Racial disparities in surgery access and recovery.
Current orthopedic research examined in this review shows that although Black patients are about as likely as white patients to need a hip or knee replacement due to advanced arthritis, they are 30% less likely to have these surgeries. Additionally, patients from historically minoritized communities often have worse outcomes following orthopedic procedures than white patients.

Recent studies show that in a range of U.S. health systems, Black patients who had total knee arthroplasty:
Stayed in the hospital longer after surgery

Were more often discharged to rehabilitation facilities instead of home

Were readmitted to the hospital more often

Had more additional revision surgeries

Reported more minor improvements in their condition after surgery
The rates of many of these outcomes are getting worse over time, despite efforts to correct the problem.

Gender and race among orthopedic surgeons.
A longstanding lack of diversity among orthopedic surgeon may be one factor contributing to disparities in orthopedic care. Data published in JAMA Surgery showed that orthopedic surgery is the least diverse field—nearly three of every four orthopedic surgery residents are white.
The numbers aren't much more promising regarding women in the field. Though Ruth Jackson became the first female member of the American Academy of Orthopedic Surgeons (AAOS) in 1923, the specialty still struggles with gender and racial diversity 100 years later.
While about 50% of medical school graduates are female, women represent only 14% of orthopedic surgery residents. The same study shows that while African Americans represent 13.3% of the medical school population, they comprise only 4.1% of orthopedic trainees. Latinx people are 17.6% of the population but only 2.7% of orthopedic residents.
Provider mentorship.
Understanding the lack of provider diversity in orthopedic surgery is critical to addressing the problem. Women encounter fewer mentors to serve as role models in orthopedic surgery. Research indicates that just 2.6% of residency program directors are female. This suggests that more mentorship, exposure, and experiences could increase the recruitment of female providers to the field.
A survey of directors and coordinators of orthopedic residency programs found that programs with more faculty from minoritized groups had higher percentages of underrepresented minority residents and those participating in programs designed to increase diversity have more faculty from diverse backgrounds.
The same survey indicated the most common barriers to increasing diversity include the following:
Too few faculty from diverse backgrounds

Failure to match medical school graduates from minoritized groups to residency programs

Too few applicants from underrepresented groups


Actions steps to improve patient care.
Data shows that patients have better outcomes when they can identify with their provider and share a similar background. When working to resolve disparities in orthopedics, we're examining what orthopedics experts can do to equalize access to quality health care overall. Essential factors in this discussion include:
Availability of community-based resources.

Disparities in Medicare, Medicaid, and other government-administered health programs.

Social determinants of health

include economic stability, access to quality education, neighborhood characteristics, and social community.
While these issues are complex and challenging to address, we believe orthopedic surgeons can start by building more diverse mentoring programs to address the lack of diversity among surgeons in the field. We know that a variety of backgrounds is beneficial in every area, as it provides a broader spectrum of perspectives and may be able to help improve patient care.

For decades, the orthopedic community has worked to correct these disparities with programs such as The J. Robert Gladden Orthopedic Society, The Perry Initiative, the American Association of Latino Orthopaedic Surgeons, and The Nth Dimension to encourage diversity. These programs use workshops, research, and mentoring to help build a pipeline of talented students and encourage them to pursue orthopedics.
Through such programs, we hope to build a culture that is more welcoming to people from all backgrounds and supports their aspirations in the field. Keeping orthopedic surgery at the forefront of medicine and providing the best care requires the brightest people to enter the field. To recruit those trainees, we must be inclusive in recruiting top talent from all backgrounds and mentor them through the long process of becoming orthopedic surgeons.
MedStar Health belongs to the Institute for Diversity in Health Management as part of our commitment to reducing inequities This nonprofit organization is committed to expanding leadership opportunities for ethnically, culturally, and racially diverse individuals. We value the skills and opinions of our esteemed providers, who bring unique perspectives and points of connection with patients to our orthopedics teams.
This is not a problem that can be fixed overnight. There is no single policy decision that can meaningfully increase diversity in a specialty with a long training path. By demonstrating that orthopedics is a vital, welcoming field and supporting pipeline programs with similar aims, we can improve provider diversity and take a crucial step toward improving the care we offer all patients.
Want more information about the MedStar Health Research Institute?
Discover how we're innovating for tomorrow.
Stay up to date and subscribe to our blog