An Ounce of Prevention: How to Avoid Hand Injuries this Summer.
If you are experiencing a medical emergency, please call 911 or seek care at an emergency room.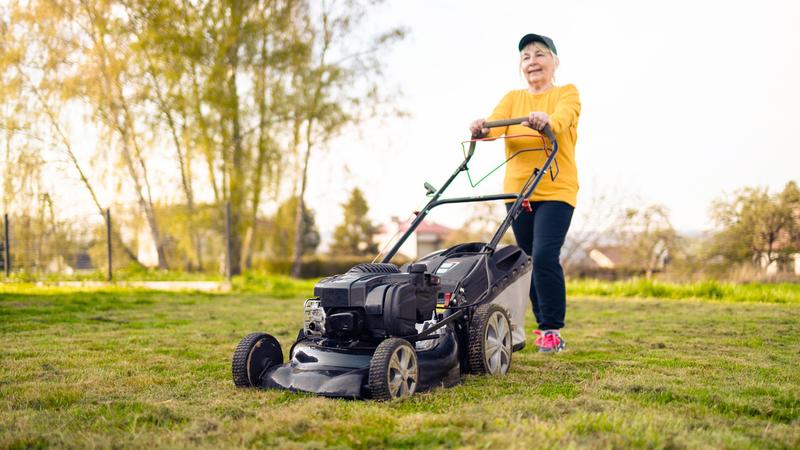 Summer fun unfortunately brings an increase in hand and arm trauma due to seasonal outdoor activities. Aside from fractures and sprains due to sports accidents, trauma from the lawn mower and burns from firepits and fireworks are the most common summertime injuries.
About 25% of hand and foot lawn mower injuries result in a severed body part. Contact with the spinning blade of the lawnmower can also cause complex fractures and touching the engine block can produce severe burns. There are about 80,000 lawn mower accidents each year in the U.S., and more than 6,000 children are injured annually.
In 2022 there were an estimated 10,200 injuries and 11 deaths related to fireworks. Hands and fingers are the body parts most often injured by fireworks, accounting for about 29% of all injuries. About 38% of all fireworks accidents that resulted in a trip to the emergency department were for burns, the most common type.
The best way to ensure your hands are safe this summer is to follow common-sense injury prevention tips.
The Curtis National Hand Center is a regional referral center, so we see patients from throughout several mid-Atlantic states, including some who have suffered lawn mower and fireworks injuries that can't be treated at their local health center.
We've successfully helped many patients recover from summer injuries, but the best outcome is when a hand surgeon doesn't have to get involved. An ounce of prevention is worth a pound of cure, so consider these tips to avoid an accident in the first place.
Tips to prevent lawn mower injuries.
Most lawn mower injuries occur when someone makes contact with the spinning blade. When the sharp, fast metal contacts a hand, the result is often finger or fingertip amputation, open, complex fractures, and other traumatic injuries.
The most devastating injuries we see are those to children, often involved in the grass cutting chores by well-meaning parents. Please, keep in mind the high level of risk to your children as compared to the small benefit of their assistance with yardwork. Never allow children to play with, ride on, or operate lawn equipment.
Follow these other safety precautions to protect your family's hands and arms this summer:

Never disengage the safety mechanisms on your lawn mower. These components help stop the blades quickly if you leave the seat of a ride-on mower or release the handle of a walk-behind model.

Always power down the lawn mower before attempting to examine it, remove debris, or adjust the cutting height.

Don't mow when the grass is wet and slippery.

Dress safely in long pants, a long-sleeved shirt, eye and ear protection, gloves, and closed-toed shoes with slip-resistant soles. Remember a hat, sunblock, and fluids.
Ways to prevent fireworks injuries.
Most fireworks injuries are preventable, so be sure to follow the manufacturer's instructions whenever using these products, and ensure your fireworks are labeled for consumer use.
Even sparklers can cause burns – they reach temperatures of about 2,000 degrees Fahrenheit! In fact, sparklers caused 600 ER visits in 2022, and firecrackers resulted in 1,300 more injuries. Stay safe this summer with these tips for responsible use:
Only responsible adults should handle fireworks.

Don't use explosives if you have been drinking.

Stay more than six feet away from the person lighting the fireworks. Almost half of injuries happen to bystanders.

Light only one firework at a time.

Have a bucket of water, hose, or fire extinguisher close at hand.

Never point fireworks at a person

Never light fireworks indoors

Never relight fireworks that fail to ignite.
Related reading: Hand and Wrist Injuries
What to do if summer injury strikes.
Amputations.
A properly preserved finger can be successfully reattached up to 12 hours after the accident. If a finger or your hand is fully or partially severed, preserve the tissue if possible by following these steps:
Wrap the severed tissue in a damp towel.

Place the tissue and towel inside a resealable plastic bag and close it.

Fill a second plastic bag with a mixture of ice and water.

Place the first bag inside the bag of ice water. The tissue should be kept cold but not saturated with water.
There may be significant bleeding and pain associated with these injuries. It is usually not necessary to use a tourniquet to control bleeding in a hand or finger. Restricting blood flow to the limb with a tourniquet can cause long-term muscle and nerve damage, so tourniquets should only be used in an emergency. Instead, control bleeding by wrapping the limb in a towel and applying direct pressure.
Go to the nearest emergency center right away so you can be checked for other injuries. Sometimes patients are distracted by the hand trauma and don't realize another injury has occurred.
Fractures.
Complex fractures are sometimes called "open fractures" because they can involve multiple bones that may break through the skin. These types of injuries can be more serious than "simple" fractures since they can damage the surrounding muscles, tendons, and ligaments, increasing the risk of infection.
Complex fractures should be treated right away, so seek care at your nearest emergency center immediately. Do not attempt to straighten the bones or push them under the skin yourself. Moving broken bones can cause severe pain, increased bleeding, and can damage tissue around the wound, making repair more difficult.
Cuts and burns.
Cuts and burns are common summertime injuries and can vary greatly in severity. If you experience a severe burn or cut on your hands or fingers, go to your nearest emergency center for treatment. But not all burns are created equal.
Superficial burns: If your skin turns pink like a sunburn, you probably don't need emergency medical attention. A red, painful area with no blistering can be managed at home with good hygiene and a gentle topical salve like aloe.
Second-degree burns: When you touch the engine block or tailpipe of the lawn mower, your skin will probably rapidly develop a blister. Burns of this severity should be evaluated by a medical provider right away, as they may require further treatment. Never break open a blister from a burn.
Full-thickness or third-degree burns: These most severe burns from summer activities like fireworks or bonfires may not involve blistering. Instead, the skin may turn white and appear dry. These burns are best treated at a burn center or, if they're isolated to the hand, a hand center like ours.
Seek medical attention in the case of a burn, especially if there is any chance of an inhalation injury. If your airway has been burned, it may take some time for symptoms to appear, but you could have difficulty breathing several hours after the accident so you should be evaluated thoroughly.
If you cut your finger or hand while preparing for the barbecue, you may be able to follow simple steps to treat the wound at home. However, if blood is gushing, the cut is deeper than about ¼ of an inch, or bleeding doesn't stop, head to the emergency center for cut treatment right away.
Related reading: Researchers at Curtis National Hand Center Compare Effectiveness of New Surgical Approach to Treat Painful Neuromas.
We're experts in treating hand injuries.
Accidents happen, so if you're on the wrong end of summer fun, know that the experts at Curtis National Hand Center are here to help.
Our surgeons have exceptional depth of experience in treating these injuries and are talented in the kind of detailed microvascular reconstruction necessary for treatment, including transplanting skin or muscle tissue from another part of the body to return function to the hand. We are also making significant strides at the frontier of nerve transfers and reconstructions that can help restore function and mobility by replacing or rebuilding damaged nerves.
The best way to keep enjoying your yard or barbecue this summer is to play it safe and avoid injuries that could result in significant trauma to your hands. Always follow safety instructions and remember to stay calm and get medical attention should things go wrong.
Are you seeking care for a hand injury?
The experts at Curtis National Hand Center are here to help.
Stay up to date and subscribe to our blog