Patient-focused Teamwork: Our Path to National Rankings for Cardiology and Heart Surgery
If you are experiencing a medical emergency, please call 911 or seek care at an emergency room.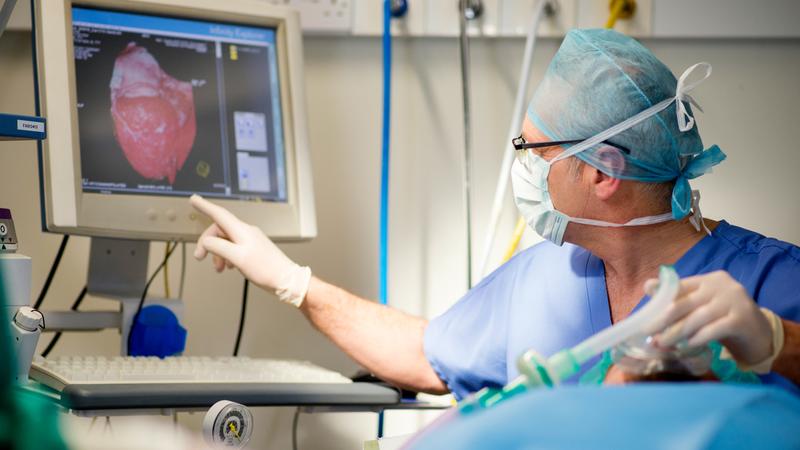 This summer we learned that MedStar Washington Hospital Center has achieved a top spot in U.S. New and World Report's "Best Hospital" rankings for 2022-2023. After evaluation of more than 4,500 hospitals, our Cardiology and Heart Surgery program was ranked 28th in the nation, advancing nine spots in two years.
We are among the top 3-4% of hospitals in the nation because we provide top-quality care for even the most complex cardiovascular conditions. Our hospital received the highest ranking for aortic valve surgery, heart attack, heart bypass surgery, heart failure, and transcatheter aortic valve replacement (TVAR).
It goes without saying, our team is proud. But we do the hard work for our patients, not for rewards or rankings, no matter how gratifying these honors might be.
As the only nationally recognized heart program of our kind in the Washington metropolitan area, our patients have access to advanced heart care guided by leading-edge research. That means we can personalize our approaches to give every patient the best chance at optimal outcomes.
And this is possible because of our strong team of subspecialists who are experts in the latest technologies.
Working together to benefit patients.
With more than 200 specialists—including over 100 cardiologists—and hundreds more providers and critical support staff throughout the Mid-Atlantic, we care for thousands of patients every year, including:

120 clinical trials

2,200 heart surgeries

5,000 vascular procedures

5,000 electrophysiology procedures

12,000 cardiac catheterizations
For more than 60 years, MedStar Health has been a first choice for patients seeking heart and vascular care. Our team has had decades of experience in the diagnosis, treatment, and research of cardiovascular disease. And in the past year, we have achieved some notable milestones.
Constantly innovating and improving.
This year marks the 20th anniversary of the first transcatheter aortic valve replacement (TAVR), and MedStar Health has been at the forefront of this revolutionary technology since the beginning.
Our hospital has been a site for every major clinical trial for the procedure since the first in 2007. Today, our surgeons perform this revolutionary procedure about 340 times a year, making MedStar Health one of the top cardiac centers in the nation for this treatment.
TAVR is a minimally invasive procedure that allows us to replace a damaged or diseased aortic valve without traditional open-heart surgery. Through a small incision, a collapsible replacement valve is delivered through a flexible tube and expanded once it is in place. Patients who have TAVR recover faster, spend less time in the hospital, and have a lower risk of complications—and they get excellent results.
Another 2022 milestone was the initiation of our robotic surgery program, led by surgeon Yuji Kawano, MD. Our surgical team uses agile robotic instruments and a high-definition 3D camera to perform heart surgeries through tiny incisions.
We take this approach for patients with certain valve conditions, atrial fibrillation, cardiac tumors, and other conditions. This leading-edge technology shortens recovery times and hospital stays and has fewer potential complications than traditional surgical methods.
It has been an exciting year of advances, but we don't like to sit on our laurels. We're always looking to improve our work for the benefit of our patients.
A patient-focused future.
As the largest healthcare system in the Mid-Atlantic, we're growing sub-subspecialties to provide more in-depth expertise in:
Cardio-oncology, heart disease associated with cancer treatment

Hypertrophic cardiomyopathy

, when the heart muscle is too thick

Preventative cardiology
MedStar Health is continuously recruiting experts in the latest aspects of patient care. For example, we're excited to welcome Thomas E. MacGillivray, MD, as physician executive director of Cardiac Surgery. He brings an impressive resume and specialization in the treatment of adult congenital heart disease.

With our patient well-being as our constant priority, our nationally recognized team will carry pride from our recent ranking as we continue learning, stay on our toes, and lean into the next innovations in cardiology.

Request an appointment with a heart specialist.
Stay up to date and subscribe to our blog