Adult Congenital Heart Program | MedStar Health
Building on the collective experience and innovations of adult and pediatric cardiologists
Patients who have been treated for a congenital heart defect or disease often require lifelong monitoring or care to make sure their hearts remain healthy and no further complications develop. We combine forces with the experts at Children's National Health System in Washington, D.C., to offer one of the few programs in the nation—and the only one in the D.C. area—that caters to the complex needs of adult congenital heart patients.
Our doctors complete an extra one to two years of cardiology training in congenital heart disease. Across the country, there are fewer than 75 doctors with this type of specialized training. It's critical to ensure our experts know exactly how to care for patients—whether they have a simple defect with no symptoms, or a complex condition with life-threatening symptoms.
Ongoing research is vital to the advancement of this specialized field. We are constantly perfecting our understanding of congenital heart disease in adults, many of whom face an increased risk of heart conditions years after corrective surgery. We collect nonidentifiable data on these patients so we can improve outcomes and share data among cardiac subspecialties.
Patients in our Adult Congenital Heart Center have access to a broad network of experts in related subspecialties, including:
Congenital heart conditions and treatments
We regularly treat conditions such as:
Our surgeons also perform complex procedures such as:
Empowering patients with the follow my heart program
A key element in successfully transitioning patients from pediatric care to an adult congenital heart program is the ability to manage their own care. Developed by doctors at Children's National Health System, the Follow My Heart program provides each patient with an online medical record that details their congenital heart disease. The patient owns the information and can control who can see it.
The Follow My Heart program helps:
Achieve better outcomes

Improve the follow-up rate of adolescent and adult patients

Prevent unnecessary testing

Reduce healthcare costs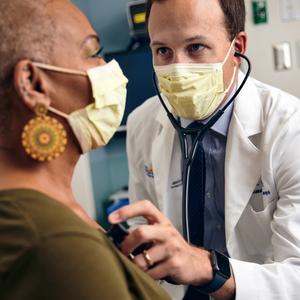 Expert cardiology care
Getting the care you need starts with seeing one of our cardiologists.