Neurology Residency Program | Letter from the Program Director | MedStar Health
Welcome from the Program Director
Dear Prospective Residents,
I would like to introduce you to the NIH - Medstar Georgetown University Hospital Neurology Residency Program. We are a categorical residency program integrating PGY-1 through PGY-4 that provides clinical training in the heart of Washington, D.C., Residents have core rotations at Georgetown University Hospital, Washington Hospital Center, National Institutes of Health, and Children's National Medical Center. The various hospitals provide a significant diversity of neurological presentations across various socio-economic backgrounds. They form the backbone of our residency program and contribute to the rich training experience of our residents.
We seek a diverse group of self-motivated and intellectually curious individuals. Residents are gradually given increasing responsibility with senior residents serving as mentors to junior residents. Junior residents, in turn, serve as mentors to rotating medical students. Our residents receive inpatient subspecialty training with the stroke service, neurocritical care rotations, subspecialty clinic rotations in movement disorders, headache, neuro-muscular, MS, neuro-ophthalmology, and epilepsy. Additionally, they can set up rotation in cognitive disorders, neuro-rehabilitation, neuro-oncology, sleep, and Intraoperative Monitoring (IOM).
Teaching occurs from across a full spectrum from the attending faculty to residents but also from senior residents to junior residents and to medical students. Our collective goal is to train well-rounded neurologists who improve patient care and contribute to the scientific growth in neuroscience. Graduating residents serve as ambassadors to the finest fellowships in the country. Former residents are now program directors, department chairs, and well-regarded faculty at academic institutions and private practices across the country.
As a former Georgetown resident and fellow, I strive to continually improve the program and the residency training experience. Neurology has undergone a transformation in therapeutics in the past decade. Our collaboration with the NIH provides the opportunity to train clinician-scientists and fits with the goal of training colleagues who are ready to bring Neurology into the forefront of diagnostics and therapeutics.
Thank you for your interest in MedStar Georgetown NIH Neurology Residency Program.
Regards,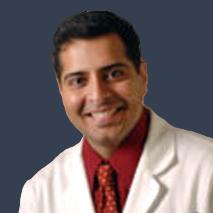 Laxman Bahroo, DO, FAAN
Associate Professor
Residency Program Director
Additional information
Program Information
Return to the program's main page.
Salary & Benefits
Click below to learn more.