Physical Therapy at Alexandria | 22310 | MedStar Health
Welcome to physical therapy at Alexandria
Conveniently located less than one mile from the Franconia-Springfield metro station, our Alexandria office features a variety of therapists with advanced training in specialty areas. Whether you're an athlete looking to get back in the game or you need hand therapy to relieve pain and restore motion, we'll work with you to develop a tailored treatment plan to help you meet your goals.
Official Medical Team Of The Pros
Visiting physical therapy at Alexandria
Hours of operation:
Monday to Thursday:
6:30 a.m. to 7 p.m.
Friday:
6:30 a.m. to 5 p.m.
Insurance
We proudly accept most major health plans. The list below serves as a guide and is subject to change. If you are unsure about your coverage, please call your insurance provider. Insurance is collected prior to scheduling services.
Podcasts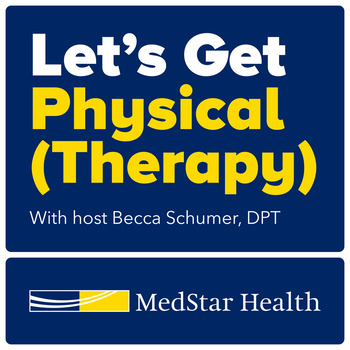 The "Let's Get Physical (Therapy) Podcast," hosted by MedStar Health Physical Therapy, is a new educational podcast series designed for rehabilitation professionals, students, new graduates, and those in related fields. Join us as we discuss treatment options, innovations, techniques, and more with a wide variety of medical professionals.
Dennis Grandic, PT, MPT, MBA

Dennis attended the State University of New York at Stony Brook, where he received his bachelor's degree in psychology. Dennis continued his education at New York Medical College and received his master's degree in physical therapy. He also obtained his Masters of Business Administration in healthcare administration from the Zicklin School of Business. He is Titleist Performance Institute Level 1 certified.

Dennis is originally from New York City. He lived in Palm Beach, FL for a few years prior to relocating to Northern VA in 2016. He has been practicing physical therapy since 2001 in various settings including pediatrics, cardiac rehabilitation, inpatient rehabilitation, and outpatient orthopedics. He enjoys running, hiking, tennis, and golf.

Dennis' rehabilitation specialties include:

Arthritis treatment
Golf rehabilitation
Knee, foot, and ankle therapy
Neck pain and lower back pain
Orthopedic injuries and conditions

Lorenz grew up in the Philippines and has earned his Bachelor of Science in medical technology in 1989 and Bachelor of Science in physical therapy in 1994 in the Philippines. He is board-certified in both. He earned his doctorate degree in physical therapy from Shenandoah University.

Lorenz is an avid gardener and fisherman and enjoys kayaking, biking, and cooking. He has been practicing in the United States since 1998 and enjoys the variety of cases he treats in outpatient settings. He is bilingual in English and Tagalog/Filipino languages including the Bicol and Ilocano dialects.

Lorenz specializes in the following rehabilitation areas:

Arthritis treatment

Blood flow restriction therapy

Concussion management and care

Fibromyalgia care

Foot orthotics evaluation and casting

Knee, foot, and ankle therapy

Neck pain and lower back pain

Orthopaedic injuries and conditions

Pain management

Temporomandibular joint disorder (TMJ) treatment

Vestibular/balance rehabilitation

Jeanette Haughton, OTR/L, CHT

Jeanette is an occupational therapist and certified hand therapist (CHT). She attended Elizabethtown College in Pennsylvania where she earned her bachelor's degree in occupational therapy. She has been an CHT since 1995.

Jeanette is a native Washingtonian. She was born in Washington DC, raised in Prince George's County, and now lives in Northern Virginia. She enjoys working with each patient to achieve their own functional goals and uses her creativity to devise custom splints and exercises and activities to facilitate her patient's rehabilitation.

Jeanette specializes in the following rehabilitation areas:

Arthritis treatment
Custom fabrication of static and dynamic orthoses
Hand and elbow therapy

Marvin earned his bachelor's degree in health and fitness management from Marymount University. He continued his education at the Northern Virginia Community College, where he earned his associate's degree in the physical therapist assistant program. Marvin has his certification in selective functional movement assessment (SFMA). Marvin is bilingual in English and Spanish.

Marvin enjoys outdoor activities including vegetable gardening, fishing, outdoor sports, and hiking. He enjoys working with patients to achieve their functional goals.

Marvin specializes in the following rehabilitation areas:

Blood flow restriction therapy
Knee, foot, and ankle therapy
Neck pain and lower back pain
Orthopedic injuries and conditions
Selective functional movement assessment
Shoulder, knee, hip, ankle replacement

Rebecca Rebholz, PT, DPT, FDNS

Rebecca grew up in northeastern PA and Buffalo, NY. She attended Daemen University in Buffalo where she earned her bachelor's degree in natural science. Rebecca continued her education there earning her doctorate in physical therapy. She has been providing dry needling for her patients since 2018 and went on to complete her Functional Dry Needling Specialist Certification in 2020. In addition to working with patients to develop exercise programs based on their individual needs, Rebecca provides manual therapy and dry needling. Rebecca also enjoys teaching her patients strategies to be self-sufficient and achieve their goals.

Outside of PT, Rebecca enjoys indoor rock climbing, Pilates, yoga, reading, and cooking at home. She has lived in northern Virginia with her husband and black Labrador retriever, Skip, since 2014.

Rebecca's rehabilitation specialties include:

ACL return-to-play

Arthritis treatment

Chronic pain

Dry needling

Knee, foot, and ankle therapy

Neck pain and lower back pain

Orthopedic injuries and conditions

Shoulder therapy

Vanessa Meyer, OTR/L, CHT, DIP/ACLM

Vanessa received her Bachelor of Science in occupational therapy from the University of Washington in 1989. In 2010, she received her Master of Science degree in sport psychology from the University of California at Pennsylvania, and in 2015, she completed her master of strategic studies from the U.S. Army War College at Carlisle, PA. She is currently working on a post-professional doctoral degree in occupational therapy. Vanessa is a board-certified hand therapist, a board-certified American College of Lifestyle Medicine practitioner, and a certified HeartMath ® practitioner. She has completed several published studies on human performance optimization and focuses patient care on being well.

Vanessa grew up in Hilo, Hawaii and swam competitively throughout her youth. She enjoys swimming, biking, running, and working in the yard.

Vanessa's clinical specialties include:

Arthritis treatment
Breast cancer rehabilitation
Custom fabrication of static and dynamic orthoses
Hand therapy and elbow therapy
Lifestyle rehabilitation
Microcurrent point stimulation for pain management and scar release
Pre- and post-surgical education for optimal recovery